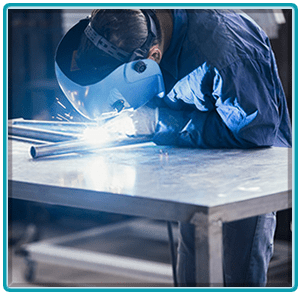 Welding tables are one of the easiest ways to speed up welding tasks as they provide us with the means of operating in a safe place to keep our bodies away from any harm.
Most of us must have experienced and know what it's like to roll around on the ground and forge on our knees for hours, sear our bodies and pierce our knees on the floor with wire or pieces of metal. Not only can it ruin our body, but it is also an ineffective way to finish tasks.
Owing to the usefulness of welding tables, we are here writing six reviews of our favorite welding tables and a guide to purchase so that you may be assisted in your buying procedure if you intend to buy one.
Hopefully, it will help you reach your required welding table and save you from the trouble of weeding out the unnecessary tables which are either from the off-brands or are tested to be inefficient by the consumer experiences.
How Did I Pick These Products?
The following criteria were followed for picking the best welding tables for this review:
Make
We took special care to stick to the known brands for inclusion in our best welding table reviews. It is because the popular brands have better quality assurance as compared to the off-brands and you would surely like to go with the one which is recognized and is trusted. Another reason for picking famous makes.
Since the off-brands, on the other hand, do not pass all the QC checks which are required to ascertain functionality and protection, they are not included in our best welding table reviews.
Reliability
We wanted to bring to you something reliable as we know that you will be doing a lot of welding chores on this table, therefore we included only those welding tables in this review which may be used and abused pretty well and are sturdy enough to stand all the pounding. From an occasional enthusiast to an expert pro, we wanted something that would suit everyone's needs.
Price
Nobody wants to break the bank for buying a commodity and we respected that. Like most products, you usually get what you pay for. Therefore, saving your dollars often translates into cutting corners which means you are hazarding a comparatively less-safe item, and no one wants that.
However, this does not mean you can't get great value for your bucks if you know how to weed out wisely. And this is exactly what we did in these best welding tables reviews.
Portability
Further, we took special care that we bring to you something which may easily fit in your small workshop too and is easy to commute from one place to another. All the welding tables we selected are portable enough to be carried from home to the worksite.
Extra Features
A welding table doesn't necessarily to be a welding table alone. With some extra features added, it can well be used for other purposes. And this is what we took into consideration while picking the best 6 welding tables for you in this guide.
So, read on and be assured of picking a perfect welding table as all the tables included in the review are selected for their performance, longevity, versatility, reliability, and ease of use. For these features, all of them are ranked higher than others in past-user reviews on various buying sites.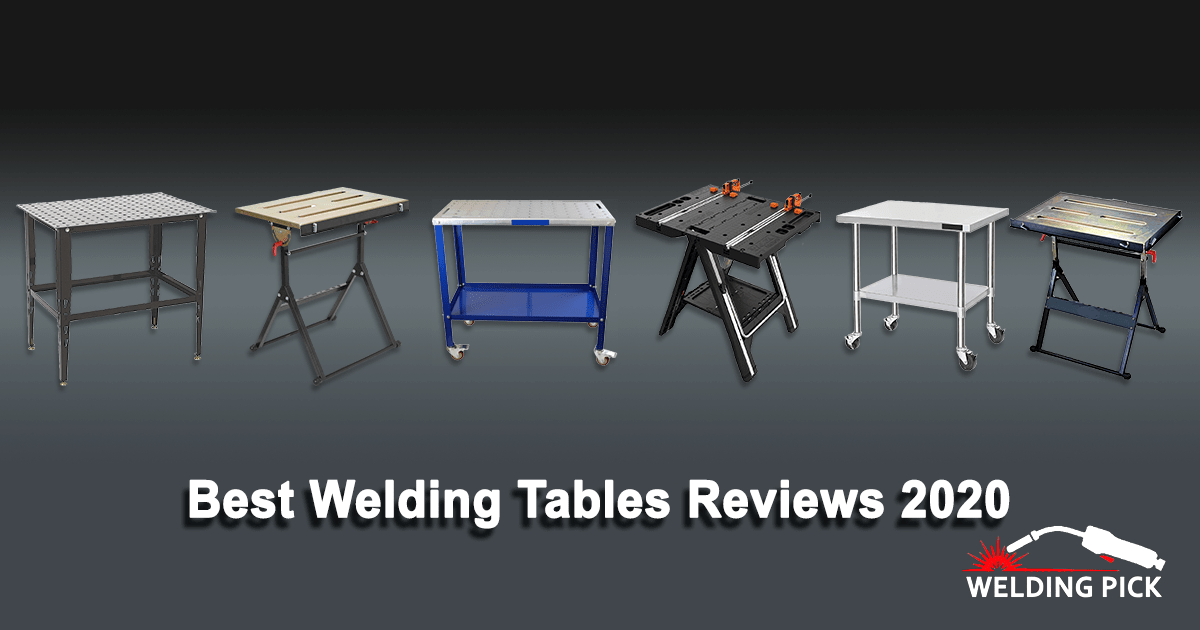 Top 6 Best Welding Tables Reviews & Buying Guide 2023
1. Klutch Steel Welding Table with Tool Kit -Top Rated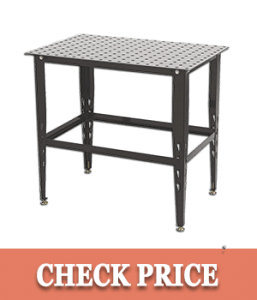 Klutch specifically focuses on designing welding tables intended for small spaces which, besides, are lightweight and compact. According to your requirements, you get to choose a generic model or an advanced one which includes a slag drawer to collect waste, also comes with side hooks for hanging cables or other welding tools.
Klutch is known for manufacturing portable and lightweight tables.  One of its best portable welding tables is an exceptionally lightweight table with a mesh surface that weighs a little more than 26 pounds.
If you have recently started welding as a hobby or for the sake of learning a new skill, the Klutch Welding Table with Tool Kit is an ideal unit for you. We trust Klutch for its durability and rugged structure and this steel welding table is proof of it.
With all its sturdiness and impressive structure, this Klutch Steel Welding Table, alone is worth your money but getting that additional kit is a bonus – even more reason to spend your money.
Someone who is looking for budget welding tables, this without a doubt, is an awesome purchase. Quite frankly, it is fairly uncertain how it is sold at such an incredible price. Rest assured that It is worth your every penny even at a regular price (You may want to check when it is on sale for even better value).
So, if you want to get the best welding table for the money, this table is your best option. That is why it is the top pick for the best welding table for new learners or welding hobbyists.
Read Also, Best Plasma Cutters under $500
Once again, Klutchmanufactured this compact welding table featuring a slag drawer and hooks. This is a fixed table – just the right size for small welding projects, supposed to be mounted in position in your shop or garage. It is ideal for small spaces where you can work without worrying about debris falling all over the floor.
Pros
Lightweight and portable.
Ideal for small spaces and projects.
Keeps the work area clean with the slag drawer.
Best price.
Cons
Not appropriate for demanding projects.
2. Adjustable Steel Welding Table -Best For the Money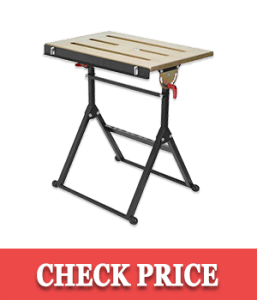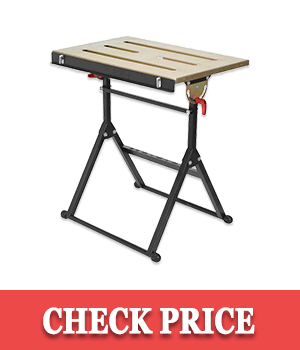 Next in line for our top picks is the Adjustable Steel Welding Table by Chicago Electric Welding. This table comes with an adjustable table angle that lets you adjust it to five different positions.
The adjustment grips secure the work surface tightly in place either horizontally or at any other angle as you set it according to your need.The fact that it can be tilted is good for a variety of welding options.
It is designed with four table slots on top, keeping in mind the heat reduction and easy clamping. With these slots, you can perfectly ground different types of clamps and keep your component secured.
Another remarkable feature is the retractable edge guides that are intended to be used as a fence or for clamping. Additionally, to ensure maximum stability, the Chicago Electric Welding brand featured the reinforced trestle-style legs for this Welding Table.
This Adjustable Steel Welding Table is manufactured with heavy-duty steel to improve quality and durability.The metal surface area is zinc plated designed to withstand rust, so you know you are getting a solid thing for your welding projects. The solid construction of this table guarantees the best investment that will last for a long time.
It gives you a firm, flameproof surface for welding components. It is very easy to move and transport. Also, it is pretty compact, easy to fold up flat so it can be stored away until needed while clearing floor space.
So, if you are looking for a Welding Table which is designed to take less room with easy storage, this table is for you with an assurance of best permanence.
Chicago Electric Welding Table is a great deal and a very sturdy platform for its price.  Additional tables, as many as you need, can be attached for bigger projects. It is perfect for any beginner or weekend garage welder.
Pros
Durable and rust-resistant.
The length is adaptable.
Easy to fold up and store.
Cons
Not suitable for heavy-duty projects.
3. KASTFORCE KF3002 Portable Welding Table -Best For the Price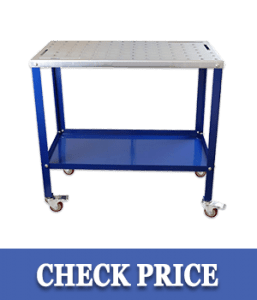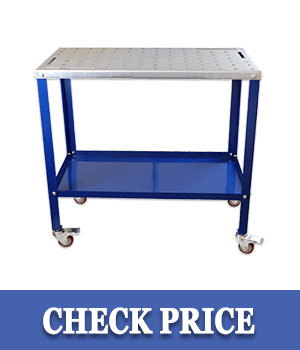 For a versatile and portable Welding Table, this KF3002 model by KASTFORCE is so far the highly valued Welding Table due to its design and a variety of convenient features. Well, all things considered, it is a universal worktable; welding table and cart all in one for your welding projects and other craftwork in the garage or workshop.
It is just about the handiest welding platform that you can ever come across. Since this Welding station is on wheels, this is the best choice if you have a large workspace and need to move the welding table around frequently. What's more? the locks on the wheels allow you to secure it in position for working comfortably.
KASTFORCE KF3002 Portable Welding Table Welding Cart is a fantastic purchase for small welding projects and as a moving machine cart. It is remarkably durable, and a smooth sturdy built with all four locks on casters.  The wheels are constructed with strong material that can handle an appropriate amount of weight.
The welding table features four wheels 3-inch each in size, constructed with robust material. Not only do they make it quite easy to move around your workspace, but also the strong braking system locks the wheels in place to stay fixed and prevents any amount of instability while working.
KASTFORCE included another very useful feature in its KF3002 model – the storage tray 23 inches below the tabletop which, in our opinion, is very practical. You have the guarantee of stability and performance with its heavy-duty surface area that includes standard 5/8" clamping holes.
The KASTFORCE KF3002portable welding table and cart is the best value for its price.
Pros
It is large enough for a sufficient work area.
Easy portability.
Less expensive.
It includes a storage tray.
Reasonable height.
Very solid and durable.
High-quality casters with locks.
Cons
It is not foldable.
The 35 inches table height may not work best for some people.
Not good for poorly ventilated space.
4. Eastwood Adjustable Steel Welding Table -Most Rated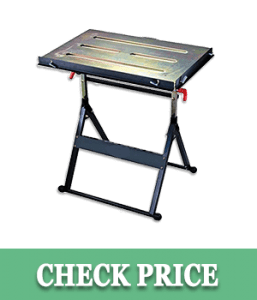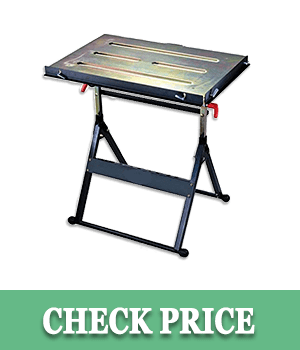 As its name suggests, maybe one of the most important features of Eastwood Adjustable Welding Table is the steel construction. This, without a doubt, highlights the sturdiness of its construction.
Eastwood has a premium solid steel construction that provides a sturdy work surface for comfortable and faster performance. Like many of the Welding Tables on our list, Eastwood is also robust and simple to put together. Besides, it is reasonably priced.
Concerning suggesting a genuine option for a variety of welding projects, Eastwood is for those who use plasma cutters. Probably the most concerning issue they face is the confusion of material to use as work surface because the cutter may cut through the work surface itself.
The work surface on top of the table is a sturdy 14 gauge steel construction that will endure the intense temperatures while welding. With a remarkable weight capacity of 350pounds, this table will manage pretty much anything and is strong enough for most welding projects.
Eastwood Adjustable Steel Welding Table features three 1.1" wide slots on the surface that makes clamping easy and configurable.  These slots with C clamps offer a comfortable, secure, and efficient welding experience while holding your project firmly.
Besides the substantial work surface, it features a height of 33", which is ideal for performance and comfort. Another remarkable feature is its flexibility – the fact that this table is adjustable and can be fixed in 3 angled positions. It offers great convenience and ease with angle range from level position 86.
Like other portable tables, the Eastwood Adjustable Steel Welding Table is a similar workbench and a budget version of other high-priced tables.
For the money, this portable welding table is perfectly fine for the welding requirements as a beginner. This table features a foldable design for compact storage which is a plus for small workspaces.
Pros
Foldable design.
Highly adjustable.
The higher load capacity of 350 lbs.
Sturdy construction
Cons
Not many accessories.
No casters for maximum portability.
5. WORX Pegasus Multi-Function Work Table and Sawhorse -Cheap Affordable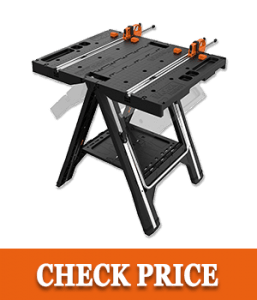 The WORX Pegasus Multi-function work table is highly admired due to its versatile functionality and a variety of features. It can serve as a welding table, a sawhorse as well as a plain workbench.
It takes only a few seconds to transition from a simple workbench to a full-sized functional sawhorse effortlessly. When it is configured as a sawhorse, its load capacity is 1000 pounds.
On the other hand, if you use it as a workbench, it can hold up to 300 pounds. In either form, it performs quite reasonably and lives up to users' expectations.
Other than this, the WORX Pegasus Welding table is flexible with regards to the materials that you can use to work on it.
It comes with four clamp dogs to secure round or weirdly shaped stuff and two other quick clamps which stay affixed even when you fold it to use as a sawhorse. Since these are exclusively constructed for Pegasus, they are durable and will last for a long period.
Check also Best Welder Glasses.
Also, this table is very lightweight and portable for easy transportation. It features a foldable design which makes it ideal for small spaces. For bigger welding projects that call for an extra work surface, its fascinating design allows you to attach other WorxPegasus tables to it using special joiners, to create a large work counter.
Worx Welding Table weighs around 30 lbs, made from a high-impact,molded-plastic with steel connectors and fixtures. Don't let its plastic construction make you undervalue its functionality or sturdiness. It is a great unit for occasional use.
Underneath the work surface, the WORX Pegasus has an extra shelf for storage where you can keep your supplies and power tools while working.This table is 31" x 25" and is a standard 32" high from the ground which we find suitable for everyone.
Pros
Versatile and multi-functional.
Foldable for convenient storage
Portable for easy to move around.
Cons
A lower shelf may not be very sturdy.
6. DuraSteel Stainless Steel Work Table -Most Durable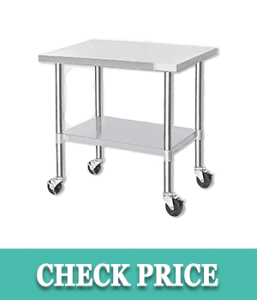 DuraSteel Stainless steel worktable is a perfect choice for the smaller workspace. DuraSteel Work Table has a rugged design that allows you to perform tough and high-impact tasks.
It is constructed with 18-gauge premium quality, heavy-duty stainless steel material with exceptional anti-corrosion capability that ensures resilience and a life-span of more than 20 years. Undershelf and legs are galvanized
The dimensions of the DuraSteel worktable are 30 inches by 36 inches with a height of 35" from the ground, which is appropriate as well as sturdy for small workspaces.
We are quite impressed by its weight capacity of 300lbs. It is certified by NSF so it can be used safely anywhere including kitchen, backyard, garage, garden, laundry, or patio for personal or commercial purposes.
On the bottom, It has an additional shelf with adjustable height to store any tools or components for easy access. The shelf also provides sturdiness to the legs. Not only do the plastic feet maintain the balance of the table, but also keep the floor from being scratched.
With its flexible design, you can either choose to use the feet or attach the wheels that come with it. The four caster wheels add more convenience to this worktable, making it portable and to move around your space smoothly. These highly adjustable wheels feature a locking system that helps to maintain balance and ensures stability while working.
The DuraSteel worktable comes with a selection of different sizes to fit your needs. This table has proved to be exceptionally easy to clean, highlights a polished surface with a rust-resistant capability.
Pros
NSF Approved.
Flexible design.
Locking wheels system.
Portable.
300lbs of the weight limit.
Additional shelf for storage.
Buying Guide
Whether you are welding just as an occasional enthusiast or an expert professional welder, it is pertinent for you to have a sturdy surface to work on. This is because it gives you safety and comfort to work on your welding chores.
While choosing a welding table for your welding projects, there are many things you need to bring into consideration. The decision of what welding table may suit you may widely vary welder to welder, depending on the requirements.
The following considerable factors may help you narrow your choices down while you enter a welding store to buy a welding table for you.
Table Size
Since welding tables are available in a variety of shapes and sizes, you need to determine the width, length, and height you require for your welding job.
The job you require it for, the height of the person who will use it, the place where you want to keep it, and certainly the budget allocated for the purpose will help you decide which table size do you require to complete your welding projects successfully.
Normally, a welding table with a 30 ″ square area to over 100 ″ rectangular surfaces is considered to be good enough if you do not have any particular requirement.
As for the height, a 25 ″ to 40 ″ tall tables is considered normal. However, it is highly advisable to go for an adaptable table so that it may be adjusted to various heights and jobs.
Height
As for table height, the taller, the better. As it can be used for a lot of welding purposes and you do not need to bend while handling your work. Moreover, it will give you a clear vision of your task in hand and you will not get fatigued at the end of the day.
As mentioned earlier, it is best to go for a sturdy adjustable table that can be adjusted according to different heights and the nature of work. However, the elevation is just an add-on for a welding table.
Horizontal Size
Usually, it is considered that a more substantial surface is better for welding. However, a substantial surface will be of little use if you do not have sufficient place in your workshop to keep it.
Therefore, the space in your workshop will substantially determine the horizontal size of your welding table. If your room is quite spacious, you are highly recommended t go for a wider and lengthier option.
If you get a foldable table, it would be great for your small space too. With this, it would be easy for you to fold it after work and keep it compactly in your storeroom.
On the other hand, if you get a large table for your small room, you will have little space to move around and this can affect your job adversely.
Place
The place you are using the table would affect your work comfort. Wider rooms offer space for larger tables. Whether your table needs wheels to move it through your garage or outside will be decided by the location.
Think about making lasting choices while using the item in a production environment, so it can withstand a beating. You'd like a covering on it, or a lightweight aluminum frame, if you use it outdoors. Considering the area is a crucial step in the purchasing process.
Functions
The characteristics of welding tables vary from table to table, but there are lots to choose from. Think of the Miller 60SX Arcstation range as anyone would find anything you want to buy.
Storage
Tables have storage space to hold both clean and dry items. The room for storage (cabinets or drawers) might be under or even over the table. The choices taken by the individuals vary but they are important items.
Fixture Factors
Fixture considerations are factors that offer a way to secure the work when welding it. These variables are table properties, which are typically necessary to finish tasks.
The best methods of clamping fit holes or ports. They can be re-adjusted or moved in a second, and usually can have a large range.
Caster Wheels
The wheels are built to help you move tables while managing. they have tested for yours a material's protection.
Similarly, some strategies force them back and forth and ensure they bear the weight of the table while relocating. They get readjusted themselves out of the way when set, so the table stays quite firm on its legs.
Final Thought
A welding table that is designed to offer good results for years to come should be the best. Apart from that, such a table should be built to maintain a safe and secure working board, since you don't want to deal with injuries arising from a welding table collapse.
That being said, I recommend the tables listed above as they have proven useful to many consumers who have used them in the past.
A welding table makes it easier to weld. They lift your material to a satisfying height and this does a lot of favor to your back. t might take a bit of research to pick the best one, but ideally, you will agree with my list.
All the welding tables reviewed above are not only sturdy but also affordable. Give one of them a try, believe me, you work and your back will thank me and you will come back to express your gratitude here in the comment box below!