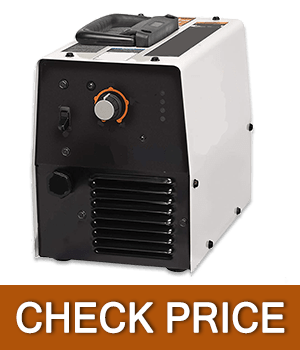 Have you been using conventional tools like a circular saw, blade, or any other similar product to cut metals and plastic? You are missing some great experience and inventions.
The world has moved forward in almost every field of life that there is no need for using the bog-standard tools, especially for cutting and welding metals.
There are people who are using oxy-acetylene cutting torch, which is again is not a recommended technique, and it has several disadvantages. Here we are going to discuss about the best possible solution that is highly effective, reliable, and cost-saving.
The popular way of cutting metals that is used by the professionals is by using the plasma cutters. Plasma cutters are being used all over the world to perform cutting and gouging operations using compressed air and electrical power.
It is the most advanced technology, which gives smooth cuts with high speed. It is easy to use and does not require you to pre-heat the metal.
A plasma cutter has revolutionized the way welders work. By seeing its growing popularity and increasing demand, many companies jumped in and started manufacturing it.
But, producing a high-quality standard plasma cutter is not an easy task. Only the one sustained, who has maintained the standard, quality, and efficiency of the products.
Hobart Welding Products is one of such pioneer brand, designing and manufacturing plasma cutter for years, and has now introduced Hobart 500566 Airforce 40i Plasma Cutter 240V with advanced features and functions.
With years of experience, Hobart has emerged as an established brand. All of their products are certified and up to the standard; besides, Hobart welding products are much reasonable in terms of cost compared to other similar products.
To know more about its features, functions, and characteristics, read this article till the end. But first, let's quickly go through the specifications of this Hobart 500566 Air force 40i Plasma Cutter.
Brand: Hobart
Item model number: 500566
Item Weight: 34.3 pounds
Product Dimensions: 17 x 18.25 x 11.63 inches
Maximum sever cut of 7/8 in. (22 mm)
Rated Output: 40 A with 140 VDC, 50% Duty Cycle
Review
Having sufficient knowledge before purchasing a product is a must, especially when you are talking about welding products. As the welding tools and accessories are costly, you need to make sure that the product you are going to buy can perform and fulfill the task and requirements you are getting it for.
Plasma cutter is an important and necessary tool for the welders and as well as it is used in other professionals. For doing things exceptionally, you need quality tools and products. After scanning through this article, you will be sure that Hobart 500566 Airforce 40i Plasma Cutter 240V is what you are looking for.
Hobart Air force 40i Plasma Cutter is designed with following all the standard protocols and procedures. It is equipped with the latest features and technology and can compete with any other expensive model. Below you will see the in-depth details of its qualities and functions.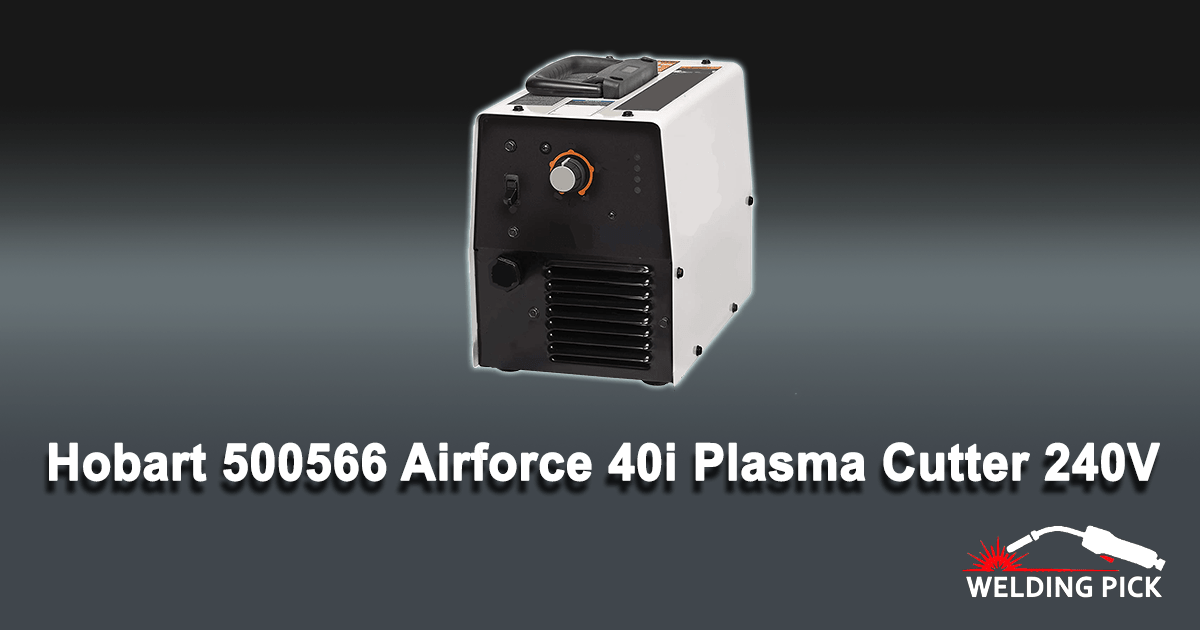 Design and Features
Hobart Welding Product is one of the few brands which is specifically working in this field to give the best tools and accessories to the welders. Dealing in all kinds of welding products, their plasma cutters are the best in quality, efficiency, and reliability.
Hobart 500566 Air force 40i Plasma Cutter is one of the exclusive products of the Hobart brand and is therefore highly successful as it is one of the top-ranked products.
The main purpose of getting a plasma cutter is that it is safer, higher speed, and can make accurate cuts in a variety of metals and thicknesses. Hobart 500566 Air force 40i Plasma Cutter is capable of cutting mild steel with a thickness of 7/8 inch at a 50% duty cycle for industrial manufacturing requirements.
The best part is that it works on 240V power and has a Line Voltage Compensation System, by which you don't have to worry about the fluctuation in the voltage. It provides steady and cleaner-ending cuts with ±15% variable input voltage conditions.
Starts without high frequency, Hobart 500566 Air force 40i Plasma Cutter does not require heat up of metal before cutting, and with the Pilot Arc Controller system and Auto-Refire Technology, you can cut enlarged/perforated metals and as well as layered surfaces without affecting the torch.
While minimizing irritant circuit breaker trips caused by voltage drops, the use of Power factor correction circuitry PFC system, it consumes 30% less power used for the cutting choice as related to models not having the PFC system.
Perfect for home and industrial use, this plasma cutter is completely portable and lightweight. With a power cord and cable managing band, and secure torch, you can easily carry this plasma cutter from one place to another.
To make this plasma cutter long-lasting and reliable, it is integrated with a fan that starts only when required, saving power consumption, and with the help of Wind Tunnel Technology, it does not allow dust and other particles are drawn into the machine affecting its components.
Hobart Welding Products gives you a complete package. Hobart 500566 Air force 40i Plasma Cutter comes with XT 40R hand-held torch, extra consumables, work cables with clamps, power cord with plug, and the built-in gas, air filter, and regulator. You don't need to buy anything extra for using it.
Unlike other plasma cutters, Hobart 500566 Air force 40i Plasma Cutter has its own diagnostic lights, which gives signals when detects any problem in pressure, power, and cup situations.
Pros
Internal gas and air filter regulator
No gas pressure settings
Light Construction
Hobart's 5/3/1 Industrial Warranty
Post-flow cooling circuit
Compatible with engine-driven welders
XT 40R torch consumables
Efficient air consumption
Cons
Maintenance required over time
The unit does not have a built-in air compressor; it requires a separate air supply of 4.8cfm/90-120psi.
Final Thought
Plasma Cutter is an essential product for the welders, and luckily, Hobart is one of the few brands which can be trusted in terms of quality, efficiency, and reliability. All of its products are tested and, therefore, do not have any fault. When talking about Hobart 500566 Air force 40i Plasma Cutter, It is very easy to use and ready right out-of-the-box as it does not require much installation. The manual is to understand and get along with this plasma cutter. If you want to enjoy the smooth cutting of metals, get this plasma cutter before it runs out of stock.