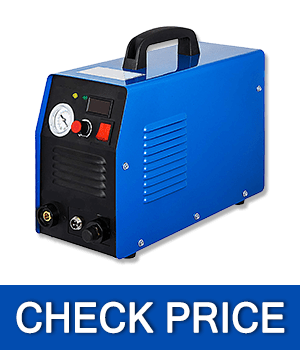 If you are planning to adopt a career in welding, or you have already jumped into it, you may have come across a long list of tools and accessories. By now, you will be aware of the machine that is essentially required by almost all welders and other related professionals, and that is the Plasma Cutting Machine.
As most of the plasma cutters are costly, getting the right product is important; otherwise, your money will go to waste, and we are here to prevent that from happening. We value your time and knows that your money should be spent only on top-notch quality products.
For that, here in this article, we are going to present you a detailed review of the Mophorn 50 Amp Plasma Cutter Dual Voltage 110 220V Plasma Cutting Machine, which, after thorough research, we have found out that is one of the most compatible, useful and reliable plasma cutter and that too in an affordable budget.
Before going into the details of its features and functions, let me tell you briefly the benefits of getting Mophorn 50 Amp Plasma Cutter instead of any other product. The first and most important factor which you see is the effectiveness and capability of the product, and we feel pleasure to inform you that this plasma cutter offers you an enhanced speed with smooth cuts and maximum cutting capacity over a variety of metals.
The other benefits include and are not limited to is that it gives less distortion, does not create much noise, and has a dilate versatility. With all the latest features, this plasma cutter is comparatively cheaper in spite of giving the best output.
Read this article till the end, and you will know the details of its features and functions. After going through it, you will surely like this product and going to order it. First, let us see the main specifications of the Mophorn 50 Amp Plasma Cutter.
Specifications

Brand : Mophorn
Item Weight : 22.3 pounds
Package Dimensions : 18.5 x 13.15 x 10.71 inches
Material : Steel
Display Style : LCD
Dual voltage support
Gas Supply : Clean, dry, oil-free air
Output Current : 10~50A
Maximum Severance Cut Thickness : 1/2″ (12mm)
Review
Having a good quality plasma cutter is essential for achieving and doing your task perfectly. Therefore, you should always prefer a reputable brand.
Mophorn is dealing with a variety of products and is famous for producing quality products consistently. It has emerged as a successful brand as their products are now being supplied all over the world. All of their products are certified, highly efficient, and are long-lasting.
When talking about the plasma cutters, Mophorn has introduced the Mophorn 50 Amp Plasma Cutter Dual Voltage 110 220V Plasma Cutting Machine, which is also ranked as the top-rated product of this brand.
Mophorn 50 Amp high standard plasma cutter has all the functions and characteristics you see in any other expensive plasma cutting machines. In addition, it has some unique qualities which differentiate it from other similar products. Below we will see the detail of its features and functions.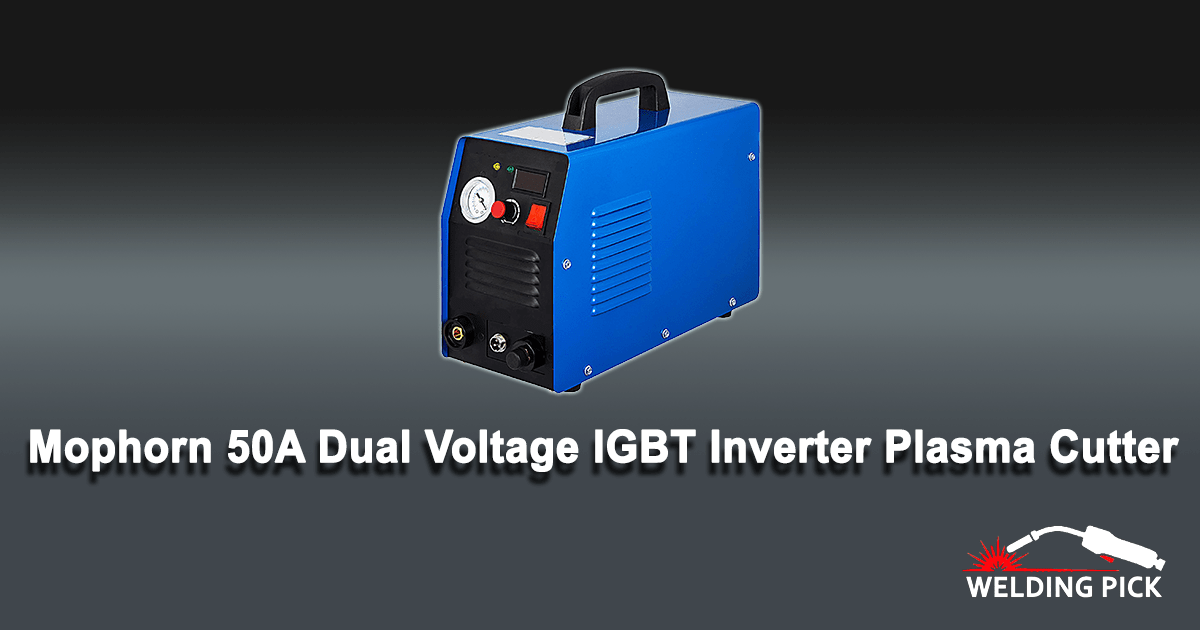 Design and Features
Mophorn is manufacturing excellent quality plasma cutters at an affordable cost, due to which the popularity of its products is increasing day by day. Mophorn never settles for the less but keeps striving for bringing innovation in their products.
Talking about the Mophorn 50 Amp Plasma Cutter, the outer body has been built with durable steel material. The compact design of this plasma cutter makes it completely portable, and with the addition of the handle, it is very easy to transfer it from one place to another.
The first thing you notice about the plasma cutter is its efficiency and effectiveness. Mophorn 50 Amp Plasma Cutter is one of the most efficient and effective plasma cutters of this brand. It has the ability to cut metal as much as up to 1/2'' (12.7 mm) with a constant power supply.
By using the advanced and branded components, it consumes less power; thus, it saves a lot of energy and is also feasible for the environment. Mophorn 50 Amp Plasma Cutter is compatible with 110V or 220V. The capability of operating on dual voltage further makes it the best choice for you to have. Dual voltage capability ensures constant power and therefore increases power output.
To further enhance its efficiency and reliability, Mophorn 50 Amp Plasma Cutter has its own cooling system. In addition, this plasma cutter has an over-heat protection system and over and under-voltage fortification system. Having these, the plasma cutter can work efficiently for a longer period of time.
Unlike other plasma cutters, Mophorn 50 Amp Plasma Cutter is designed in a way that you can set it up on your own and can operate it easily. With an LCD display style, it is the most user-friendly plasma cutter you can have. Besides the plasma cutter, the package includes all tools and accessories which are required to make it work. It mainly includes the ground clamps, cutting torch, pressure dipping valve, and so on.
Mophorn also gives you a zippered cloth bag that you can use to carry the torch or any other thing you required. The consumables are readily available at an affordable cost. All these characteristics, features, and functions are a good deal at an affordable cost, and you should not miss it as only the limited stock is available at this time.

Pros
Wide applications
Highly efficient and powerful
Built-in protection system
Complete accessory included
Instant setup and is easy to use
Cons
The switch is not given to change the voltage
Final Thought
If you want to have a quality and efficient plasma cutting machine at an affordable cost, Mophorn 50 Amp Plasma Cutter is the best choice for you. Mophorn 50 Amp Plasma Cutter is a great product to start with. It comprises of all the latest features and design which you see in any other expensive plasma cutters. It is made completely portable for your convenience and is highly durable and long-lasting.