As the world is rapidly moving towards advancement, it has increased the development all around. Due to this, the construction industry has seen rapid growth in recent days. It has unlocked a door of opportunities for numerous people.
With time, the tools are getting more effective, efficient, and advance. One such tool is the welding machine.
The welding machines are mostly used for joining metals such as stainless steel, nickel, aluminum, and copper alloys, and other nonferrous metals.
The welding is not only limited to the construction industry but also being widely used across oil and gas, power, aerospace, automotive, and many more.
People associated with it know that the conventional tools and machines are no longer capable of fulfilling the demands, and they need to have an upgraded advanced welding machine.
You may have the idea that there are many types of welding, and each type of welding has separate machines for that.
The most popular and widely used welding machines used the arc process, which includes the number of common manuals, semi-automatic, and automatic processes. Buying a separate device for each type is not feasible, so why not buy one machine with all these functions.
When you start looking for such machines, you will come across a wide variety, but every machine is not up to the standard, and the one who is not experienced might get the wrong product.
By reading this article, you will gain a sound knowledge of welding machines and can get the best outcome for yourself.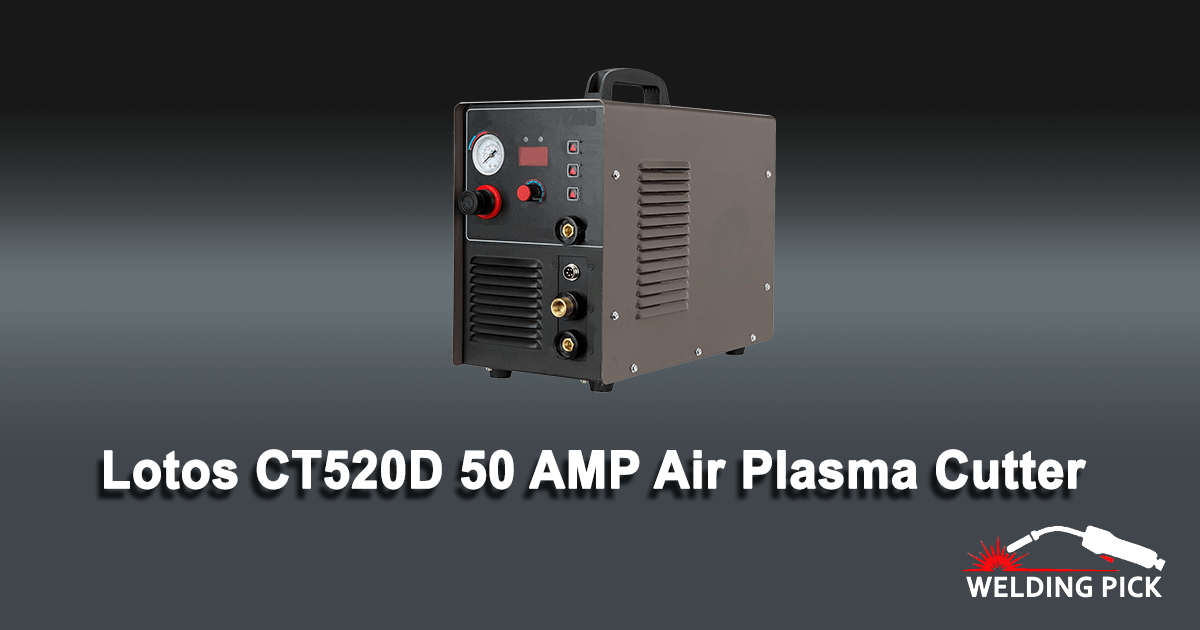 We know that the time is precious and, therefore, will not go into unnecessary details. Now here, we are going to give you in depth analysis of one of the best welding machines we have found, and that is the Lotos CT520D 50 AMP Air Plasma Cutter.
It includes Tungsten Inert Gas (TIG) welding, Manual Metal Arc (MMA) welding, and Flux Shielded Arc welding or also called Stick welding, all in one device.
When buying a separate machine for each type, it becomes too expensive, so it is feasible to buy this one. For more specifics and features of this welding machine, let's go through the quick specs first.

Brand : LOTOS TECHNOLOGY
Color : Brown
Model Name : CT520D
Weight : 32 lbs. 14.5 kg
Dimensions of the product : 17 x 8 x 11 inches
Functions : 50A Plasma Cutter, 200A TIG Welder, 200A STICK Welder
Type of power supply : Inverter – IGBT
Housing safeguard : IP21
Insulation : B
Efficiency : 85%
Components included : Power Supply, Plasma Cutter Torch, TIG Torch, Air Filter Regulator, and Ground Cable.
Review:
As it seems, welding is significant; it will not be wrong if we say that it keeps our world together. Welding is also a great career choice as the demand for it never ends; however, it requires physical presence and practical work.
With the advancement in technology, the welding machines have also gone through a major up-gradation process, and now the machines are advanced, more efficient, long-lasting, and reliable.
The problem is that when the demand for anything increases, many people and companies start manufacturing it with low standard and quality.
Therefore, to ease our readers' search, here we are giving a review of a top-rated welding machine from a reputable brand, and that is Lotos CT520D 50 AMP Air Plasma Cutter.
Read Also, CUT50 Plasma Cutter
The specifications are mentioned above, now let's see how it works and what the benefits of buying this product are.
Design and Features:
It isn't easy to choose the most suitable welding machine when you have so many options to select from. It is essential that you buy the welding machine from a reputable brand; otherwise, it may not work correctly and can harm you.
LOTOS Technology is an established and well-known brand for providing robust, portable, and affordable welding solutions. It ranked on top of the list because of its consistency and effectiveness.
Manufactured and designed with advanced inverter technology, the CT520D versatile unit consist of stable output, steadfast, completely moveable, high-efficiency, and low sound produced while cutting.
The best thing about having a Lotos CT520D 50 AMP Air Plasma Cutter is that it allows you to DC TIG/Stick weld and plasma cut all from one handy device.
The multipurpose welding machine combines three functions into one: a 200A DC TIG Welder with an output current of 10-200A at 220V and 10-150A at 110V, a 200A Stick Welder with an output current of 10-200A at 220V and 10-150A at 110V, and a 50A Air Plasma Cutter with the flip of a switch.
Lotos CT520D plasma cutter gives you a range of joining and cutting aspects; it is capable of cutting all types of metal up to 1/2'' with a Plasma cutting function. Plasma cutting is a much safer, quick, low cost, and easy to use as compared to oxyhydrogen cutting.
To make it useful for the long run, Lotos CT520D has the capability to work on dual voltage, which lets the plasma cutter to run straight on 220V 50/60 Hz power, or on 110V 50/60 Hz.
For smooth, clean cuts on a wide range of surfaces and materials, Lotos uses the up-to-date technologies, such as IGBT/MOSFET centered on high-frequency inverter system, PWM (Pulse Width Modulation), to bring a reliable and accurate current to the cutting area.
Unlike other welding machines, Lotos CT520D can be set up quickly within minutes. The pre-integrated NPT 1/4″ type D plug and air filter controller permits you to quickly link to your air compressor by means of the stand hookup present on your air compressor.
With so many features and functions, CT520D welding machines come with a guide with step by step instructions with diagrams for installation, safety precautions, and working environments.
Pros
This Lotos plasma cutterversatile welder can shift between TIG Weld and STICK Weld swiftly and with no trouble.
Portable and reliable
High cutting speed
Smooth cuts
Easy to use and works great
Cons
Does not come with 120 plugs (pigtail) and the pedal.
Welding produces smoke and gases. Inhaling these fumes and gases can be risky to your health. Take all precautionary measures.
Ground Cable is short.
Final Thought
By looking at the efficiency, adaptability, and the latest features, we have confidence in Lotos CT520D 50 AMP Air Plasma Cutter, 3 in 1 Combo Welding Machine that it is the best choice for you.
LOTOS TECHNOLOGY is a renowned brand for maintaining its worth over the years. Besides, the LOTOS TECHNOLOGY offers 30 days return/refund and a one-year free warranty for plasma cutters and welder machines.
Read Also, Lotos ltp5000d Red vs Brown
You can see that this welding machine has all the latest features which you only see inexpensive machines. So what are you waiting for? Order this now and get your own welding machine at an affordable price.