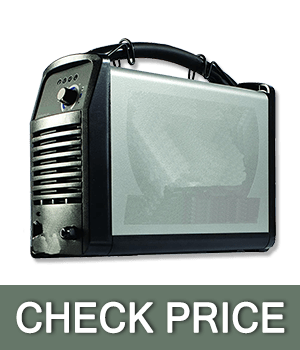 Having a good quality plasma cutter is not a desire but is a need of the time. Without a plasma cutter, a welder cannot do their task efficiently and adequately.
The developing world requires you to have advanced tools with the latest features, designs, and programs. It is one of the most vital tool mostly used for cutting metals of varying thickness and quality.
When you start looking for it, you will across a wide variety of plasma cutters, and choosing the most suitable one is a hectic task and requires thorough research on the specifications and quality of the products.
To ease out for you, here we are going to give you a detailed review of Hypertherm 088079 Powermax30 XP Plasma Cutter, which we have found to be the best among all.
This plasma cutter is ranked on the top of the list, and it comprises of the features that are not readily available in any other plasma cutters.
By having this plasma cutter, you can smoothly cut the metals with high speed and precision. For further detail of its design and features, continue reading this article till the end, and you will find out the most amazing plasma cutter you can have. First, have a quick look at the specifications of the product.

Brand: Hypertherm
Item model number: 088079
Product Weight: 2.2 pounds
Dimensions along with handles: 356 mm (14.0″) D; 168 mm (6.6″) W; 305 mm (12.0″) H
Input voltage: 120-240 V, 1-PH, 50/60 Hz
Gas Supply: Dry, spotless, oil-free air, or nitrogen
Power supply type: Inverter – IGBT
Approved gas inlet flow rate / pressure: 113.3 l/min (4 scfm) at 5.5 bar (80 psi)
Review
Hypertherm is a certified brand producing a range of top-quality industrial products for years. It has made development easy for professionals. Hypertherm has given advanced cutting solutions to the world.
Hypertherm is recognized all over the world and is manufacturing welding tools and gears for a long ago. Due to its increasing popularity and consistency, the plasma cutters manufactured by Hypertherm have ranked among the most selling machines among all.
The versatile feature of the Hypertherm Powermax30 plasma cutter makes it suitable for use at small projects at your home and as well as for the benefit of industrial purposes. Due to its unique features and functions, many professional welders now recommend Hypertherm Powermax30 for all.
Design and Features
Hypertherm is a well-known and reliable brand. All of its products are reputable, long-lasting, and effective in use.
When talking about the Hypertherm 088079 Powermax30 plasma cutter, below you will see that it comprises of all the latest features and design which are required by the professional welders. It has the capability to perform its task to the full extent, and you can work with it for a longer period of time.
The first and foremost benefit of having the Hypertherm Powermax30 plasma cutter is it's two-in-one design and 30 Amp System. The versatile Hypertherm Powermax30 plasma cutter features a wide range of applications.
Not only is it used for cutting the metals, but it can also be used for drag cutting, extended reach cutting, gauging, and as well as narrow cutting. All these with a single machine makes it the perfect choice for the welders; thus, it saves a lot of money as well.
The Powermax30 plasma cutter is made completely portable with compact size and lightweight design so that you can comfortably take it from one place to another. Shoulder straps are also given with a carry case so that you don't have to worry about it while carrying it with you.
To make this plasma cutter more useful and reliable, it has a built-in Auto-Voltage technology by which you can easily work on 110 V – 240 V input power. The plug adapters are given with the package.
For the convenience of the user, all tools and accessories are included in the package, which is required to make it functional. It is easy to set up, and you can use it as soon as you receive the package. Along with the standard and fine cut consumables set, the manual is also given with straightforward and easy to understand instructions.
Giving you a high-power severance cutting capacity of up to 16 mm (5/8″) with a cutting speed of 125 mm/min (5 ipm), Powermax30 plasma cutter uses the latest Duramax LT Torch, which is specifically designed for the purpose; it can hold out heat and the severe impact of the work and last longer than any other plasma torch. It enhances the functionality and increases the efficiency and cutting speed exponentially.
To ensure that the Hypertherm Powermax30 plasma cutter can work up to 100 percent in all weathers and heavy-duty use, 4.5 m rugged, lead Strain reliefs on both ends of the torch is attached.
Unlike other branded products, Hypertherm cares about global warming, and therefore design their products that are not only user-friendly but also not harmful to the environment. T
he PowerMax30 plasma cutter fulfills the international environmental standards and protocols and as well as follows the directives of RoHS. It certifies that this plasma cutter is suitable for use and is not damaging to the climate.
With all these latest features and functions, Hypertherm offers you a three years warranty on power supplies and one year warranty for the torches. What else you need at this affordable price.
Hypertherm Powermax30 plasma cutter is available for a limited time only at this price; grab this offer before it becomes unavailable.
Pros
Fast cutting speed
Portable and easy to use
Reliable and effective
Excellent cut quality
Fewer secondary operations
Comes with a sturdy case and shaded glasses
Cons
Must have a suitable source of compressed air to cut.
Final Thought
Hypertherm 088079 Powermax30 plasma cutter features all the features and characteristics which you find in any other branded and expensive plasma cutters. It is compatible for use at home and professional purpose. If the beginners want to get a firsthand experience of using the plasma cutter machine, this product is suitable for them. With an affordable budget, it offers you all the advanced features.