It just took me a few hours to complete a whole welding project, just because of my fantastic Miller's welding helmet.
Its large lens provides you an outstanding field of view that enables you to cover a large welding area in less time.
Being a professional welder, I always wanted to have a welding helmet that not only protects my face but also help me during my work.
I got my perfect welding partner in the shape of Miller's welding helmet because it has everything that a welder always wished for.
Here you'll witness different working modes like grinding, cutting, welding, and so on. These modes are designed to provide you a clear and comprehensive vision while performing different functions.
The auto-off/on mode makes sure that even a newbie can handle it with ease, and it also improves its battery performance.
The headgears are structured in a way that everyone can adjust them according to their comfort.
And with its digital control system, this helmet gives you absolute authority over its functions-where; you can easily change modes, shades, and handle other stuff.
Below mentioned are among the best welding helmets that millers have ever introduced, so let's go and experience their fascinating features.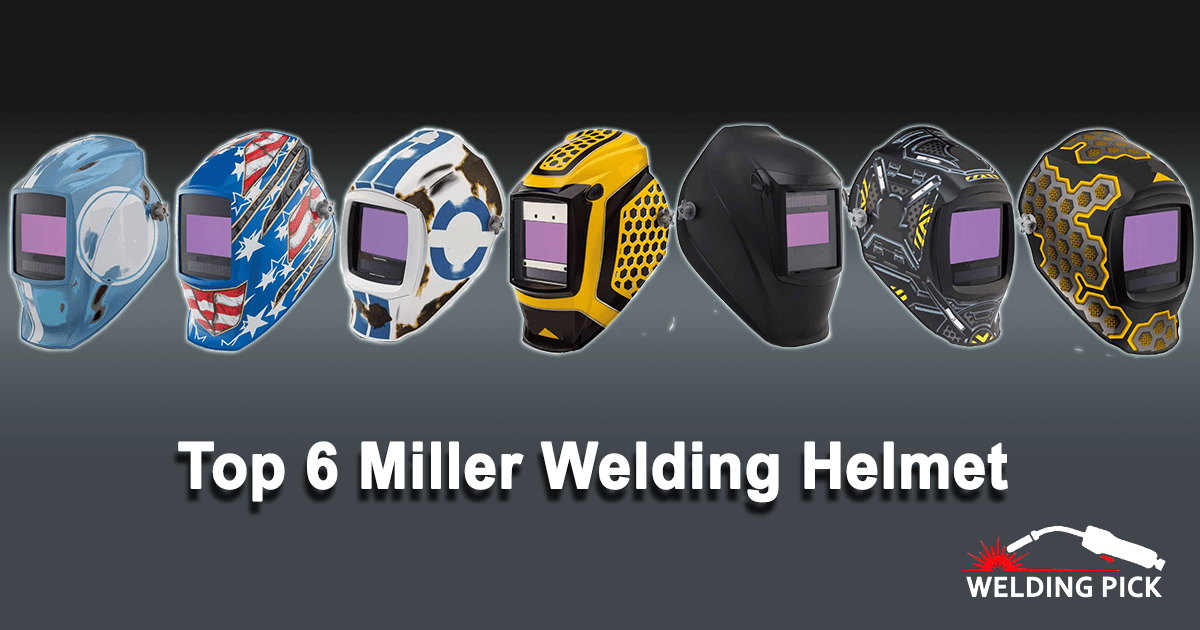 Top 7 Best Miller Welding Helmet Review 2023
1. Miller 281006 Digital Elite Welding Helmet -Top rated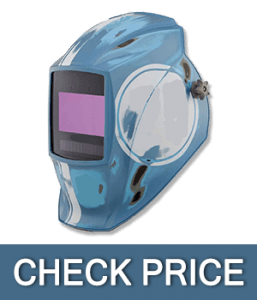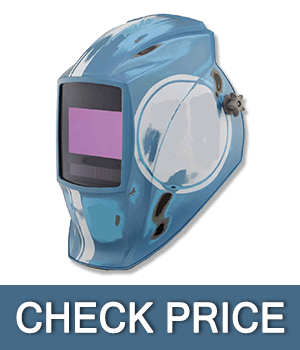 For better fit and more comfort, the headgear provides easy adjustability. Therefore, the constant problem of the helmet moving or disturbing during the work is resolved. This results in relaxation and better work experience, and more ease.
Four arc sensor expands the ability to detect the spark. This, in turn, leads to a better technological system to detect the spark at the strike of an arc.
Further, it enables you to avoid excessive darkening of sensors. This results in liberation from the complex system of digital control and makes the task faster.
The outdoor work has become not only possible but more comfortable with the help of X-Mode technology. X-Mode enables it not to darken in the sunlight.
Therefore, sunlight interferences fail to block the sensors, which help you enhanced your ability to work continuously, whether indoor or outdoor.
Besides x-mode, three other modes – Weld Mode, Cut Mode, and Grind Mode – provide you ultimate Versatility. Now it is not only that you can do only welding, but also other works. With one gadget, you can do multiple works.
Additionally, every mode is equipped with many shades. Consequently, with 100% safety, every task by every mode becomes much more manageable.
The Auto On/off power triggers the sensor at the strike of the arc. This leads to the long-lasting performance of the battery. Further, your chances of getting injured are substantially reduced. Your safety is more important than your work.
For such a unique and enhanced technology, there must be an easier way to manipulate it. Therefore, Digital control allows easier adjustability of shade, sensor, etc. With these many features, complexity is sure but not with this one welding helmet.
But the one crucial thing is that the light should become natural when it passes through the lens. Yes, it is very much possible. The precise light lens technology provides you more color of visible light. Such an excellent spectrum when it comes through the lens, the lens becomes natural.

Improved Technology : From lens to Modes, from digital control to adjustability, everything is improved with this Miller's welding helmet. You will hardly find one with up to date technological system in the market.
Durable : Besides the three-year warranty, customers' response makes everything clear. To ensure that the product will last long, an inquiry from those who have used it. The response will be 100% positive.
Maximum Productivity : One that will provide you maximum productive due to its multiple features. Four Modes provide you ultimate Versatility; Digital control makes things faster, and comfort makes the work more enjoyable. These all features are the guarantee of maximum productivity.
Pros
Auto on/off power
X-Mode
Every Mode with Many Shades
Four arc sensor
Best optic clarity
Cons
One color
Conventional Design
2. Miller 281002 Digital Elite Stars and Stripes III Welding Helmet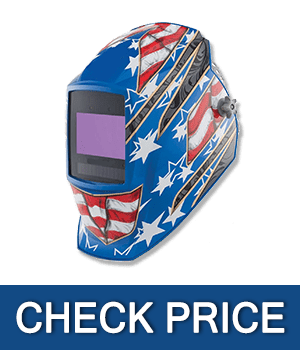 With the help of Miller, your work will become more accessible, faster, and comfortable. It is equipped with all the facilities one desires.
Further, many helmets lack one or other modern features, leading to bitter experience in your work. This one is equipped with all modern features. That's why it is said to make things much faster, easier, and comfortable.
Auto on and off power mode frees you from manual setting. It merely triggers the lens at the strike of the arc. And when there is no arc, it goes off in order to improve battery performance and make things more automatic. You will hardly find this feature in many welding helmets.
Many people have a complaint about the helmet not holding fast on the head. Therefore, it is a massive disturbance when it moves on your head. The Premium headgear in this helmet addresses the problem of comfort and fit.
It will not allow the helmet to slip and make a disturbance in your task. It, unlike other welding helmets, will hold fast and let you work smoothly.
Hardly will you find many Modes at such an affordable price. Its modes – such as Weld Mode, Cut Mode, Grind Mode, and X-Mode – create much more ease in work to provide you the specific ability for a specific task. You can now use what type of work you want to do and how you want your helmet to react due to every mode's shades.
The precise light technology makes it possible to have a clear and natural view of your assignment. Hence, it will be more comfortable and more natural to work correctly. Further, this enables you to view extended areas. As a result, you can perfectly look after the task.
Outdoor work becomes very easy with X-Mode that has the power of electromagnetic sense. It helps you avoid the interference of sunlight in the day. Therefore, for a better job, it eliminates the interference of sunlight that can cause hindrance while you are working on the task.
The digit control in the helmet is very much improved, enabling you to adjust the mode and control the device easily. Digital control's main benefit is to get rid of blind work on a valuable task.
Besides doing its job correctly and helping you weld, cut, and grind, the helmet's design looks cool. Therefore, youth, on average, chooses this one. In addition to a comfortable fit and lightweight, the design is incredible.
The battery performance of the helmet is also of the best quality. The best result of the battery makes the task faster by not always keeping you on wait.
X-Modes : besides weld mode, cut mode and grind mode, X-mode enables you to have a better experience, due to electromagnetic sense, in daylight. Now outdoor work has become more accessible.
Digital Control : for a better experience and more effortless adjustment of all functions, digital control allows you to control it at your fingertips.
Wide View : the area of view is increased and is 9.2 square inches. This is the widest you can ever witness with the help of such a welding helmet.
Pros
Better Design
Fits perfectly
Auto on/off
Four Modes
Cons
Plastic material
Not Manuel
3. Miller Electric Digital Performance Auto Darkening Welding Helmet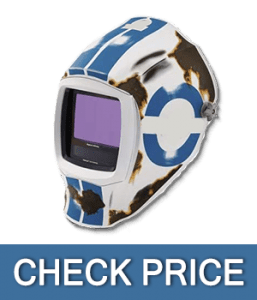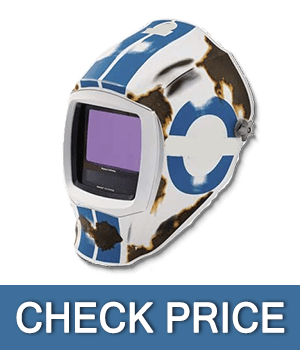 If you are looking for a helmet that should provide an extra clear view, give this product a thought. Extra light view technology enables you to work on a task with more clarity.
The contrast ability distinguishes the tasked area from others, and that makes the task easier.
The more focus of this product is invested in design. Its redesigning, in order to fit perfectly, defies other conventional designs that are in the market.
The entirely redesigned headgear that gives you additional adjustability features results in comfort by fitting perfectly.
Not one, not even two, but three-mode increase its Versatility.
It has a mode like a weld mode, cut mode, and grind mode. With these three modes, you can work on different tasks quickly and enhanced Versatility.
A large push button on the helmet enables the user to adjust mode easily. This not only causes absolute ease but free you from digital complexity.
There are many digital helmets in the market, but they sometimes prove very problematic when used, but you can avail every feature with one push button with the helmet.
Whoever used this helmet gave this helmet a five-star rating for its lightweight feature. One of the necessary things in the welding helmet is that they should be lightweight in order to work on certain things smoothly.
If you felt disturbance with other helmets due to their weight, the problem is resolved with this one.
Like its lightweight rating, the customers also gave five out of five stars for its comfort. This comfort result from various factors and features of the redesigned helmet.
It results from the way it fits perfectly and does not hold loose on the head. At the same time, its weight is light. Therefore, comfort with this helmet, while you work, is guaranteed.
All these features and the capabilities of this helmet does not cost you much money. Consequently, your money is valuable, and you have been provided premium safety for your eyes. This helmet is very much affordable and costs you the money that it deserves, not a penny more.
Below given key features, let you know the importance of the product. Besides the pros, cons are also enlisted in order to help you decide without distracting.
Three Modes : its three modes – weld, cut, and grind modes – make this product possess multiple abilities. Now weld, cut, and grind become too much more comfortable and faster with this helmet.
Auto-Darkening : mode enables the helmet to have substantially reduced injury risk. It protects you from foreign bodies like wielding spark when accident spark from the arc. It ensures your safety 100%.
Clear View : Sometimes, people come up with a complaint that they do not have a clear view of their helmet. However, the technology possessed by this helmet enables this helmet to give you a not only more transparent but broader view of the area you are working in.
Pros
Comfortable
Lightweight
Three Modes
Cool design
Cons
No X-Mode
No Digital Control
4. Miller Digital Elite Vintage Roadster Auto Darkening Welding Helmet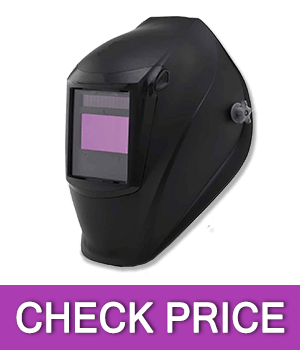 The helmet has improved digital control, a large push button, and an intuitive design to make the adjustability easier. One of the problematic issues in many helmets is that their adjustability either not easier or not possible.
With its all features to make it possible to have easier adjustability liberates you from the problem of adjustability.
Four arc sensing enables you to work even in unfavorable conditions. Superior lens response is a guarantee of a better result in low amp welding.
X-Mode in this helmet makes outdoor work quite possible and safe. Its electromagnetic senses eliminate the sunlight interference and help you detect arc continuously even if sensors are blocked.
Rarely will you find one with this model? Now, your task will not depend on anything. Instead, you can independently do your work without the hindrance of sunlight interference.
To provide you the ultimate Versatility, this welding helmet has four modes. One, Weld Mode enables us to do things like welding; second, Cut Mode helps you cut anything easily; third, grind mode surely helps you to grind; fourth, X-Mode, in addition, helps you work outdoor without thinking about sunlight interference.
This product is not only comfortable, more manageable, faster, but durable too. It will last longer. Besides, you also have a warranty for your surety. Therefore, forget about changing the helmet and stop wasting your money frequently on the welding helmet that lasts only a few days.
The design may seem conventional but will look cool when you wear it. Additionally, the design makes you comfortable. Similarly, the blue color is one of the favorites in the market.
Overall features, design, and color enabled this helmet to rule in the market. You can also be included in satisfied customers.

Three-year warranty : a three-year warrant is evidence of its durability. Therefore, no need to be deceived by a faulty product. Bring one that lasts long and helps you in your work without any unwanted problem.
Extensive adjustability : Improved digital control, push-button, and design – these all contribute to proper adjustability. So that you can make it fit perfectly and do not hold loose on the head, it saves you from a big mess.
Accessories kit : accessory kit includes all necessary accessories like a Helmet bag, (5) an outside lens, (2) an inside lens. Therefore, you need not spend your money on extra accessories.
Pros
Auto-darkening
Wide View
Digital Control
Four Modes
Cons
One color
Conventional design
5. Miller Black Ops Digital Infinity Auto Darkening Welding Helmet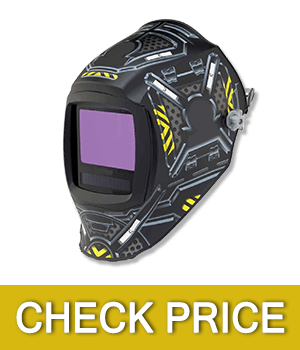 The design of the helmet is very much fancy. Therefore, you may look too cool. The color used in the design is many. As a result, no need to think about a specific color. This design is a revolution in the market, which is way better than simple designs and colors.
The auto-darkening mode ensures your safety 100. Human always involuntarily makes a mistake; even if you accidentally are caught off guard by welding spark, its auto-darkening mode keeps you safe, always.
The viewing area is 6.79-inch square. This area may seem narrow, but it is enough to help you perform your task efficiently. You should not be deceived by those who provide a wide viewing area. There is a difference in performance.
It has four arc sensors. With that many arc sensors, there are fewer chances that the sensor will fail to darken as necessary. Now it has become very much more comfortable to detect spark with a helmet in place.
With the help of headgear, you can adjust the helmet easily. In this way, the helmet will not hold loose. This saves you from disturbance, and you can work continuously.
The X-Mode feature electromagnetically senses the sunlight. In this way, the sunlight interference makes no difference; even if it is blocked, this detection will not be stopped by sunlight interference.
All these features will be in your control. You can use whatever you want to use through this helmet's digital control system.
If you are tired of changing batteries or you think battery won't last long, but this thought away. The battery of this helmet will last long and frees you from frequently changing.
Besides all these fantastic features, this helmet is lightweight, that's why you won't feel spoiled but relaxed. This will cause comfort, and you can do work unhindered.

Fancy Design : you may find many designs in the market, but hardly will you find such a fantastic design. Its design not only looks attractive but, due to this bodily design, adjustability becomes perfect.
100% Safety : four arc sensors, auto-darkening mode, and much more helps you protect yourself easily. Even in an accident, the chance of injury is very much reduced with this helmet.
Best Battery : The battery will last much longer than other helmets. As a result, once you buy it, you will forget to order something else for the helmet.
Pros
Four Arc Sensors
Easy Adjustability
Color Graphic
X-Mode
Cons
Narrow view area
Only two Modes
6. Miller Digital Infinity Welding Helmet -Best For the Money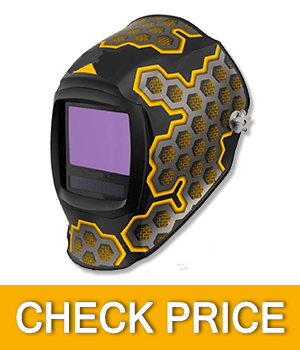 Before indulging in the brief description of its feature, you must know that helmet has got five out of five ratings. Therefore, you will hardly find one with such a positive response. Order one and be satisfied with the result.
The one with the maximum visible area. If you are not satisfied with others due to their view area, check this, which has the most extensive view area. It provides you a 13.4-inch square view area. It enables you to work on a more significant spectrum.
Like many other Miller's welding helmets, it has four modes: weld, cut, grind, and x mode. Every mode is further equipped with many shades. It not only gives you ultimate Versatility but increases your ability to work efficiently and quickly on Versatility.
Equipped with the precise light lens technology, This Miller's welding helmet enables you to have a natural tone. It allows you to experience more color of visible light. Therefore, you can experience any color of your choice for ease of performing the task.
Cushion in the helmet and redesigned headgear guarantee the comfort. The cushion inside makes your head feel relaxed, which leads you to work without irritation. The ultimate result is: work done smoothly.
Further, the redesigned headgear allows you to have better adjustability. Better adjustability is the guarantee of helmet fitting you perfectly and prevent you from the annoyance of slipping or moving on the head.
Its X-mode can not be ruled out, which helps you perform your task outdoor. X-Mode technology eliminates sunlight interference and out of position welding. If even the sensor is blocked, the helmet detects the arc continuously.
Further, the auto-darkening modes technology makes things tidier. It allows the helmet lens to darken and give you a clear view that you can easily see the arc.
The durability of the product is backed by three years warranty. Therefore, the extended lasting features of this welding helmet is guaranteed. You are saved not from the faulty product but also more expensive.
The kit of this helmet includes one bag, five outside lens, and one inside lens. In one package, you are provided with all the necessary accessories.
Many Shades: the helmet is equipped with four modes: weld mode, cut mode, grind mode, and x mode. For a better experience, every mode is further equipped with many shades. The ultimate result is not only the ability to perform many tasks but with a better experience.
Crystal view: This has the broadest view that the industry has ever produced. The 13.4-inch square view gives you the broadest picture area you work on.
Best Optic: Best optics gives you a natural and desired color view. This makes you not feel awkward.
Pros
Largest View Area
Four Modes
Clear-light lens technology
Top rated
Cons
Without Battery
Plastic Material
7. Miller Digital Infinity, Relic, Auto Darkening Welding Helmet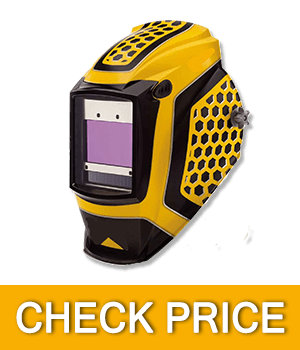 With the largest view area of 13.4 square inches, this helmet gives you a better experience in your work. Interestingly, this is the most massive area range available in the welding helmet industry. Therefore, go for one that dominates the industry.
Why see through the sensors when you are not doing work, but only the helmet is placed on the head? Auto-darkening mode allows the helmet to go dark in the absence of sparks. When the sensor is dark, you experience 100% natural light.
Due to four arc sensory, it does not darken unnecessarily because the ability to detect arc is enhanced. This helps improve your safety, and you can experience better performance of sensors.
Like all other Miller's welding helmet, it has Four Mode: Weld Mode, Cut Mode, Grind Mode, and X Mode. These four modes expand Versatility. Therefore, you can work on many things with one machine.
Do you want to experience a natural lens? The helmet's precise light lens technology helps you experience natural color from the spectrum of visible light colors.
In addition to remarkable features, you are also assisted with Spare lens in the wake of any technical problem. This allows you to work smoothly, without any hindrance.
The problem of helmet moving and disturbing during work is also resolved with Redesigned headgear. You can adjust the helmet correctly to fit you comfortably.
Due to its unique features, the machine is a top-rated one in the market. Whoever bought this gave the machine a positive and satisfactory response. Therefore, it became a top-rated helmet.

Enhanced Safety : the technology in the machine improves safety measures. Auto on/off is one of the features that protect you in the wake of an accident while the helmet is placed.
Best precise lens technology : The better lens technology helps you experience natural tone amid a broader spectrum of visible light.
Ultimate Versatility : the four-mode and every mode with different shades increase Versatility. Therefore, it enables you to perform multiple tasks with one device with 100% safety.
Pros
Battery Included
View area 13.4 sq.
Four Arc Sensor
Four Modes
Spare lens
Cons
Not much light
Issue of comfort
Conclusion
Welding is not an easy task, and without proper protection, one should not take it on. Welding helmets are prepared to provide you safety and ease of work, but the Miller's welding helmets are more capable of just providing protection. These helmets save you a lot of time and make your work simpler and more manageable. We have tried our best to bring you the top-rated Miller's welding helmets; I hope you enjoyed their unique and unbiased descriptions.