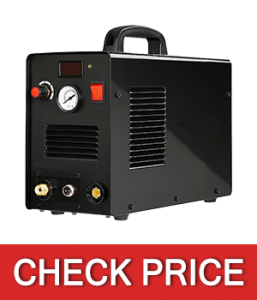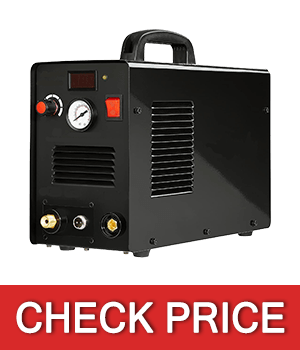 Plasma cutters are the perfect machine used to cut metals of varying thickness with precision and speed. The plasma cutter surpasses all other methods and techniques used for cutting metals. Using conventional methods and tools is no longer useful as they could not give clean-cut as the plasma cutter can give it.
However, since it has been introduced, you may have noticed that there is a wide variety of plasma cutters available in the market with different price tags and descriptions. One simply confuses between them and cannot decide which one is suitable for his requirements.
Taking the benefit of the situation, you will see that there are defective and faulty products available in the market for sale; the person with limited knowledge of the product ends up buying those products that cannot work for which it has been designed and bought for.
Not only does it waste the money of the user but also has to bear an unlimited loss at work. Welding and cutting of metals should be done with extreme care and protection and by following the rules, standards, and protocols. Having a quality, reliable, and effective plasma cutter is essential to have for doing the task flawlessly.
By scanning this article till the end, you will have a sound knowledge of plasma cutters, its features, functions, and characteristics. You will also get a detailed review of a recommended plasma cutter known as the Prime Weld 50A Air Inverter Plasma Cutter.
Even if you are a trainee or a professional, this plasma cutter is capable of performing and fulfilling its task perfectly with accuracy and preciseness. Plus, this plasma cutter comes from a reputable brand, which further ensures and certifies that this plasma cutter is 100 percent reliable, efficient, and long-lasting.
You will be able to do multiple tasks with this product. For more information about this product, read out its design and features; however, let's quickly go through the specifications of Prime Weld 50A Air Inverter Plasma Cutter.

Brand : PRIMEWELD
Material : Steel
Dimensions with Handle : 15" (381mm) L, 6" (152.4mm) W, 12" (304.8mm) H.
Weight : 22.5 lbs. (10.2 kg)
Digital inverter technology
Dual voltage compatibility
Maximum Severance Cut Thickness: 3/4"
Review
Prime Weld is one of the leading brands when it comes to providing excellent quality plasma cutters. Working for years, Prime Weld has introduced hundreds of products to make life easier for the welders. By introducing digitally advanced products, Prime Weld has taken the lead and has become famous all over the world.
Successful brands focus on quality rather than quantity, and Prime Weld is one such brand that never trade-off on the efficiency and reliability of its products. Among all the welding products, tools, and accessories, Prime Weld has now introduced a Prime Weld 50A Air Inverter Plasma Cutter for giving you the best cutting experience at work.
Unique in its own way, this plasma cutter has been designed to fulfill the increasing demands of the user to have an excellent quality product, which can give smooth cuts with high speed. For a detailed review of its specifications, let's read its design and features below.
Design and Features
Having a suitable product from a reputable brand gives you a sigh of relief as you are sure that you have spent your money on the right product. Prime Weld is an established brand, and therefore you can rely fully on its product without a doubt. All their products are certified and highly efficient in all aspects.
Unlike the other welding products, the best thing about having a Prime Weld Air Inverter Plasma Cutter is that it has a low probability of fire hazards and does not produce noxious gases, which ultimately makes it the best suitable plasma cutter for the environment.
Besides that, this plasma cutter requires low maintenance and less cleaning even though it performs better than the other plasma cutters.
To give you the super smooth cutting experience, this plasma is designed and built with digital inverter technology, which ensures that every bit of energy is used fully to boost productivity and efficiency.
Operational cutting power is enhanced, and you can also set the output voltage as per your desire to attain different cutting intensity.
To ensure uninterrupted high power efficiency and output, Prime Weld 50A Air Inverter Plasma Cutter uses the MOSFET transistors, which gives greater competence even at the lower voltage. These transistors have low power consumption as compared to others and are also faster.
Prime Weld 50A Air Inverter Plasma Cutter is compatible with 110/220 voltage power sources so that you can work in a row without a glitch. With smooth cuts, this plasma cutter does not generate much noise and can function with less distortion.
To make it easier for you, Prime Weld makes sure that you can operate this plasma cutter as soon as you receive it, and for that, it includes all required components and tools within the package.
The package mainly includes; cables, ground clamps, air hose connections, cutting torch, and air filter other than the plasma cutter machine. You don't need to get anything extra to make it operational.
Prime Weld 50A Air Inverter Plasma Cutter is made portable so that you can easily carry it wherever you want. The compact design makes it look good-looking, and it also reduces the weight making it one of the lightest plasma cutters. The handle is also included at the top of it for easy convenience.
With all these features and functions, Prime Weld offers you a three years warranty even though all of its products, tools, accessories, and parts are tested from all sides.
Only after passing through a series of test, the product reaches to the consumer. Having a three-year warranty is a liability, and therefore you must get this plasma cutter if you are planning to have one.
Pros
Lightweight
Easy to operate
Cost-effective
3-years warranty
Non-touch start
Consumables are easily available
Cons
Beginners may find it difficult to operate
No drag technology
Final Thought
If you want to have a plasma cutter with all the latest features and function within a limited budget, then Prime Weld 50A Air Inverter Plasma Cutter is best for you as you can see from the review that it comprises of all the advanced features and most importantly, it comes from a renowned brand. Limited stock is available at a time, so order it now and get the best experience at work.