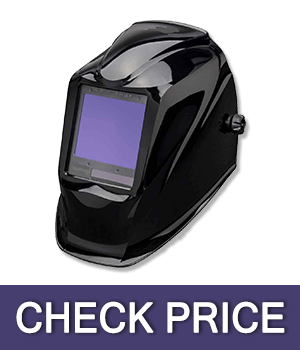 Welders need to have a proper set of personal protective equipment in order to fully protect themselves from getting affected.
The most important part of your body, which is directly exposed during the work, are your eyes and head. Protecting them should be the number one priority of all.
You will see a wide variety of products for the protection of the eyes and head, but the welders need some special gear. When talking about the protection of your face, the product that comes to your mind is a helmet. A good quality helmet has the ability to fully protect your face, including your eyes and the head.
Having said that, in this article, we are going to present you with an ultimate solution, a detailed review of Lincoln Electric K3034-4 VIKING 3350 Welding Helmet. A helmet which is recommended and is used by professional welders all over the world.
It has the ability to fully protect your face from getting harmed due to the welding process and also from other external elements.
This particular helmet presents a long list of features, including some distinct functions and capabilities.
Specifically designed for the welders, Lincoln Electric K30034-4 is designed in a way that not only it protects your face, but also it makes your front and side view crystal clear so that the work is not affected by the light of the arc and you get a clear perception of everything around you.
Brand: Lincoln Electric
Color: Black
Item Model Number: K3034-4
Material: Plastic
Product Dimensions: 12.6 x 10.6 x 10.4 inches
Product Weight: 3 pounds
Modes: Weld, Cut, and Grind
Lens Switching Speed: 1/25,000 (Sec)
Grind Mode Shade/Control: 3.5 / External and Internal
Arc Sensors: 4
Light Sensitivity Control: Continuous
Size of the Cartridge: 4.5 in x 5.25 in (114 mm x 133 mm)
Available View Size: 3.74 in x 3.34 in (95 mm x 85 mm)
Power Source: CR 2450 Battery (included) and Solar Cells
Review
Health is wealth; Lincoln Electric fully understand it when designing and developing different kinds of products, tools, accessories, or protective gear. Lincoln Electric is an established brand with years of manufacturing experience; it has evolved itself according to the needs and requirements of the advanced digital world.
Below you will see the details of the main features and characteristics of this versatile helmet.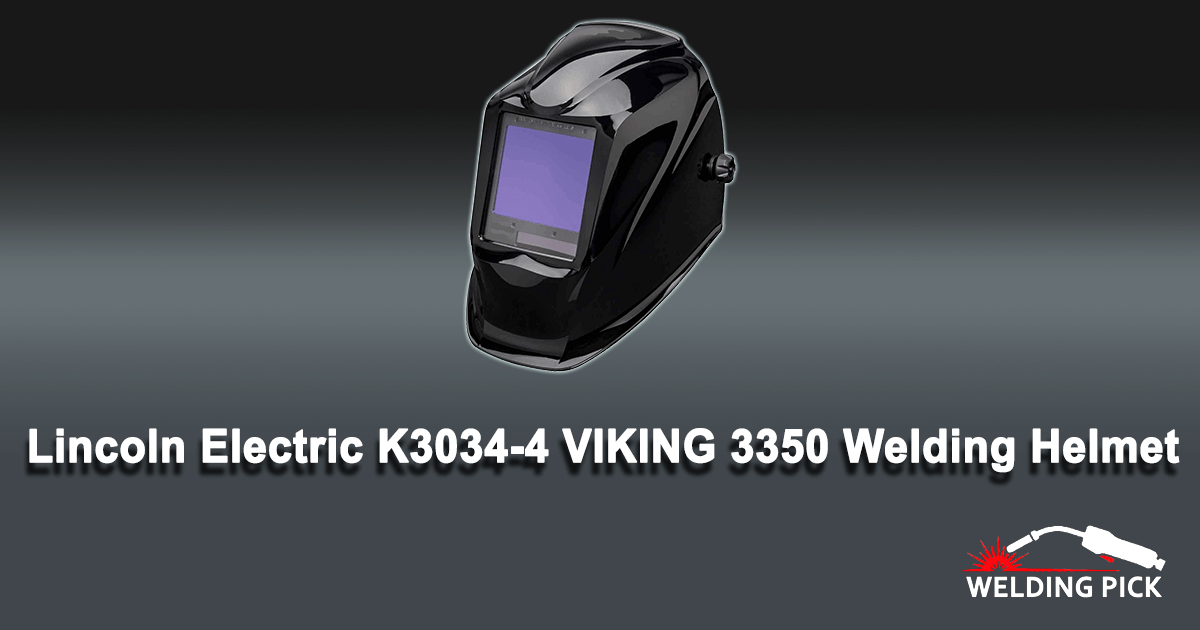 Design and Features
Welding is a process which involves serious health risk, especially for the beginners as they are less aware of the tools and machines. Wearing a helmet saves you from a lot of problems which otherwise can cause severe damage to you.
Getting a reliable quality helmet is vital so that a welder can rely on it and can work without getting anxious or stressed. Luckily we have come across a brand that designs and manufactures high-quality products.
Lincoln Electric K3034-4 VIKING 3350 Welding Helmet is that it uses a 4C Lens Technology. There are several benefits of using this technology; it mainly helps in eliminating distortion, reducing haziness, and gives uniform shade.
By using this, a welder can work efficiently in both dark and light states. It helps you in giving a clear view of everything, including the arc.
Lens size is an important factor to consider when looking for helmets. Lincoln Electric K3034-4 VIKING 3350 Welding Helmet, as it is designed by the professionals, for the professionals, it features a 12.5 Sq. Inches viewing area, you can clearly see the things around you. Thus it helps in enhancing the quality and speed of the work.
No matter what qualities a helmet possesses, it is of no use for you if it is not comfortable to wear. Lincoln Electric K3034-4 VIKING 3350 Welding Helmet is designed in a way that you wear it all day long without getting uneasy.
The helmet is not made heavy; you can easily adjust it on your head as per your comfort level. It distributes the weight equally on your head so that you don't feel pressure on the upper level of your head. Headbands are attached, which can also be rotated for modified support.
To make this lens versatile and long-lasting, it has been made with top quality material and has integrated the latest design and techniques. The helmet features a built-in external grind control button, which is directly linked with the auto-darkening lens.
Using this, you can simply switch between the grind and weld mode with a simple button without the need to remove the helmet.
By now, you must have made your mind about getting this Lincoln Electric Helmet. You should also be aware of that Lincoln Electric K3034-4 VIKING 3350 Welding Helmet is certified from ANSI Z87.1, CSA Z94.3, and EN379 standards. You cannot doubt on its quality, efficiency, and reliability.
The best thing is that, with all these features and functions, Lincoln Electric offers you a three-year warranty. What else you need. Order this helmet and enjoy working without getting stress about your safety.
Pros
Easy to adjust and Superior Comfort
Auto-Dimming Lens Size and large viewing area
Low profile exterior grind controller
Stable inside and outside presentation
Hard Hat Compatible
Cushioned Backpack
Comes with bag and helmet stickers
Available in different styles
Cons
CR2450 Battery is non-rechargeable
Conclusion
You will see a variety of helmets around you but not every helmet features what Lincoln Electric K3034-4 VIKING 3350 Welding Helmet offers. We have reviewed this product after analyzing different kinds of helmets, and we believe that this one is perfect for the welders. So if you don't want to compromise on the quality and efficiency, this helmet is the best pick for you. Order it before it runs out of stock.