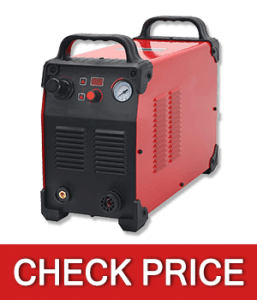 Are you worried about the high cost of a plasma cutter, and the one you are using it is no longer able to cut through the materials? You definitely need to replace it in order to complete the task effectively.
No more worries as we bring down you the most effective solution for all your cutting and welding problems. An advanced and cost-effective plasma cutter machine with all the latest features and technology with a stable and solid structure. CNC Plasma Cutter, Hero Cut HC7000 Plasma Cutting Machine is what we are talking about.
Here in this article, we are going to give you a detailed review of this product, in which we will highlight the important features and elements of this plasma cutting machine and will also shed some light on the unique features and capabilities of this Hero Cut HC7000 plasma cutter and why you should choose this cutter over others.

Brand: HEROCUT
Style: HC7000 220V
Color: Red
Dimensions: 24.5 x 17.25 x 14 inches
Product Weight: 16.5 pounds
Material: Metal
Arc-starting: Blowback Non-HF pilot arc
Amperage Capacity: 70 Amps
Input power voltage: 220V
Duty-cycle (35℃): 60%
Efficiency: 85%
Protection class: IP21S
Maximum Cutting Thickness: 25mm
Review
HEROCUT US is a well-known brand in the field of designing and manufacturing of plasma cutters and welding machines. All of HEROCUT products are certified by international standards and protocols, and therefore this brand is regarded as one of the most trusted and reliable brands.
Having a quality plasma cutter is essential, and you cannot trust every other product you see on different platforms. You should always consider the products which are manufactured by the renowned brand and come from reliable sources.
When talking about the plasma cutter, CNC Plasma Cutter, Hero Cut HC7000, as mentioned earlier, comes from a brand that is globally recognized, and their products are being used all over the world.
Hero Cut HC7000 CNC Plasma Cutter is one of the top-rated products and most-selling products of this brand. There is a very low chance of recieving a defective or faulty product as the HEROCUT has a system in place to make sure that each of their product is tested before it is dispatched for sale.
Particular details of its features and characteristics are mentioned in the section below.
Design and Features
When you talk about the features and functions, Hero Cut HC7000 CNC Plasma Cutter is no less than any other expensive branded product. Comparatively, you will find Hero Cut HC7000 CNC Plasma Cutter to be better in terms of quality, efficiency, portability, and effectiveness.
Affordability is another main aspect you see when going to order any product. As the welding and cutting products are usually expensive, you should know that Hero Cut CNC Plasma Cutter comes within an affordable range and that too, without affecting the quality of the product. You will see all the latest features and technology being used in this plasma cutter, as you may see in any other.
The exclusive feature of Hero Cut CNC Plasma Cutter, which differentiates it from other similar products, is that it does not use the conventional method of cutting with the high-frequency; rather, it has a Non-HF Pilot Arc Plasma Cutter, which is considered as the best method for cutting. By using this method, it does not require high voltage at the start, and thus it saves much energy.
The other main benefit of using the non-HF method is that it does not interfere with the surroundings and does not affect the integrated components. Eventually, it will require less maintenance and will not require additional consumables to make it start.
By using the latest components and technology, this plasma cutter is made highly powerful, effective, and efficient. The plasma cutter can conveniently work with a CNC cutting system table and has a CNC connecting port at the backside of the cutter. The torch plug is given at the front for easy convenience.
With an Input Voltage of 220V, Hero Cut CNC Plasma Cutter can give you a Maximum severance cutting thickness of 25mm at 70PSI. Smooth, precise cutting and simple operation with high speed make this plasma cutter opt as the number one choice.
To expedite the efficiency, reliability and performance of the plasma cutter, Hero Cut uses the Advanced IGBT technology, which is best suited and is adopted by all. It has improved the overall functionality of the plasma cutter and the way the arc starts.
Hero Cut CNC Plasma Cutter has its own benefits as it can be used on multiple applications. The versatile functions of this plasma cutter make it able to cut through different kinds of thick and thin materials and metals, including aluminum, copper, and iron; an 18mm clean cut can be achieved in no time with an uninterrupted power supply.
Hero Cut CNC Plasma Cutter has an integrated fan to cool down the machine so that it can be used continuously for a longer period of time without affecting the performance.
The best thing about getting the HEROCUT plasma cutter is that it offers you all components and accessories which are required to operate the plasma cutter.
Along with the machine, the package mainly includes Non-HF Pilot arc cutting torch IPT80 with 5 meters cable, set of electrodes, earth cable, air regulator, and air hose. It also includes a copy of the manual in case you are not familiar with the parts.
All these come with a one-year warranty, what else you can get at such a price. Whether you are a learner or going to use the plasma cutter for professional use, there is no match for Hero Cut HC7000 CNC Plasma Cutter.
Pros
Non-HF and non-touch pilot arc
Lightweight and portable
Reliable and Long-lasting
Preset NPT air connectors
Highly efficient
Built-in regulator
Cost-effective
Much safer as compared to other plasma cutters
Cons
Not compatible with dual voltage
Final Thought
By now, you must have skimmed the article and important features of the product. You can see from the details that this plasma cutter offers you all the features and capabilities which you may see in any other expensive and branded plasma cutters.
Hero Cut is an emerging brand, and you can fully trust on its products as their products are already listed at the top of the ranks.
With all functions and features, the price is much lower as compared to other similar products; you must look for this CNC Plasma Cutter if you want to get a good experience at an affordable cost.