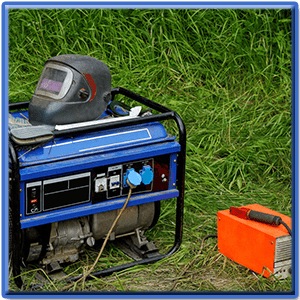 Having a top-notch quality plasma cutter or welding machine is of no use if it is not supplied with an uninterrupted power supply. Therefore, it is necessary for the welders to ensure that there should be a source that can provide constant power supply at all times so that the work is not affected or delayed.
Old model generators and other conventional products are no longer sufficient and are not up to the mark for use in today's world. For welding and cutting, you require special and dedicated generators that are specifically designed and built for the job.
When you go around to check the welder generators, you will come across a wide variety of generators with different price tags, features, and functions. Versatile generators are now introduced with multiple functionalities and enhanced performance.
Choosing the right product becomes difficult when you have multiple options to select from, and as the welder generators are relatively expensive than the normal generators, you need to be careful before purchasing because getting a quality generator is important for the job.
To ease out the search for our readers, we have tried and tested some of the top-rated welder generators available, and after going through it, we are presenting a detailed review of each product below where you can see some important and key features and specifications of the product and can choose according to the requirements.
Before jumping to the product, you should know that all the products reviewed below are from well-known brands. It distinguish from each other in terms of features and specifications.
Let's go through the article and see each product in detail.

Our Top Pick
Considering the detailed features and specifications of each product below, we have selected the Champion Elite 225 Welder/Generator, Model Number 500562, as the best pick product. This product turns out to be the best due to its unique qualities, functions, and cost-effectiveness. It is an adaptable product with multiple characteristics and can be used for many applications.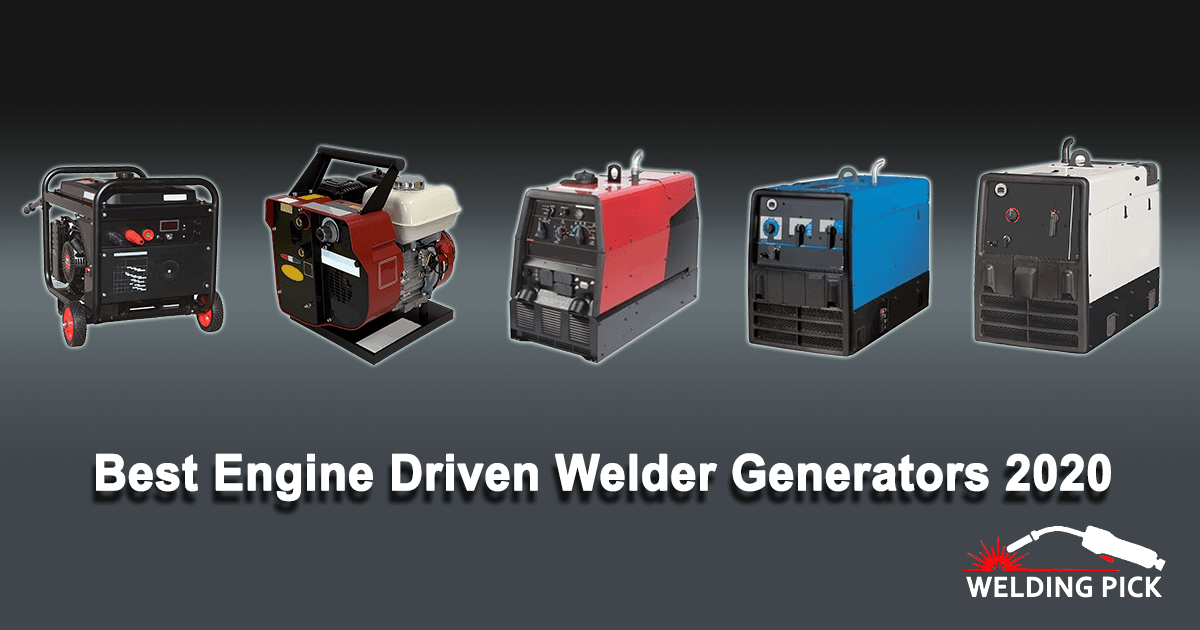 1. Engine Driven Welder, Ranger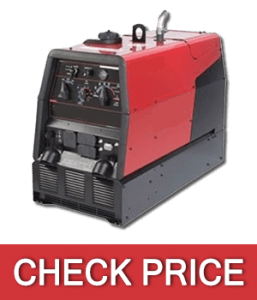 An uninterrupted power supply is required when you want to complete your work on time and without any fault. Generators are the recommended source welders can use for this task. It can be used as the main source and can also be utilized as a backup power source.
Lincoln Electric is an established and certified brand, which means that all of its products are highly efficient and reliable. It is also one of the few brands that are designing and manufacturing all kinds of products related to welding.
Similarly, generators are also being developed by this brand, which is considered as the exclusive product of this brand and is unmatchable in terms of quality, efficiency, and affordability.
RANGER 250 GXT ENGINE DRIVEN WELDER is one of the top-rated and most selling generators of Lincoln Electric, and we are going to present you with a detailed review of it and will highlight some important features of the product.
No matter you have Lincoln Electric or any other branded welding machines, you can fully rely on this generator as it fits in all. There is a reason why it is ranked at the top of the ranks, and the reasons are its exclusive features, some of which we will discuss below.
Highly Efficient and Powerful: One of the main features of this extra powerful generator is its performance and output. RANGER 250 GXT offers you up to 11000 watts at peak and 10000 watts continuous power output. This means that you can work for a longer period of time with the same speed and quality.
Fully Protected and Enclosed: To ensure longevity, the engine is fully covered; the removable doors are given for easy access, maintenance, and service. For easy transportation, trailers are given with the rear holes mounted on the base. Ground Fault Circuit Interrupter kit is there for the additional safety of the consumer, which provides safety from the electric shocks and hazards. Circuit breaker provides additional safety for the components on the 12V battery circuit.
Simple Operation: One of the unique features of RANGER 250 is that it can be operated with remote control operation, which makes it easy to use. With a simple switch to start, off, and for the IDLER functions, you can also select the output range from the given four ampere ranges already set for the Stick/TIG and welding operations.
Versatile, Effective, and Reliable: With dimensions of 759 mm x 546 mm x 1074 mm and up to 602.00 (273.07 kg) of weight, it provides AC/DC welding output, which makes it feasible for use at different welding methods such as MIG, TIG, Gouging, etc. As compared to other welding generators, RANGER 250 produces minimal noise and requires less maintenance.
Pros
Certified to ISO 9001 requirements
Three-year Lincoln Electric warranty
Reliable and cost-effective
Longer engine life
Four cycles overhead valve air-cooled design
23 HP CH730 OHV Gasoline Engine
Electric Fuel Meter and Engine Hour Meter display
2. Hobart Champion Elite Arc Welder/Generator with 725CC Kohler Gas Engine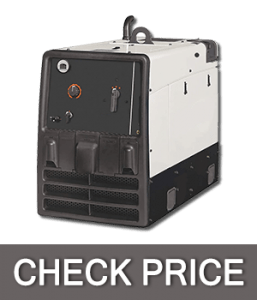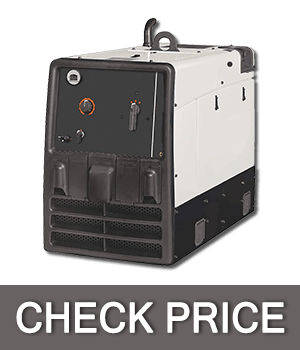 Acquiring a product belonging to a reputed brand guarantees that it will be of an excellent quality and will work effectively. Hobart is one of the most popular trademark in the welding industry; it deals in all kinds of heavy-duty machines, equipment, and tools related to the industry.
Hobart specifically designs and manufactures their products based on thorough research and on the basis of the requirements of the consumers. All of its products are highly effective, certified, and went through vigorous testing before it is dispatched to the market.
If you are looking for a generator, this place is the perfect place for you. Here, we are going to talk about the Champion Elite 225 Welder/Generator, Model Number 500562.
A top-rated product of Hobart's brand which features the latest technology and is fully capable of fulfilling the requirements of the industry and the users.
It has been ranked at the top due to its unique features, consistently maintaining high quality, reliability, and performance. Champion Elite has dual compatibility, which means that you get an 11,000-watt generator and 225-amp welder in one product; along with this, it uses the Innovative Hobart technology, which differentiates it from other competitive units.
Following, we are going to discuss some key elements and features of this amazing, powerful Champion Elite Arc Welder/Generator.
Powerful Engine: One of the first things a person checks is the thing which runs it; in the case of a generator, it is its engine. Champion Elite comprises of the most powerful Modern 4-cycle OHV Kohler engine with dual cylinders, which uses less fuel, generates low noise, and above all, does not produce any harmful gases, making it environmentally friendly. With a 12-gallon fuel tank, you can operate this for a longer period of time; plus, it also features a low oil pressure shutdown function.
High Performance and Efficiency: Champion Elite 225 Welder/Generator can provide 9,500 continuous watts power, and it can reach to its peak of up to 11,000 Watts power output generation. The output capacity makes it feasible to run tools and machines and gives interrupted power supply. With an amperage range of 40 – 225 DC, it gives 225 A at 100% Duty Cycle and 23HP rated output.
Compact Design and Easier to Use: With dimensions of 41 x 20 x 28 inches and up to and less than 4ft in height, Hobart Champion Elite is made portable for easy access and convenience. With a compact design, the efficiency is improved and enhanced the life expectancy of the product.
Easy Maintenance and Safe for Use: One of the best features of Hobart Champion Elite is that it has automatic oil service scheduled after every 100 hours of use. With the enclosed design, systematic electrical connections, and rugged wiring, the unit also has a circuit breaker safety operation, which provides protection from electric shocks. Consisting of a large battery, the unit is easy to set up and start.
Pros
Heavy-duty construction
Smooth Output
Three years Hobart warranty
Fuel savings
Capable of producing power while welding
Digital engine hour meter
Cons
 Relatively high price for some.
3. TOMAHAWK 15 HP Engine Driven Portable 2,000 Watt Generator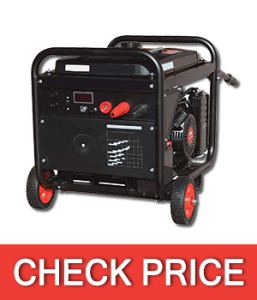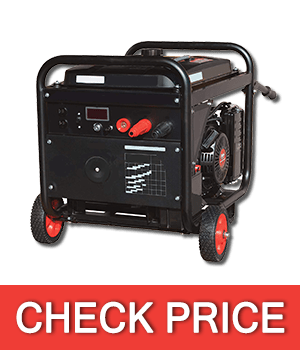 TOMAHAWK is one of the leading brands dealing with a wide variety of outdoor machines, products, and tools. Tomahawk Power products become popular due to its unmatched features and functions, and consistently maintain the quality of the products.
The basic purpose of Tomahawk Power is to produce top-notch quality outdoor power products that facilitate its consumers and make life easier.
To fulfill the demands, Tomahawk Power Store has now introduced a range of welder Generators, which can be used for MMA, TIG welding, etc. Among all, we have found out TOMAHAWK 15 HP Engine Driven 2,000 Watt Generator at the top of the rank.
Above all, Tomahawk Power products are highly efficient and are certified by international standards. Below you will see the details of the key features of the TOMAHAWK 15 HP Engine Driven Generator.
Versatile Inverter Generator: TOMAHAWK 15 HP is the most powerful and versatile Generator; it can weld and give power output at the same time. TOMAHAWK 15 HP Engine is perfect for supplying the stable amperage and is used for Stick, MMA, Arc, and TIG welding. Having an Automatic Idle Control reduces fuel consumption and saves energy.
Powerful Engine and High Capacity: The generator offers a 60% duty cycle and 2000 watts continuous power generation and is suitable for welding 6010 to 7024 rods. For enhanced efficiency, TOMAHAWK 15 HP is integrated with Permanent Magnetized Generator; it provides superior constant power supply and minimizes the need for maintenance.
Accessories Included: Unlike other competitive units, Tomahawk Power Stores provides a complete set of tools and accessories which are required to make it function. It is easy to set up, and you can run it as soon as you receive it. Along with the TWG210A Welder Generator, the package mainly includes the MMA holder, TIG torch, grounding clamp, wheel kits, copper leads, and many more.
Portable, Compact Design, and Easy to Use: Customer satisfaction matters the most for the Tomahawk power brand, and therefore it designs its products that are user-friendly and are portable.  TWG210A Welder Generator features two 120V outlets, a Digital voltmeter, an Amperage dial and is protected by a robust frame.
Pros
Electric and pull start engine
Convenient back wheels for portability
Easy-to-read digital meter
Spare parts are easily available
Recommended for a startup welder
Cons
The generator only runs 120V
4. Engine Driven Stick Welder Generator Portable Welding Machine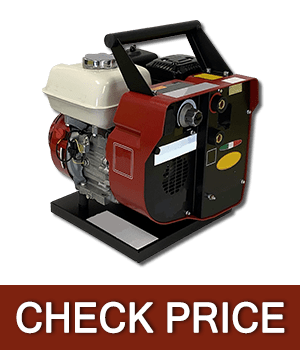 Canaweld is one of the few brands dedicated to build and design top-quality welding and cutting products. You can find a wide variety of welding machines, tools, consumables, and parts being manufactured by the Canaweld.
All of the Canaweld products are designed and produced after complete research and analyzing the needs and requirements of the user. It uses the latest equipment available and integrates the advanced technology to enhance efficiency and reliability.
When talking about the welder generators, Magic Weld 150A Engine Driven Stick Welder Generator is one of the top-rated and most selling products of this brand. It is made with highly durable and long-lasting equipment and beats other branded products in terms of quality and efficiency.
At an affordable price, it comprises of the latest features and designs, some of which are discussed below.

Top Quality Engine: The best thing about having a Magic Weld 150A is its engine. The unit comprises of the Honda GX 200 Engine, which can provide 5 KW (6.7 HP) power output generation. GX 200 is the best available engine in the market and provides superior performance and efficiency.
Highly Efficient and Easy to Use: With dimensions of 24.4 x 19.5 x 21.3 inches and weight up to 75 lb. (34 Kg), the generator has a running time of 3 h, with  IP 23 protection degree, the unit provides 50 A in 60% Duty Cycle, the engine will give an alert if oil reaches to the low level.
Automatic Idle Control and Power Optimizer: The engine has a built-in automatic Idle Control System, which significantly reduces fuel consumption and improves an engine's life. The unit is also equipped with a power optimizer designed by MOSA, which prevents the engine from overloading effects.
Certified and Official Warranty: Though the products are designed and assembled using the latest equipment and technology, all of its products follow international protocols, rules, and procedures.  Magic Weld 150A is CE certified and meets the standards and requirements of U.S. EPA and California EXH/EVP SORE Code of practice; it also certifies that the unit is safe for the environment as well. In addition to this, Canaweld offers three years warranty on its products.
Pros
Permanent magnet alternator
Can weld with all types of electrodes
AC current with micro-breaks for protection
Economizer function for enhanced efficiency
Easy to use and maintain
Cons
Some people may find it expensive
5. Engine Driven Welder, Bobcat 250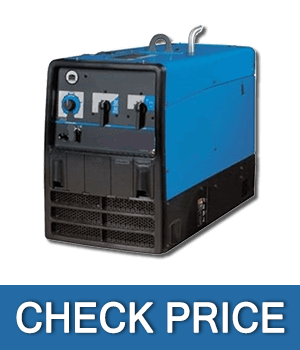 Miller Electric is one of the popular and wide-ranging producers and manufacturers of welding/cutting tools, equipment, and machinery. Dealing with a wide variety, the generators designed by the Miller Electric brand are rated at the top and are the exclusive product of this brand.
Depending on the needs and requirements of the user, Miller Electric has introduced a series of welder generators with different features and specifications. Among all, the Bobcat 250 series has the best generators recommended by the professionals.
Here, we are going to review the Engine Driven Welder, Bobcat 250, Model Number 907500001, which is the most-selling and top-rated product from the series of this brand.
Tig-welding installation type welder generator has some distinct features and characteristics and is designed in a way to make it easy to operate and requires less maintenance.
Details of some of the main specifications and functions are given below.

High Power Output Generator: Bobcat 250 is the best choice for you. It has a Kubota D722 power engine that can provide 9,500 watts continuous power generation and 11,000 watts peak power output, which is sufficient for the use. The engine has a separate 2-year limited warranty.
Smooth Power, AC, and DC weld: Besides power generation, Bobcat 250 provides smooth quality welds on all types of metals. The generator has a ten-degree lop-sided rotor design, which enhances the overall efficiency and performance of the generator.
Compact Design and Easy to Maintain: With dimensions of 41.5 x 29 x 23 inches, the unit weighs only 508.99 pounds; the unit is much smaller in size as compared and is easy to move from one place to another with attached gear. The compact design further enhances the performance, makes it easier to maintain, and generates low noise.
Front Panel Display, Fuel, and Sight Gauges: For the convenience of the user, the generator has a panel display at the front, which shows different readings, fuel level indication, engine hours, temperature, and other important factors.
Fully Protected: The Bobcat 250 can be used for different processes for industrial applications. The unit is fully enclosed with a case; it prevents dust and other particles from affecting the machine and increasing its life expectancy.
Pros
Power and Welding at the same time
Three years warranty
Self-cooling ensures smooth operation in harsh environments.
12 gal. fuel capacity
120/240 V holder with circuit breaker
Selector switch for welding processes
Cons
TIG or Plasma Cutting is not supported
Conclusion
Generators are necessary to ensure the interrupted power supply, so you should not compromise on it and should always look for the best.
The above products are come from well-known and established brands, and there can be no doubt about their quality and efficiency. However, all of the products differ in terms of specifications and characteristics. Although we have mentioned the top pick product based on our analyses, you can choose any of it according to your needs and requirement.