Starting any DIY project is easy but getting the finished product done aesthetically becomes tiring and sometimes boring. The same is valid for removing the slag after completing a welding task.
Welding leaves many unwanted slag residues, which is difficult to get away with if you don't have proper tools. It strains your arm more than the actual job does, and you think of quitting DIY welding projects for good.
Sounds familiar? I bet you are nodding your head in the attestation. And this is what brought you here to search for a good chipping hammer and a steel wire brush.
You want a toolkit that can take your tension away, lighten your burden considerably and make you love your welding projects more.
Get cheered up then, as your problem has already been solved! Manufacturers out there are always busy thinking about how they can come up with novel ideas to make your projects fun.
There are several chipping hammers available in the market, and one of them exists to cater to your preferred needs.
We are going to walk you through ten of them for the time being. All are reliable and come from trustworthy manufacturers. They vary in their size, grip, price, durability, workload, weight, and shock-absorbing capacities.
Some are forged in one piece, while others are made by combining different parts. They differ in the shapes of their hammering heads, too.
When you are out in the market searching for a good chipping hammer that is cost-effective, too, you may end up scratching your head to reach a final decision. As on one side, variety gives us multiple options to choose from, but on the other hand, it makes the job difficult.
Read on and see which slag hammer is right for your needs and match your pocket-size well. We hope these reviews will help you clear the chippings without much trouble.
1. VASTOOLS Welding Chipping Hammer with Coil Spring Handle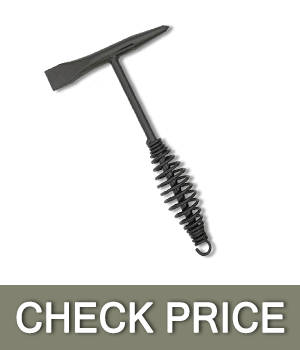 First on this list is VASTOOLS Welding Chipping Hammer that comes with a detached wire brush. It stands out because of its maximum strength.
If you are searching for a mid-ranged welding hammer that is not priced as high as welders' all-time favorite Estwing BIG BLUE or as low as any person on a low budget will go for, this hammer is for you.
BYHH manufactures it. It weighs only 1.3 pounds with 10.5″ size and comes in black color. The spring coil handle is designed to get fit in each hand-size. It gives a good grip and absorbs the shock of contact.
The 6.1″ head is two-sided. On one side, it has a tempered chisel while the other side is pointed. The thick debris can be removed using the chisel end, while the smaller residue spots can be cleared using the pointed end.
Made up of high carbon steel, this hammer lasts longer and strikes better. The head of the hammer is welded all-around at the joint to the handle shaft.
The shoe-handle wire scratch brush has four rows of steel bristles that are embedded firmly in the wood. It has a pre-drilled hole for hanging.
The people who used this kit are satisfied with their purchase. It makes it rank higher on different selling sites.
A few of the consumers complained that the hammer's edges were sharp initially but have worn down to a smooth surface after continuous use. Some said the steel bristles came out much before they expected.
However, these petty issues can be overlooked for the sturdy and robust hammer in this price range. If you want to go economical while owning a good combo, this kit will work for you.
Pros
High carbon steel material
Shockproof handle
A chiseled as well as a pointed end
The head is welded; no fear of it coming out
Comes with a wire brush that works well on all surfaces
Cost-effective
Durable
Cons
Bristles of the brush may come out if used too vigorously
The head of the hammer may chip, crack or break if struck against rigid objects
2. Estwing BIG BLUE Welding/Chipping Hammer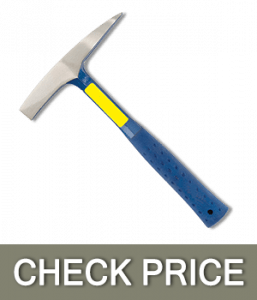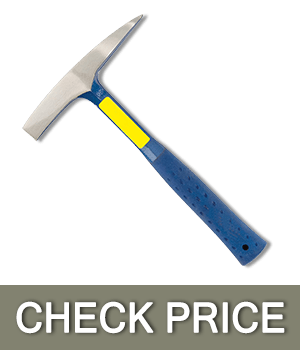 Next on our list is a hammer that has no parallel to it to date. Welders love using it for multiple reasons. One of them is its bonded and molded shock reduction grip that reduces the vibration's impact by 70 %!
If you are a person who is continuously making, repairing, or creating something, you should have this hammer in your toolkit. All machinists, metalworkers, fabricators, mechanics, and serious DIYers out there equally love Estwing BIG BLUE Welding Hammer.
Manufactured by Estwing, this hammer comes in silver color with a blue finish and weighs only 13.8 ounces.
It is a full-sized hammer, forged in one piece meaning its head and handle-shaft are neither welded together nor hammered into. This feature awards it the status of the most durable and long-lasting striking tool.
Its head has a chisel on one end while the other end is formed into a pointed tip. It makes it fit for a variety of jobs. It's ideal for removing welding spatter and cleaning slag from different surfaces.
Made of the finest American steel, this hammer can bear the brunt of constant hammering and can still keep its edges preserved.
Many consumers are of the view that it has proven to be much more than their expectations. It is a kind of once-in-a-lifetime purchase.
The users are happy that it is worth every penny. The buyers recommend this hammer to every welder, whether they are professional welders or DIYers.
The only downside of this slag hammer is its price, but when you want to have the benefits it offers, you should make your mind to spend a little more, too. Mark my word, you won't regret it!
Pros
A unique shock reduction grip
Reduces impact vibration by 70%
Forged in one piece
Can do multiple jobs
Made of toughened steel
Built for professionals and DIYers
Pointed and chisel ends
3. Vapper 41225 Chipping Hammer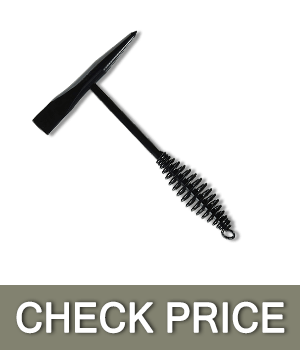 This decently made chipping hammer does the primary job it is supposed to do very well in return for a nominal price. It is perfect for beginners who need to weld off and on.
Manufactured by Vaper, this black hammer comes under the brand Titan Tools. It is used to clear the chippings after welding. It also helps to remove slag when you are done with a welding project. It weighs 1.1 pounds.
It has a coiled spring handle that helps absorb the shock while chipping away and saves your arm from rattling. Like most of the other chipping hammers, this hammer has got a chisel on one end of its head and a pointed tip on the other. Both have their specific purposes.
Using the chisel, you can remove large residue areas quite comfortably and quickly, while the pointed end will help you get access to the narrow spaces that are otherwise difficult to reach.
If you don't use it as a sledgehammer or don't try to shape metals with it, it will last longer to help you with your occasional welding jobs. It does not fall in the category of heavy-duty hammers.
Some users complained that its handle is a bit short in length. Others said that the point became blunt after a little use, and they had to file or grind it to get it sharpened again. One of the customers shared his experience that the hammer's handle slid out of the hole, and he had to re-fix it.
Had the material used in this hammer been hardened steel, and the head fixed well into the handle-shaft, it would have been our best choice for the necessary chipping.
But still, this well-built and sturdy hammer is a right choice for your welding cart when we keep its price in mind.
Pros
Low-priced
Coiled spring handle
Shock absorber
Chisel and pointed ends
Medium weight
Cons
Made of relatively soft metal
The handle slides out if the stroke is hard
4. Junrbx Welding/Slag/Chipping Hammer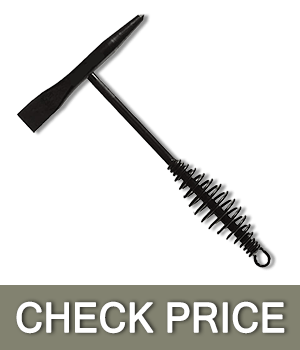 This hammer is a nicely made hand-tool by Junrbx with all the essential features needed to remove slag and welding spatter. If you are a DIYer and like to repair things at home instead of taking them to the mechanic, this hammer will be a great help for you.
Like other regular chipping hammers, it is made up of iron and steel. It weighs only 14.4 ounces. The metal used to make its head is thicker, which means it can stand sharpening longer than others, and there's no fear of the metal getting thin.
Spiral barrel spring-type handle plays a significant role in buffering. It minimizes the strain that comes from a handle made of hardened steel.
It makes sure that the shock is absorbed effectively. The handle provides a comfortable grip due to its anti-skid feature. The spiral handle has a hook at the end.
The head of the hammer has a conical nose tip on one side. The other side is shaped like a chisel with a flat head. This two-sided design gives it multiple orientations. The head's complete flat part can also be used to slide along the surface to eliminate the chopped residue.
If you want to buy a necessary welding hammer and are confused with the numerous options available out there, go for this simple Hammer to begin with.
But if you are interested in buying a combo of a chipping hammer and a wire brush at almost the same price, check out CASAR Welding Hammer in our list.
The customers who used the Junrbx hammer termed it to be a nice starter hammer that had excellent performance.
Some users report that it is not a heavy-duty hammer. It is manufactured to be used at home, not for industrial purposes.
Overall, it is efficient, economical, and practical at a very reasonable price.
Pros
Anti-skid
Economical
Shock-Dampening
Comfortable grip
Durable
Double design head
Best to be used at home
Cons
Light duty hammer
Not for industrial use
5. Pit Bull CHIH058 Chipping Hammer, Welding Cleansing Tool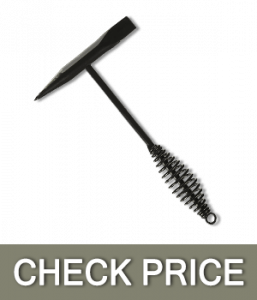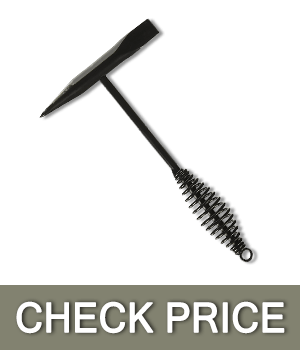 This chipping hammer by Pit Bull is one of our favorites in this list of ten hammers. It is not as outstanding as Estwing BIG BLUE Welding Hammer, but it offers its best at a minimum possible price.
This hammer is made of steel and weighs only 9.6 ounces. It's a hand tool to clean the welding spatter and chipping the slag away. It comes with all the regular features that other chipping hammers in the market have to offer.
Helical barrel spring-type handles keep your hand from touching the handle-shaft directly. It absorbs the shock of impact very well. The handle has a hanging hook at the end so that you can hang it easily from a pegboard or nail.
Its 12″ length is quite noticeable, making it one of the longest chipping hammers available in the market.
The hammer boasts of having a conical nose with a sharp flattened point and a double beveled tail. This feature gives it the ability to do multiple jobs.
Made of hardened steel, this hammer can protect its sharpness for a more extended period and does not need sharpening very often. A decent paint finish promises to save it from rusting.
The people who used it are quite satisfied. They say it is a well-constructed and reliable hammer and like its weight and size.
The users said that its quality was excellent for the price. A buyer purchased it for light-duty projects on the recommendation of a professional welder.
One of the buyers complained that its point was not as sharp as shown in the image. He also said that the brand name, Pit Bull, was not printed on the tool.
Pros
Low price
Helical barrel spring handle
Pointed and chisel ends
12″ long
Dual beveled tail
6. Hobart 770069 Welding Hammer Chipping
This welding hammer is one of its types in this list because it has an attached wire brush. It is perfect for those welders who dislike groping around for different tools when they are up at work with a safety helmet.
Manufactured by Hobart, this 1.08 ounce hammer comes with a black finish. It has a spring handle designed to absorb the shock of hitting, but it is a tiny bit uncomfortable to hold. The handle has a hook for hanging.
The stand-out feature is its attached wire brush that sits firmly on the hammer. It is fastened tightly and gives the hammer the right balance. Unlike old-fashioned wooden-handled meetings, this attached version offers a good grip.
This brush can be replaced anytime. Now, a question arises here: where to get the new brush from? The answer is simple: directly from the manufacturer.
As the attached brush occupies the pointed end's place, the hammerhead comes with a single lot that is straight. If you use the pointy end extensively while cleaning up the slag, you are bound to miss it.
A couple of users complained, too. One said not having a pointed end is a pain. Another said its brush retention springs were too stiff, and he had to go through great trouble to reinsert the brush. It was reported that the chipping end became loose. One buyer found it awkward to use.
So, it all comes down to the fact that this product is not made for every welder. I would recommend only if you like 2-in-1 tools and feel happy to finish the whole project holding a single device.
It is suitable for a quick fix, especially in small narrow places. Still, the best option is to buy a different hammer and brush.
Pros
Comes with an attached brush
Shock-absorbing spring handle
Maintains good balance
Fit for quick fixes
Cons
Lacks the pointed end
Brush retention springs are too stiff
The chipping end becomes loose
Awkward to use
7. Forney 70600 Chipping Hammer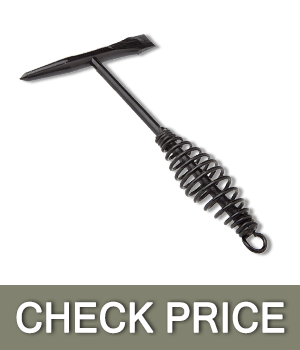 This chipping hammer is manufactured by Forney, a company that has been making metal-working products in America since 1932 and has earned people's trust over the years.
The hammer in question comprises a toughened metal, carbon steel, which gives it maximum strength. It weighs 14.4 ounces and comes in black color. If you like easy-to-use products, you will like this chipping hammer.
Its shockproof handle reduces the effect of a shock to a considerable degree, and you don't end up straining your hand and arm after a welding or chipping session. This handle has a loop at the end for the belt.
With 10.5 inches overall length, it falls into the category of medium length hammers. This is its plus point. Too long or too short hammers make the task a bit challenging, while having one with medium length is like being on the safe side.
It has a tempered chisel on one end while a sharp point on the other. Both have their intended purposes and give more flexibility for work.
Forney Industries offer thousands of products for professionals in different fields as well as DIYers. They claim to be ever ready to answer related to metal-working tools and instruments.
This slag hammer has a 90 days warranty, too. You can spend your hard-earned money without fearing to lose it forever.
The recent users like it for performing an excellent job at a lower price. It seems it has been around for ages; as one of the reviewers said, this hammer took him back to the 60s when he first learned welding work.
Some customers say it is best suitable for beginners as it is one of the simplest chipping hammers. Taking into account its durability, I would recommend it to DIYers and professionals alike.
Pros
Easy to use
5″ long
Maximum strength
Multi-purpose welding hammer
Shock-dampening handle
Chisel and pointed ends
Cost-effective
8. US Forge Economy Chipping Hammer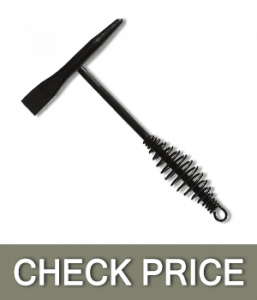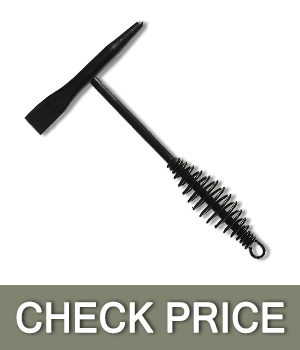 Another medium-priced welding hammer in our reviewed list is US Forge Welding Economy Chipping Hammer, which is perfect for giving as a gift to a beginner welder.
Having all the basic features of a medium-quality chipping hammer comes in a relatively small size and weighs around 14.7 ounces.
The manufacturer claims it to be made of hardened steel that ensures its long life. Drop forging heat treatment is a technique that is widely used in the metal industry.
The hammer under consideration boasts of having a head that has undergone the method mentioned above. It keeps it from becoming blunt so often. The head is welded to the shaft to prevent it from becoming loose.
Although sharpening and reshaping is like an everyday thing in welding-work, any tool that needs to be reshaped now becomes a nuisance. You won't need to reshape it frequently.
This hammer has two ends, a chisel end on one side and a pointed one on the other. The end with a pointed tip helps reach the narrow spots easily.
Spring handle is beneficial for absorbing the shock of hitting. Your hand doesn't touch the handle-shaft directly. You can clean and chip away the weld slag for hours on end without worrying about fatigue.
The people who used it say that this is an excellent tool to do small projects. It's ideal for hobbyists and beginners but not at all for heavy or oversized projects.
One of the customers wonders why the label on the tool warns it'll shatter if struck on hard surfaces; after all, it is a welding hammer and is supposed to be used on hard surfaces.
Another user was cross as the hammer broke down after a couple of uses. He might have hit it on a hard surface!
But we can easily ignore these couple of negative reviews because most customers liked this light-duty hammer for its size and price.
Pros
Medium-priced
Spring handle
Welded at the joint
Chisel and pointed ends
9. CASAR Welding Hammer and Wire Brush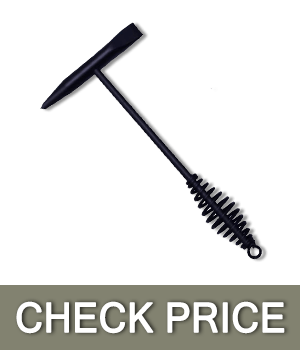 This welding brush in our list comes with a detached wire brush to make the welders' right combination. If you are not a professional welder and need a hammer-brush combo for your DIYs, it might suit your needs well.
CASAR Welding Hammer has a coiled spring handle created to save you from getting shocks of contact. You don't complain of pain in your hand, wrist, or arm when working with a hammer that has a spring handle.
One end of this hammer is a flat chisel, while the other end is a conical chisel to ease your work on different areas of welding debris. With its pointed end, you can get into narrow spots without any difficulty.
The head of this user-friendly hammer is welded to the steel shaft to keep it firmly attached. You needn't worry about it getting loose at the joint.
CASAR Welding Hammer can be used for many purposes. It may replace a life hammer or a broken ice hammer. The high-carbon steel used in its manufacturing gives it maximum strength. It comes with an elegant black finish.
The wire brush with black oil tempered steel bristles car quickly clear old paint and rust to give the surface a neat look. This scratch brush has a wooden shoe handle that ensures a good grip.
Most of the users recommended this brush, saying that it was worth the money and it came exactly as advertised. Almost all of the customers are pretty satisfied with the hammer.
But some users had complaints about the brush. The brush needed to be replaced relatively quickly because of the bristles coming out, even though it was used moderately.
Pros
Durable
User-friendly
Reasonable price
Chisel and pointed ends
Comes with a detached wire brush
10. TEKTON 3079 Chipping Hammer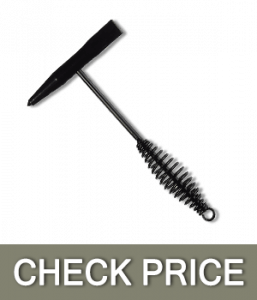 The head of this hammer has gone through drop-forge heat treatment to make it a durable work tool. It has all the essential features that most other chipping hammers available in the market have.
Its double-end head has a ⅞ inches chisel on one end while the other end has a pointed tip. You can remove the slag effectively using these ends according to the area you are working on. The end with a pointed tip can help you get into the tight spots.
A solid steel shaft gives it maximum strength. The head is welded to the post to make it stand the impact of hitting without any tension. The handle of this hammer has shock-dampening property and bears most of the vibrations of the hitting shocks.
The customers liked this hammer for the price and termed it an excellent purchase that is way better than other hammers available in this price range. They liked its solidity and the sharp pointed tip. Some users gave it a thumbs-up for its size.
One buyer pointed out that it's not an "8 ounces" hammer as it is said in the title; instead, it is 18 ounces.
An interesting thing was reported by a user whose TEKTON hammer came apart after a week. Although it was welded back within seconds, it felt like a practical joke by the manufacturer that a welding hammer requires a weld!
However, one user's bad experience cannot nullify the positive recommendations by many. You can buy it without any worry when you consider its price as well as solidity.
Pros
Drop forged heat-treated head
Good weight
Solid steel shaft
Anti-shock feature
Can be used for all welding applications
Cons
A bit uncomfortable grip
Can get apart if hit hard
Buyer's Guide
This buyer's guide will discuss some parameters you should consider before buying a chipping hammer.
Durability
Hammers are usually made up of a hard substance, so there's no fear of them breaking down. However, two things can affect the durability of your hammer.
First: Hammers can become loose at the joint, made between the head and the handle-shaft. To prevent this problem, some manufacturers weld the head all-around to the shafts, and the two pieces become practically one. Others produce hammers that are forged in one piece. No joint, no fear of becoming loose!
Second: Hammers can lose their sharp edges and the pointed tips with overuse even though they are made up of hard metals. You have to file or grind them.
Getting blunt is not a downside, but if you can save your time by reducing the frequency of sharpening sessions, you must go for better options.
Shock Absorbing Capacity
A hammer is a unique tool, and when we hit hard, it gives a shock to the hand. A striking tool should bear the maximum impact of the shock itself and transfer the minimum possible to the striker.
To absorb shock vibrations, some hammers come with a coiled spring handle. They allow the striking hand to keep a safe distance from the handle-shaft.
So the writing and the arm don't experience a jerk with every hit of the hammer. But some users do not feel comfortable with these spring handles and prefer the traditional ones.
It led to the emergence of a new technology that makes the handle feel like a traditional one, but at the same time, its unique design absorbs seventy percent of the shock!
Size and Weight
The overall length of the hammer is essential. It shouldn't be too long to lose its hitting focus, not too short of making you hit your hand on the surface before you hit the hammer.
Weights are essential because a light hammer may please you at first, but soon you'll realize it doesn't work effectively. Contrary to it, a heavy hammer will tire you up sooner.
Comfortable Handle
If you are an occasional welder, handle comfort is not a primary factor to consider. But if you weld often, you'll not like to work with uncomfortable tools.
Wire Brush
A wire brush makes a natural pair with a chipping hammer. It makes the job a lot easier. You can scratch the slag residue that is stuck to the surface and get a neat look.
Some manufacturers offer a low-quality wire brush along with a good quality hammer just to make you buy their product.
Some hammers have wire brushes attached to them, like Hobart 770069 Welding Chipping Hammer. They are useful if you are ready to sacrifice the hammer's pointed end as the brush replaces it and comes only with the chisel end.
I would recommend paying for a separate wire brush that works well.
FAQs
Which hammer is better, the one forged in one piece or the one that has a joint?
Go for the former one but make sure it has a shock dampener technology too.
Is the wire brush attached with the chipping hammer makes the job easier?
If you want to avoid the hassle of picking different tools, consider buying them again and again. But be aware you won't have the pointed end of the hammer with this 2-in-1 tool.
Does the coiled spring handle give the same feel as the traditional one?
No, it doesn't. If you want traditional handles and the anti-shock feature all in one hammer, go for Estwing Chipping Hammer or any other that has the same technology.
Final Thought
Among these ten reviewed chipping and slag hammers, our most recommended one is Estwing BIG BLUE Welding/Chipping Hammer.
Due to its unparalleled shock-absorbing handle and durability, it's worth the price you'll spend on it. It lasts for almost a lifetime, and better preserves its edges and the pointed end.
But if you are on a low budget, consider buying Pit Bull CHIH058 Chipping Hammer. You can also check out CASAR Welding Hammer and Forney 70600 Chipping Hammer if you want even cheaper. Both of these are good for DIYers to chip away the slag.
VASTOOLS Welding Chipping Hammer is a mid-priced option if you are still confused.