Want to get your welding work done without breaking the bank? It is possible as all welders are not out of your range.
Yes, you read it right. There are a few MIG welders that are available for under $ 1000. Our dedicated team could find 20 such welders. Using various information sources, such as recent buyer reviews on different vendor and manufacturer sites, our team weeded 10 out of them.
It included those in the review which exhibited high quality. The primary factors considered for selection were duty cycle, performance, weight, wire diameter, safety measures, ease of use, and quality control. You will indeed find a couple of options that tick all your checkboxes.
The top reason for the popularity of MIG welders is that they are compatible with many metals.
After reading the exhaustive review and the buying guide, the selection process of the best MIG welder under $1000 will be just a walk in the park: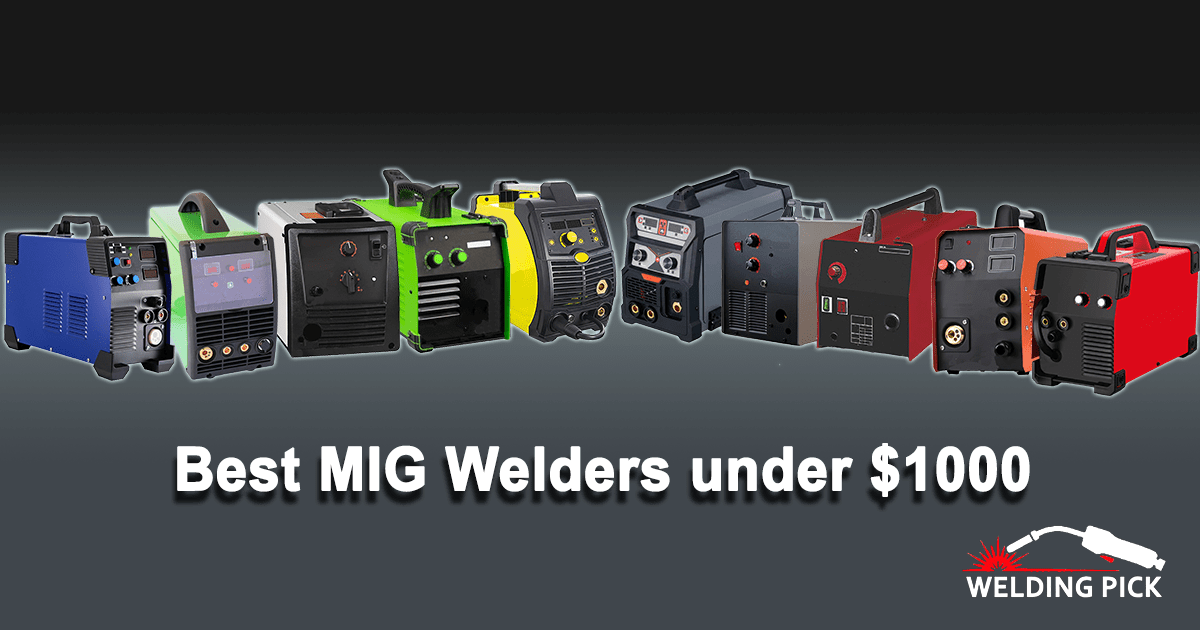 1. Hobart – 500553 Handler 210 MVP MIG Welder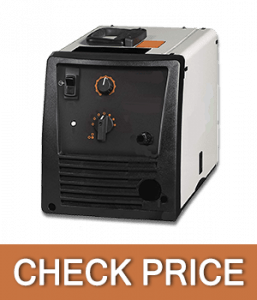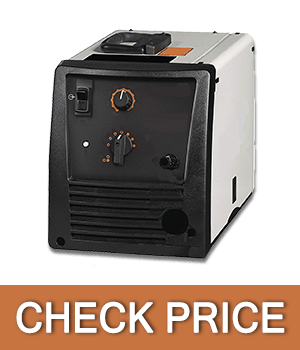 Almost in all the aspects, you will find Hobart – 500553 Handler an impressive welder. However, it is relatively expensive than its competitors. For this reason, you would undoubtedly want to know whether its value justifies its price or not.
As for the essential functions, the listed features should be adequate to perform the job well. For instance, it gives you varied options for the input voltage. It means you can power the tool in different ways. Therefore, you don't need much hassle to find a socket to supply power to the welder.
Concerning wire, you have different choices to pick from. You may choose the diameter according to the job in hand. For your ease, the company has included a door chart to help you with the necessary settings. This chart is not only for wire diameter alone; you may use it for different shielding gases.
The recent buyers especially appreciate the inclusion of gas solenoid valve in Hobart – 500553 Handler. This is an addition to the built-in regulator in the welder. Consumers love to use this welding machine.
Its detailed and illustrative instruction manual elaborates everything pictorially. These illustrations make the usage easier for beginners. With all these features to offer, Hobart – 500553 Handler can easily become your favorite welder.
Overall, Hobart – 500553 Handler is an impressive MIG welder that is highly useful for home and industrial welding jobs. Its dual voltage enables the users to control it precisely while producing low spatter and maximum performance.
With a heavy-duty cycling capacity, three-year manufacturer's warranty, and precise amperage chart for initial setup, Hobart – 500553 Handler doesn't lack anything you would like to have in a welder.
Pros
Easy to set up
Comes with a built-in gas solenoid valve
Relatively higher power output
Three years manufacturer's warranty
Cons
Weighs 90lbs-bulkier than its rivals
Doesn't come with protective equipment
Relatively pricier
2. MTS-165, 165-Amp MIG/TIG-Torch/Stick Arc Combo Welder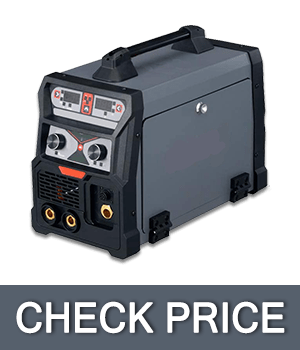 Out of a long identical lineup of AMICO's welding products, MTS-165 is a big name in the welding market. It takes a significant market share and is better than its predecessors in many respects.
It may not be as durable as its competitors in the market, but it positively has affected drastic improvements in the way welders perform.
These positive changes have affected the skill level of welders, which is the main reason for including MTS-165 is the best TIG welders list in our roundup.
The main difference made to this model in the long AMICO welders' lineup was of power decrease. But this decrease is beneficial as the precise control matters more than the amount of power produced.
And MTS-165 precisely controls and creates consistent contact with the metal. It can be called the most effortless heavy-duty welder for the professionals, with its 160 amps and 60 % duty cycle at 160-amps.
When it is said that MTS-165 is a combo welder, it means it is compatible with MIG, TIG, and stick arc welding. It is an ideally built machine to do repairing jobs around the home and auto workshops. It is compatible with flux, aluminum, and solid wires.
It is easy to set up and regulate. Welding mild steel, stainless steel, cast iron, and copper is entirely done with this welding machine.
With its waveform control and IGBT technology, it can weld aluminum of over 0.25 thickness. It is relieving to know that MTS-165 doesn't spatter and gives precise arc recognition.
Its steeples amperage regulator, controls temperature, and keeps the welder ventilated. MTS-165 comes with a one-year warranty and has smooth wire feed while using aluminum wires.
Pros
Equipped with 160 amps
Dual voltage
Multitasking welder
Compatible with several welders
Has updated IGBT
Lightweight
Digital display
Cons
Allows only 110/140 stick welding
3. Forney Easy Weld 261, 140 FC-i MIG Welder, 120V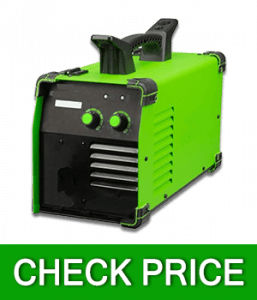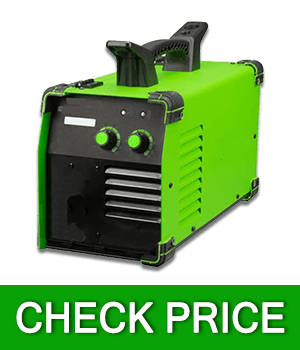 This welder is included in our roundup for its high value. Forney Easy Weld 261welder is primarily designed to do the needful of amateur home and industrial welding.
Forney, with over 88 years of experience in the American welding industry, has the privilege of engineering this valuable welding tool with everything required by a home welder to do all the welding chores at home.
Forney Easy Weld 261 has a lot to satisfy its users. It is powered by an inverter in place of a transformer and delivers 140 amps from a mere 120 voltage at a reasonable price.
This output allows users to weld stainless steel of over 1/4″. It only feeds at a flux core wire and doesn't have a gas MIG function.
Moreover, it is highly portable with its mere 19 pounds and is easy to carry around with a metal box to protect it while commuting.
With its primary function and ease of use, Forney is apt for various welding tasks such as DIY projects and metal fabrication, Forney Easy Weld 261is highly convenient to use. Besides, it can be used to repair machinery. It provides all that is inevitable to attain impeccable welding results.
In sum, Forney Easy Weld 261 delivers quality performance and is perfectly designed for multiple tasking. Simultaneously, it is highly affordable and satisfies its consumers by providing an accurate value and price proportion.
The package includes two spools of wire, a MIG gun, an 8″ clamp, two adapters of 15 and 20 amps, and a built-in torch wrap handle.
For its impressive performance, Forney Easy Weld 261is a highly recommendable welding tool.
Pros
Impressive power output
30 % duty cycle
Adjustable wire feeding and voltage settings
Comes with over 10 pounds spool of welding wire
Convenient to use
Versatile
Durable
Protective measures incorporated
Cons
Doesn't include the gas MIG function
Is not compatible with hard wire
Doesn't last as long as many of its competitors
4. 2020 Weldpro 200 Amp Inverter Multi-Process Welder with Dual Voltage
This robust welder is relatively expensive. Buying Weldpro 200, Amp Inverter Multi-Process Welder may set you back over $650. This raises the question of whether the value it provides is proportionate to the money spent or not. And why to go for this when there are more affordable choices available.
To answer these questions, let us tell you in the first place that unlike its affordable competitors, Weldpro 200 Amp Inverter Multi-Process Welder combines flux-core, TIG, MIG, and arc welding into a single package and is a versatile machine. Its dual input voltage of 120 and 240 renders 140 and 200 amps and can weld metal sheets with up to 1/2 inches plate.
While this versatile welder can handle different welders' work, it is not a massive machine. It is highly compact with its seven ¾ x 8 ¾ x 15 inches. And this compactness of size makes it highly portable and easy to store. It can be stored in a small corner in your attic and is an ideal welder for your home and professional use.
Another mentionable feature of Weldpro 200 Amp Inverter Multi-Process Welder is its synergic design. This means that it automatically gets its voltage adjusted with the frequency of the wire. It is an excellent feature for beginners.
In sum, Weldpro 200 Amp Inverter Multi-Process Welder has much value for the money you pay for it. This versatile welder can replace three different welders in your toolbox. At its core, it is a flux-core welder with 100 and 220 Voltage power. However, it can handle TIG and MIG and stick welding tasks too very well.
Pros
Come with 13 feet TIG and 10 feet MIG torch
High-speed lift-start TIG welder
Includes trigger locks for durable welds
Comes with a gas moderator
Adjustable voltage by 20 % higher or lower than the initial voltage
Is capable to weld steel of up to 1/8 inches diameter
Versatile to handle various welding tasks with its dual voltage (110 and 220V)
Highly portable with its 30 pounds
Multitasking welder, can hold MIG, TIG, stick, and flux-cored welding
Cons
Lacks foot pedal compatibility
Lacks AC for TIG welding
Relatively expensive
Blows out metal sheet due to automatic arc
5. LOTOS MIG175 175AMP MIG Welder with Free Spool Gun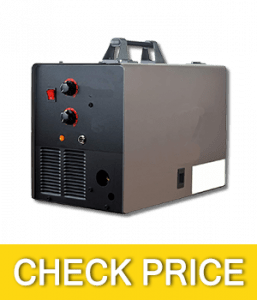 Up next on our list is LOTOS MIG175, which will undoubtedly check the boxes for many of you.
To your surprise, its package includes spool guns, which save you much money if your welding involves aluminum wire.
Its initial setup is relatively easy and delivers a 20 % duty cycle while running its maximum capability. This makes it an impressive pick for MIG welding.
The best about LOTOS MIG175 is that with all the accessories delivered in the package, it is ready to use out of the box. However, a few users have complained about the damage during shipping.
Nevertheless, LOTOS appears to have responsive support to such customer issues. The vendor sites' users have given positive remarks for the company's cooperation in making for these damages.
With its ability to load 4- and 6-inches wire spools, LOTOS MIG175 can ideally weld up to 3/8 inches of aluminum. LOTOS MIG175 has 220 and 240 Voltage inputs, which is considered one of the principal inputs for its power.
Surprisingly, it comes with a spool gun for the price, which saves you quite a bit of money if you want to work with aluminum wire. It easy to set up and a 20% duty cycle when running at maximum potential.
A great MIG welder in terms of performance and versatility. However, you might need a welding cart for this massive machine.
In sum, LOTOS MIG175 is an excellent pick for its performance, versatility, and durability. However, you may require a welding cart to move this heavy welder. Most of the time, you would prefer to keep this bulky machine stationary while using.
If you can bear with it, the machine you will notice will live up to its reputation. It will perform the actual job with an excellent finish and last you longer than the other welders included in this roundup.
Above all, the good news is that you can send it back to the manufacturer and demand a refund if you experience any breakage or malfunctioning.
Pros
The package includes an aluminum spool gun
30 % duty cycle at 135 amps
Includes a mask for welding, a MIG torch, a ground clamp cable, an argon moderator, and a hose for gas
Great customer support
30 days money back manufacturer's guarantee
Cons
Weighs 85 pounds, bulkier than many other welders
Input limited to 220-240 only
Some consumers report damaged hinges on delivery
Some spare parts are rare to find in the local market
6. 2019 Everlast Power MIG 200 MIG Stick 200amp welder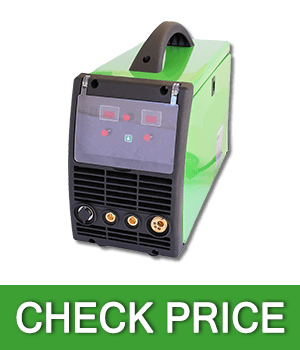 It can catch sight of those professionals and hobbyists who are n a budget and require some welder priced lower than $500.
Our list of the ten best MIG welders is included for its being cost-effective and light weighed. It even surpasses Weldpro MIG200GDsv too in its lightness and portability.
This compact welder unit has even other functions to read about. Though there are a few industrial limits, its capabilities are not irrelevant.
The welding criteria are very well organized to highlight the labels and are color-coded. This makes it easy for the user to change the controls before the start of the process.
You may rely on the digital display for its precision to control the amperage. The level will be seen the moment you make some changes.
Everlast Power I-Tig 200 has an option of 110/220 input voltage and a welding range of 5-200 A with TIG and 5-160 A with Stick feature. The vital move goes to the button for 2T/4T.
Using 4T as a trigger switch, the welder does not have to continually press the welding torch handle button to allow arc operation, but 2T does.
It is designed for DIY welding projects at home. It can be used as an additional backup welding machine by the professional welders who already have a heavy-duty welder.
One of its salient features is that it uses a power source with 12 V.
For light in weight and portable, you can easily keep it in your car trunk and take it to your client's place.
Its manufacturer takes pride in making this model power efficient. Its efficiently engineered design makes it use a significantly less amount of energy.
As for its wire diameter, it is limited as compared to many of its counterparts. It should pose a problem. However, it can be made up with the use of power extensions. Its five-year warranty is another mentionable plus.
Pros
Compactly designed
Light in weight
Highly portable
Compatible with standard electric sockets at home
Economically priced
Comes with a five-year manufacturer warranty
Cons
Relatively less wire diameter range
The manual would have been made more illustrative and explanatory
7. Lincoln Electric K2185-1 Handy MIG Welder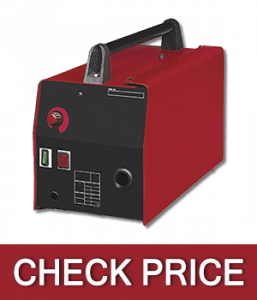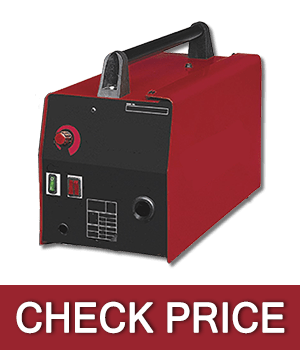 A great welder for all welding chores at home. It is also an ideally built welder for mild repairs in auto parts. Being both a MIG and flux-core welder, it is a great go-to for the hobbyists to do their routine welding jobs.
You will be pleased to learn that Lincoln Electric K2185-1 operates quietly and has an additional torque drive. Another attractive feature of Lincoln Electric K2185-1 is that it has a built-in cast aluminum gearbox.
Moreover, the manufacturer has taken special care to stop the usual tangling and crushing of wire in the drive system.
As for its applications, it works the best with thinner metals using MIG welding. However, if you happen to weld thick sheets of steel, you will have to switch to its flux-cored mode.
Its package includes a welding gun, which may be attached with a 10-feet long cable provided by the manufacturer.
The operation with Lincoln Electric K2185-1 is hassle-free as several straightforward controls are incorporated in it, and the newbie also do not face any problem using it.
To your ease, it has only 115 input voltage, which is relatively low and can be connected anywhere in your home or factory.
In sum, Lincoln Electric K2185-1is a powerful and versatile welder and can handle various welding projects at home. Its versatility allows you to switch between MIG and flux-cored welding quite conveniently. It lets you manage the tasks which require different welding styles.
Concerning portability, with its 46 pounds, it is not as light as others included in this roundup. However, it can be carried around your home or workshop garage. The manufacturer has added a handle to make its transportation effortless.
Pros
Excellent power output
Includes aluminum gearbox
Comes with a welding arc
Has a ventilating fan system that adds years to its longevity
Has low input voltage and can be plugged straight too your home or workplace socket
Manufactured with top quality material
Light enough to be commuted around when needed
Includes accessories such as contact clips and spool
Cons
Lacks gauge for gas, and you cannot monitor the level of the left-over gas in it
Unable to handle more than 10-pound wire spool
Relatively expensive
Safety equipment comes with additional cost
8.  Mophorn MIG Welder 200 Amp 3 in 1 Welding Machine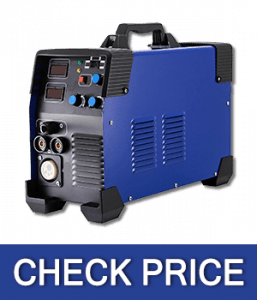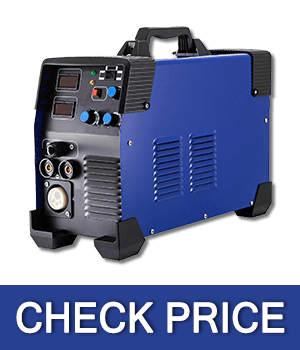 Another welder that can handle various welding jobs for you while remaining within your budget! Mophorn MIG 200 Amp 220V has a variety of functions incorporated in its design.
It is not only performance due to its updated inverter feature that comes with an electric reactor built to regulate and smooth transition.
With the capacity to weld metal sheets up to 0.8 mm diameter, Mophorn MIG 200 Amp 220V can be used for metal décor at home. It works equally well with automobile and other outdoor repairs. It can be kept as a backup welder for manufacturing and repairing machinery.
Concerning performance, it either equals or excels pricier models with its output range of 40 to 200 amps. The duty cycle of Mophorn MIG 200 Amp 220V is 60 % for MMA and 35 % for MIG.
Besides, while it is fitted with a 110V plug, it can be used comfortably with a higher voltage as long as it does not exceed 220V.
The wire diameter, which varies between 0.8 and 1 mm, the available electrode thickness, between 1.6 and 4 mm, and the power factor of 0.93, are other relevant specifications.
The devices and safety supplies included in the kit are nothing but a huge bonus, including the helmet, pad, 3m 15AK torch, electrode holder, and field cable. It also comes with a manual that outlines every feature in just a few minutes and lets you set it up.
This is one of the most challenging models on the market, supplied with over-current, over-heat, and over-voltage safety. Moreover, it is incredibly lightweight and portable.
It has many features that can cover any form of welding at a reasonable price, so we consider this to be one of the budget's better investments.
Pros
Multitasking welder
Efficient duty cycle
Heavy-duty
Works well in industry and home welding
Cons
Doesn't include a gas hose
The 110V-shaped plug may be baffling for the beginners
9. HITBOX New Arrival MIG Welder MIG250 3 in 1 Welding Machine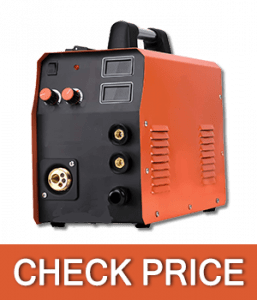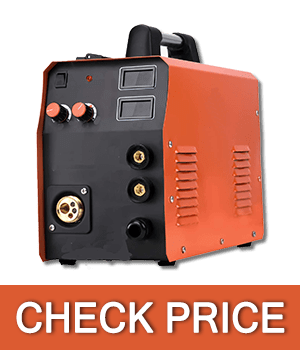 MIG250 by Hitbox is an excellent pick for welding, which mostly involves stainless steel.
MIG250 is compatible with as heavy wires as of 5kg and 15 kg. For this reason, it is an ideal MIG welder for repairing heavy machinery and other large metal items.
Its capability to be used with a power generator makes it highly popular among beginners. Moreover, you don't need to buy any accessories required for your welding job as the package includes all the items required for welding. You will find yourself to be all set for using it on various metals right out of the box.
Using this welder, you can competently manufacture many handmade products. You may also use it to repair automobiles. It will finish its job with perfection, giving you a subtle finish at the end.
This is a welding machine that you can use when you are trying to build handmade products. You can also use this when you are doing automotive repairs and so much more. The quality of the finish is excellent, even if you are just a beginner.
Our verdict on Hitbox is that it is an impressive and budget-friendly MIG welding machine that is smarter than the average duty cycle, overall strength, and its ability to generate reliable, pro-quality welds.
But it's not without its limitations. This model isn't for you if you're searching for a welding machine you can use for big jobs at work. However, it will perform smaller jobs on the worksite comfortably and is ideal for use in the house.
In the end, you will get a mighty welding machine that can perform a range of jobs, some nice extras, and a model that is accessible at a low price. For novice or pro welders on a budget, we will strongly recommend this model.
Pros
An ideal pick for DIY welders
Responsive customer service
Easy and quick setup
Cons
Some consumers reported that it becomes non-responsive suddenly for no reason
On/Off switch sometimes become inactive
10. SUNGOLDPOWER MIG 140A Gas and Gasless Welding Machine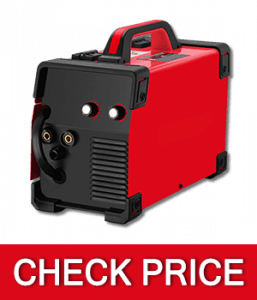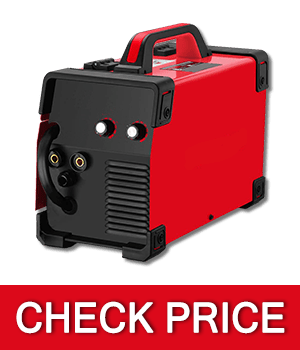 Sungoldpower is another name that we should include in the list of MIG welders under $ 1000. It comes with a dual voltage, which provides for 110 and 220 voltage. It makes use of 140 amps for performing its welding operations.
The welder is best known for its versatile nature. It is mostly liked by hobbyists and professionals whose welding job includes multi-functioning. Besides, it works well on various metal sheets and gives an impeccable finish.
To make it function for varied tasks, Sungoldpower has combined MIG and flux-core welding free of gas. That is the reason for including gas protection in this unit.
You will have solid-cored cable and flux-cored cable both incorporated in this machine while using it for welding. Besides, it comes with a two pond and 10-pound reel suit of wires.
Another mentionable feature of this multitasking welding machine is that its welding speed can be adjusted. The unit is highly efficient in welding jobs on different metal sheets.
To weld the metals with a wide range of diameters, you will have to adjust this unit for working on different applications. By this, we mean that this economically priced welder can be used to repair rusted pieces of metal, agricultural tools, and the equipment used on the roadside.
It can be an ideal tool to stand the extreme weather conditions as well. However, you need to use its mechanics to make it adjustable with the application in hand.
In sum, SUNGOLDPOWER MIG Welder 140A is ideally manufactured to suit newbie and expert welders' needs. It works excellently with mild steel, stainless steel, and other metals.
Its advanced controlled technology makes it function flawlessly with all the metals. With this welder in the market, your search for a spindle adapter should be over.
Pros
Versatile welding tool with dual DC inverter
Excellent for multitasking
Adjustable wire feed function
Sturdily built
Comes with protective thermal conductor
Perfectly secured
Reasonably priced
Cons
Some consumers reported an average lifetime
Buying Guide
The following factors should be considered while choosing a MIG welder under $ 100
for you:
Input Voltage
Although you can have new sockets installed at your place for a welder or hire an electrician's services to tweak compatible power output, it is always more straightforward to buy a machine that goes with your currently installed socket. Home users may choose a welder rated at 120-240V as it is commonly available for most households.
Output Power
The higher output, the better, as it will give you a better range. The output power range dramatically impacts the end product.
Size and Weight
These two factors are not considered as far as the performance of a welder is concerned. However, they are of critical importance when it comes to computation and storage.
Depending upon your welding objectives, you may choose a heavier one to be kept in one place. However, the light one is easier to carry and store.
Duty Cycle
By duty cycle, we mean the on and off process of a welding machine. It is often denoted in percentages. Various welding machines have widely varying duty cycles, ranging from 20 percent to up to 80 %.
We would advise you to go for the longer duty cycle as it will give you more time to work on your welding task at a stretch if the other features remain the same.
Wire Diameter
It largely depends on the work in hand. However, it is better to have a machine that is compatible with a broader range. The wires with thinner diameters attain a higher density of power as compared to their thicker counterpart.
As a result, the thinner one gets deeper into the metal. A thicker diameter is needed, especially when you are welding close to the metal surface.
Welding Capacity
Check whether the welding machine can weld the metal sheet's thickness you usually work with and choose accordingly.
Spool Gun
This component is inevitable when you are looking to weld metals like aluminum. If your welder doesn't come with a spool gun in it, you will have to spend extra money on its purchase.
Otherwise, you will never be able to weld aluminum with your welding machine. Most of the companies manufacture their welders with spool guns incorporated in the structure. However, some welders such as Miller Electric 907612 lacks it. Make sure the welder you buy has one in it.
Thermal Protection
The energy flowing inside the welder sometimes causes overheating. It becomes the leading cause of adverse chain reactions in welders, for instance, a short circuit in your welding equipment.
Such reactions are harmful to the welding machine and the user alike. Therefore, some protective measures should be included in the device.
For the same reason, some manufacturers have thermal protector, which quickly senses overheating and disconnects the welder from the power source. It is pertinent to keep the machine and the operator safe.
Performance
Performance depends on many of the factors given above. There are many other things to go into it. Together they determine whether the welding machine is efficient or not. The most telling factors may be duty cycle, wire diameter, and output. Check them in specs while choosing one.
Warranty
The longer, the better as it offers refunds and repairs. However, a warranty longer than twoo years is rare.
Other Features
Pay some attention to the amps required to run the welder lest you should end up blowing the fuses. Similarly, if you want to operate it upon the generator, call the company whose generator you are using and ask for your welder's electric requirements.

Conclusion
Welding is a great hobby and profession. However, it is a bit expensive. Therefore, you should make wise choices out of a few MIG welders under the $ 1000 we recommended above. Choose which fits best with your requirements and budget.