If you are somehow related to welding you must know that aluminium welding is far trickier than steel alloys. Well, of course, the metal with low melting point and higher conductivity cannot be easy for welders especially if it is about thinner aluminium.  In case of little carelessness, it may cause burn through.
With that being said, welding is the process required attentiveness and carefulness, simultaneously for aluminium welding you need to be pretty cautious and must select the right welding method suits the need for precise application.  Materials, welder's skills and many other factors involved while choosing the welding method for aluminium.
But ultimately to decrease the risk factor and performing proper aluminium welding one should choose the best welder for aluminium.
Although it is not easy as so many different welding techniques, specifications, shielding gases along with the post and pre-welding processing includes in aluminium welding.
That's the reason causes way too much confusion for the common person when they are all set to buy the best welder for aluminium.
Considering the level of difficulty and confusion, we will be discussing how with a few alterations you will be able to perform any aluminium welding process easily and how to choose right welder that is versatile enough for a variety of application.
Are you searching for a right, versatile and best welder for thick aluminium? Do you want to get a perfect welder that offers you a sound solution with all aluminium welding methods?
Here we bring to you solutions and narrowed down the list of top 8 best welders for aluminium, examined and shortlisted only the best machines to help you with safe aluminium welding.
Top Best Welders for Aluminium
Now that we are done with so many factors involving aluminium welding, let's talk about the other most crucial topic of discussion that is what you should know before choosing a welding machine for aluminium.
Do not overlook this aspect and do check out our comprehensive buyer's guide mentioned in the end, to help you provide basic idea and awareness about the relevant purchase.
If you are wondering about why buyer's guide, well market saturation is on peak these days if you are the one with good know-how about the brand and model of welding machines for aluminium so this buying guide is not for you. Those with less knowledge on this may get themselves in somewhat difficulty,
Checking our honest reviews of top welders for aluminium will help you define every aspect and specification of the equipment which instantaneously helps you select the one suit your need.
We will be looking at the list of best welders for aluminium first:
Top 7 Best Welders for Aluminum (Tig & Mig) 2023 Updated
1. Lotos 200A Aluminum TIG Welder – Best Aluminum Welder for Beginners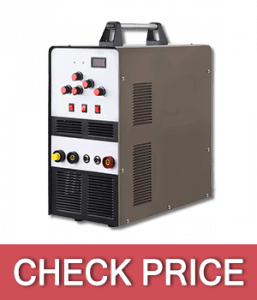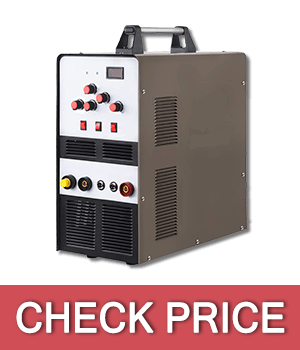 We begin our list with the cost-effective TIG welder belongs to the popular brand Lotos. The company's journey of great reputation involves dedication, devotion, hard work, innovation and technological advancement, altogether gave it a successful outcome that everyone acknowledged.
Before getting into the specs of this TIG welder directly, it would be better to know some self-explanatory things about the unit that offers you accurate and smooth aluminium welds.
Even though the unit offers a simple array of features but its simple control for versatile applications, automatic dual voltage, compactness and competitive market price are some of the aesthetics makes it unique in any way.
Begin with the technical details this unit by Lotos is intended to design with 200A AC square wave inverter that precisely offers accurate aluminium welds, while the PAPST advanced cooling technology is build-in which keeps the plasma cutter firm to give you a favourable outcome.
Speaking of the fact what is a real surprise to us is that the welding machine can shockingly hold up fine even after several hours of use every day.
Even though you are hobbyist or beginner or willing to learn TIG welding this machine gives you all ease to use its intuitive controls, this is the fact makes this unit a good option.
However, we felt lacking variable frequency settings and pulse but practically speaking these are simply the deluxe-like features that can only add up the machine's price while you can conveniently use hands-on functionality which is not at all confusing.
Overall this is a go-to welding machine, perfect for all small projects, produce smooth mild steel, stainless steel, aluminium and other metals, with the welding capacity of 9.5mm (3/8").
We cannot call it a flaw but on an honest side you cannot expect too high to this inexpensive, durable machine, is ideal for welding thinner gauge materials, which last for years.
Pros
Compact & portable
high-quality build
automatic dual voltage 110/120 v, 220/240 v
low weight machine
amperage range 15-200 amps
suitable for aluminium and various other materials
backed by 30 days refund and 1-year limited warranty
Cons
Not applicable industry usage
2. Lincoln Electric Power MIG 210 MP Welder – MIG Welding Aluminum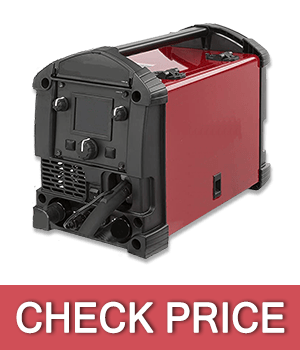 Coming up is the highest-rated and top quality welding machine; the Lincoln Electric Power MIG 210 MP Welder is engineered with state-of-the-art technological advancement to ramp up the abilities of welders at highest.
By keeping its reputation maintained the Lincoln Electric did a great job in making this machine best portable, compact, straightforward to use and multi-functional at the same time.
Speaking of the versatility, the welder is the kind of machine that offers different welding options, in general, it is said to be 4-in-1 welding machine. Such welding functions can be described as TIG welding, MIG welding, stick and flux-cored welding.
Well of course from a construction point of view this unit actually is a gem however its layout functions are quite predictable, making it something easier to use.
With said, this unit is the dual voltage with a variety of input voltage 120 v & 230 volts so that you can plugin into any type of average power supply.
The smart-tech welder comes with a top-notch digital display or screen to show settings also to guide how to set up the machine right.
To tell you the truth the welding equipment is all good-to-go with almost any metal but due to the lacking of AC output option, it cannot weld TIG welding aluminium.
Surprisingly the unit weighs less than 40 pounds while the perfect compact and portable design makes it ideal to carry from one place to another for tasks.
The welder performs perfect welds under harsh and hard weather, it lasts long and works efficiently even after a couple of hours.
Let's dig in deep and check out some quick pros and cons of the welder.
Pros
Heavy-duty metal construction
LCD digital display
Multi-purpose welder
Perfect for home or small store tasks
Great portability
Duty cycle 25%
Foot pedal available
3 years warranty
Cons
Lack of touch start TIG technology
High-priced welder
3. PRIMEWELD TIG225X 225 Amp TIG/Stick Welder – Aluminum Welding Machine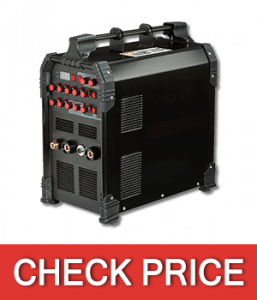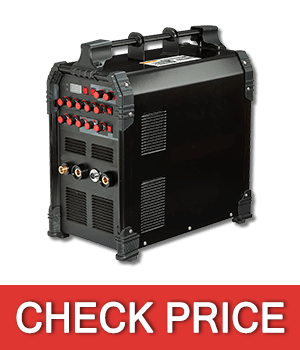 Next up is another great TIG welder we are presenting for you, TIG225X by Primeweld, the brand is not new in the market but recently took everyone by surprise when they launched their model-based of true inspiration and dedication Primeweld TIG225X.
No doubt it is designed to inspire and categorically engineered to perform, TIG225X is the welder that fits all the requirements of modern-day welders.
Before dig into the technical details of the welder, you should know that the unit is equipped with power width modulation which uses the IGBT technology that makes this machine multi-functional. Also, it is 2-in-1 welder, best for TIG and Stick welding, makes it bang on for professionals' even hobbyists.
With said, it is also worth mentioning that the equipment comes with such an exclusive mix of features you may hardly get on DC welder with such price range.
Moreover, it has embedded with inverter-based high frequency start power along with pulse width modulation runs pulse ratio of around 10/90 from varied amperage starting from 10 to 225 amps, such wide amperage range is blissfully unpredicted for the class.
The welder offers 100% duty cycle at the amperage rate of 108, considered enough output power to weld 1/8 inches of metal efficiently and consistently while at full power rating it offers 40 per cent duty cycle. With 225 amps it can weld ½ inch metal sheet while with 10 amps it can get hit on to 24 gauge metal plate.
The machine offers pulse frequency variation of 0.5 to 10Hz, this is the pulse function work ideally with difficult metals such as stainless steel, aluminium and others.
We will not be declared it a perfect welder it does have some flaw like heavyweight but that has nothing to do with the great performance it offered overall.
Pros
Durable & high-quality construction
Dual voltage input operates between 110 – 220 volt
DC inverter machine
Foot pedal heat control
Best welder MMA/Stick for thin aluminium
Automatic and semi-automatic welding applicable
3 years warranty
ISO 9001, CSA, CE, CCC certified
4. Weldpro Digital TIG ACDC 200GD Welder – Best Welder for thick Aluminum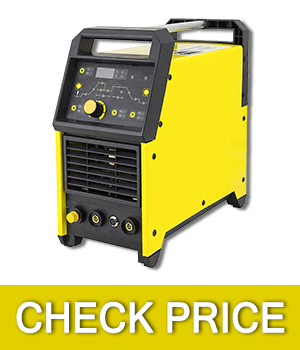 Here comes another fantastic welding machine, the Weldpro Digital TIG ACDC 200GD Welder truly deserve to be the highest rating welder, with the almost similar build quality of Lincoln and Miller but at a competitive market price.
The Weldpro 200GD cost almost half of the Miller and Lincoln but it is certainly not inexpensive still offer an excellent cost to value ratio.
As the machine is designed for expert and beginner welders in mind, this weldpro's flagship model has truly lived up to expectations.
When it comes to an in-depth insight of Weldpro 200GD, this inverter-based TIG welding machine uses the most advanced inverter technology for efficient, consistent and convenient welds. This new model has replaced all the knobs with the buttons, considering it a good feature for precision and pace.
Speaking of the performance, it was certainly a pleasing surprise for us that this welder gives excellent performance along with 40% duty cycle on DC TIG & almost 60% duty cycle on AC TIG.
Also, this 2-in-1 machine comes with the ability to be used as TIG welder or Stick welder, that's why it can efficiently weld a variety of materials.
Another spec that caught our attention is the presence of rocker style pedal without amp control that makes it less fussy as compared to other competitors.
Rather you will have amperage control adjustment settings on the front panel which is both effective and convenient to operate the unit.
Durable and knock body does not increase the weight count of the unit, it weighs just 31.3 lbs and as a whole package make weight count 61 lbs.
Although the price point matters but still with these luxury features similar to the pricey competition this welder seems to be pretty affordable, both with class and performance this machine serves you well.
Pros
Sturdy & premium quality construction
Backed by 2 years warranty
MMA Stick welding function capable
Current AC/DC
200 amperage welder
Gas hose
Flowmeter
Weldpro CK 17 torch protection cover
CK17 Superflex head Weldpro torch
Cons
Not suitable for heavy-duty tasks
5. Hobart 500551 EZ-TIG 165i TIG Welder – Best Welder for Aluminum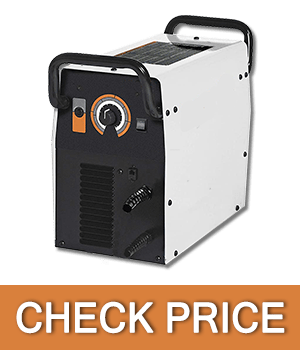 Do you prefer TIG welding which ensures high quality and clean weld? Here we bring to you the best option for this. You may hardly find the best TIG welder for the price other than Hobart 500551 EZ-TIG 165i TIG Welder.
From one of the best, popular brand on the market, you are predominantly served with a perfect welder to perform aluminium, stainless steel, steel, magnesium and Chromoly welding.
The Hobart 500551 is reasonably priced for the welding machine of its class and it has much to knock you.
The EZ-TIG is the specific model offer some super exciting specifications but the fun part we admire the most is the ease of use, easy to set up and super easy to control.
All you need to plug in 230v TIG welder in AC supporting circuit make the gas connection by setting the thickness of metal material and you are all set to hit on.
If we talk about the technical details of the machine, it features unique knob control for adjusting welding capacity; the user can adjust it according to amperage requirement and material thickness.
The unit is well capable to weld materials varied with the thickness ranges between 22 gauges to 3/16 inches; this material thickness specification of the machine applies on AC/DC welds both.
At the same time, its inverter-based power source feature yields consistent welding arc, it does not make any difference even with less power.
One thing that is not good about the welder is its 50 lbs weight but all thanks to its portable design, making it easy to move here and there.
The welder offers a wide amperage range of 10 to 165 A, with both AC & DC modes.  It is the perfect equipment that can be used with metal arts, signs and vehicle bodies, definitely a pro welder.
Pros
Portable design
Easy to switch from AC to DC
Infinite amp control
HF start
Offer overheat protection
Auto-post flow
High-temperature shutdown
6. Zeny Arc Welding Machine – Best Affordable welder for Aluminum
Zeny Arc Inverter Welder is the most affordable option on our list keeping the features of quality, portability and versatility on the go.
The MMA Stick welder by Zeny offers a complete package ready to weld right after unboxing, if you prefer something hand-carry compact design, easy to use anywhere and very pocket-friendly, here comes a great deal.
Before going straight into the technical specs of the machine, you must know that everything about the Zeny Arc Welder is new and more improved while some of its extraordinary features make it most impressive welding machine to step in the welder market.
If you are wondering about what your money essentially gets you, this welder is capable of high efficiency, current adjustable, double voltage, overheating protection and much more along with great performance.
With said, by adding welding electrodes you can simply use the welder right out of the box, also you can easily adjust the unit to your needed settings using offered infinite amperage control set by LED meter.
The arc welder also delivers dual input voltage 115 v – 230 volts while the inverter welder offers a maximum output of 160A.
If we talk about the duty cycle of the welder so it puts 60% mainly at 160A, along with 230V of input voltage as well as 20A rated of input current. Similarly, output amperage is adjustable to choose from 5A to maximum 160A.
I found this welder easier to use mainly because of the digital display to adjust input current and output amps along with many electronic safety functions like overload, over current and overheat.
Well, with some bad things, there are many good things about the Zeny Arc Welding Machine but considering the performance, it does certainly well. With that out of the way, check out the quick pros and cons of the machine.
Pros
Smart compact design
Lightweight with the handle to easy-carry
Build-in Advanced IGBT inverter
PWM control system
Good heat dissipation with speed fan
Dual voltage input
Cons
Suitable only for 1-15mm of material thickness
7. AHP Alpha TIG 200X 200 Amp TIG/Stick Welder – Best TIG Welder for Aluminum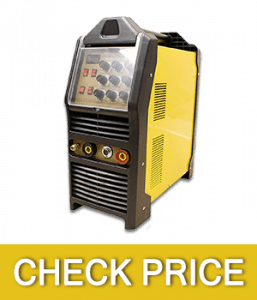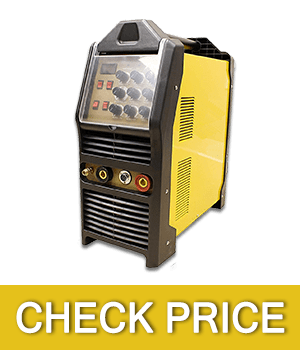 The next electric welder on our list is Alpha TIG 200X 200 Amp TIG/Stick Welder belongs to AHP, it is one of the most reputable and reliable brand, recognized throughout the industry due to their excellently detailed product line.
Speaking of the price, as compared to the cost of other TIG welders, the AHP Alpha TIG is supposed to be a mid-tier welding machine that simultaneously yields advantages with it as well as proposing lower-end professional experience anyway.
However, one should keep in mind that this welding machine is not truly a professional TIG welder but designed and engineered in a way that it can perform most of the task a professional welder does.
Furthermore the improved 2020 model is now in, with some exciting & delightful specs like AC frequency, 200 HZ on pulse, 3 years warranty, new torch and much more.
In general it does offer plethora of features but one thing that is not good about the equipment is capability of fine-tuning settings.
This AC/DC TIG welding device can do almost all sort of TIG welding (except for most advanced ones) due to the fact that unit is tungsten-inert gas welder, so it can weld stainless steel, aluminium and can precision weld several types of thin-gauge mild steel and materials.
Informing you about the duty cycle of 60% at 200A for TIG welding while for Stick welding at 155  A duty cycle count will be 35%.
Let's get to know some more pros and cons of the machine:
Pros
Input voltage 110v & 220 volts
50 lbs weight
Pulse arc efficient
Advanced inverter technology with PWM with IGBT
Foot pedal
¼ inch aluminum, 3/8 inch mild steel
HF start
Various welding settings
Cons
Foot pedal could have been comfortable
Earth clamp quality is not good
Buyer's Guide – Crucial Factors
Here is the thing, the top 8 mentioned list is based on specs, features and aspects we like, and it might possible it does not suit your choice or need.
Therefore we present to you some crucial details and information you must know it. We wish you take a look at the details below as we ensure the fact that it will help you choose your perfect aluminium welder.
What are the common aluminium welding methods?
Most often three common methods are used for aluminium welding which includes:
This method is considered the most appropriate method for aluminium welding, also known as GTAW (gas tungsten arc welding).
This welding process truly does not require mechanical wire feeding that may cause some sort of problems therefore it is preferably the best option by welders.
Also, it is the cleanest welding process and the great hit about TIG welding is that this welding process can be used for both thin and thick aluminium sheets.
Particularly for material like aluminium, you will need a machine that has heat control feature – luckily TIG machines are well capable of such control while at the same time excellent in preventing heated sheets from overheating.
Even though the process is harder than MIG but once you will get know a bit you will be able to produce enough successful welds.
It is also a good method for aluminium welding, the best option for thin aluminium pieces. It requires a mechanical wire feeding system, to make it possible out you will need a spool gun or push-pull gun. MIG welding machines require a direct current power source or inverter and constant voltage.
If you opt for shielding gas then avoids CO2, 100% argon is the best recommendation for the MIG welding process of aluminium.
This is the most complicated method, can only be used or handle by experienced professionals as they understand and handle the heat control well during welding.
If you are a beginner then this is not the option for you to even think of.  Additionally in this process, a burn-through is much more likely to happen during welds.
On the whole, laser beam & electron beam welding and resistance welding are also the types of aluminium welding. But these two are the most difficult and troublesome methods, only can be used by professional or experienced welders using some expert's tricks and tips.
Important Features to Consider before choosing your Welder for Aluminum
The most crucial factor when you plan on buying some equipment is budget. Make your budget in your mind and then start searching for a welding machine.
To make the most out of the lifetime investment, an increase in a bit of budget can make big differences sometimes.
In case you have a fixed budget then don't worry there are many options available on the market, only you need to search thoroughly
Mobility is the most important factor when it comes to welders. Portable aluminium welders are the easiest to take it from one place to another.
Keep this key factor in mind when you are out for purchasing welder, compact and portable aluminium welder can ease your job.
Voltage is one of the most crucial factors for the appropriate weld. Also, it is one of the features in welding machines varies way too much depending on the small and big welding projects.
So it is important to consider the maximum and minimum voltage you will need according to your type of welding project.
In general, it is far better to hit on the welder with more amp as it will be equally suitable to perform small and heavy-duty projects.
If you are considering TIG welding, thermal overload protection is an undeniably useful factor which can keep your machine safe from the damage caused by exceeding duty cycle.
Do check out the feature thoroughly, the same thing can be amazingly useful mainly if you are going to often operate in an outdoor or warm environment.
It is interlinked with the overload protection; likewise, it is the specification one should look out when you are on TIG welder. It defines the accurate time of consistent operation of the welding machine.
If you team it up well with ambient temperature, ventilation requirements and voltage this key feature can provide you with an in-depth insight into the machine's efficiency overall.
Now that we have mentioned everything, here you should not forget about some precise factors like consistent weld, low maintenance, ease of use & long-lasting warranty.
These are the vital factors if you intend to buy welder, especially for aluminium welding. Similarly, the value proposition of the equipment in form of warranty keeps your money secure and safe.
Lincoln Electric Power MIG 210 MP Welder
Weldpro Digital TIG ACDC 200GD Welder
Hobart 500551 EZ-TIG 165i TIG Welder