Welders need to have complete control over the machine and other welding equipment, and he may need to carry the tools together for work. Not all welding machines are made portable, and it is almost impossible to carry out all the tools and gears at a time.
Here, the welding carts come to help; it allows you to carry your welding machine and other tools with you wherever you go. It becomes much easier to move with the welding cart.
Now the question arises that why are welding carts angled? To answer this question, we have briefly put out some points below, but before that, let's talk a little about why we need the welding carts, how it helps us, and then we can better understand the given points.
Welding Carts
What Are Welding Carts?
Welding carts are designed to provide you the facility of easy storage, movability, safety, and for easy access to the welders. The welding carts are specially made to carry the heavy-duty welding machines, which otherwise are not easily movable.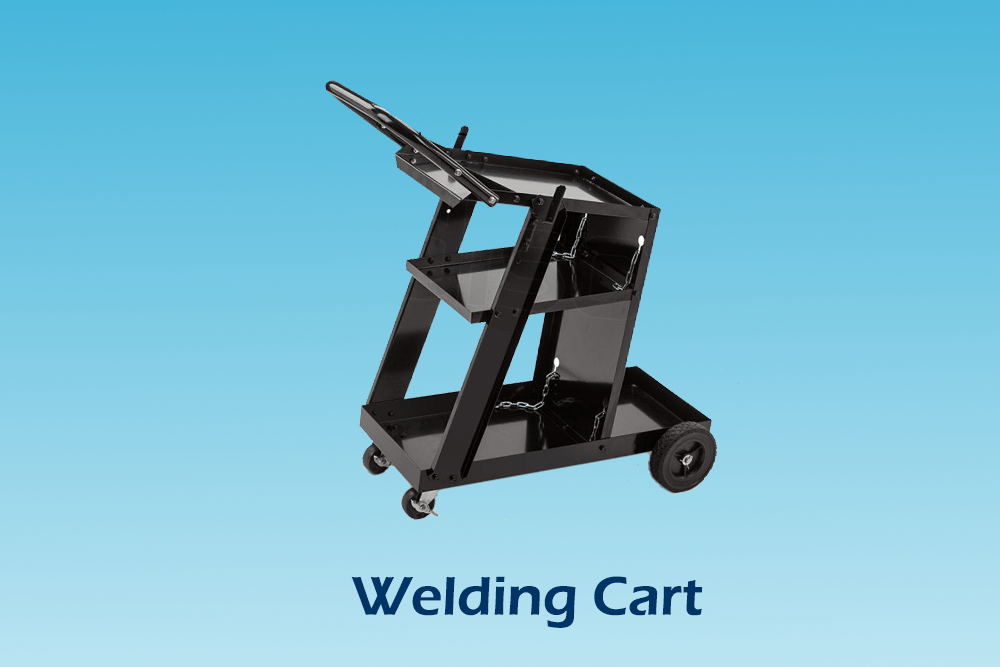 How Welding Carts Are Helpful For The Welders?
The carts offer multiple features and prove to be really handy in your workshop or a factory.
Welding machines are not only expensive, but most of the machines have heavyweights, and it is such a versatile job that you need multiple kinds of tools and gears. It becomes complicated to manage all these things together.
Welding carts then offer you to keep your welding machines and tools in one place; it becomes easier to find any tool from one place, managing becomes easier, saves a lot of space, and also provides safety and protection.
Plus, you can carry the heavyweight machine easily with the help of welding carts.
Good quality welding carts are made with the heavy-duty industrial method, which can endure the weight of machines and keeps them safe and at resting position.
With rear wheels, it becomes easier to move, and with shelves and compartments, you can store other required tools and gears.
Welding Carts Angled
Now we know in detail that what are the welding carts and how they are useful for the welders — now coming back to our main question of why the welding carts angled?
The welding cart is angled due to several reasons, some of which are defined below in detail:
One of the basic concepts and ideas behind the manufacturing of welding carts was to provide safety and protection to the user and as well as for the machines.
We know that welding machines and tools are costly; we need to ensure that they did not get damaged in any way.
For example, the cart tipped over and may cause damage to the welder or a person can mistakenly drop a heavy tool over the machine, or it might get slipped from the hands, there are many things which can happen suddenly, therefore angled welding cart keep it in place and can be locked as well.
The angled weld cart is designed in a way that it offers a low center of gravity by which the chances of getting rolled over are minimized, and the machine and tools are safe and secure in one place.
There is no benefit of a welding cart if it does not help the welder in getting easy access and full control. Yes, the welding cart is angled so that you know where you have placed your particular tools and gears, and you can easily reach out to it whenever required.
Welding cart angled is made by going through in-depth research and analysis, it has been designed keeping in mind the view of welders and how can it be helpful in getting the tools while during the work.
In this way, the welders do not need to stop their work to get any specific tool and equipment; all the things are placed adequately from where the welder can easily access them, giving you the best convenience.
It makes the control easier for the welder resulting in good and quality weld.
How angled help in portability? Although the portability is achieved, but welding cart angled makes it more comfortable and smoother as with the angled weld cart, the machine will be placed in a particular position and will not move from its position while you are moving the welding cart.
Thus it allows you to even move the heavyweight welding machines from one place to another without any problem.
Another critical feature of an angled welding cart is that you cannot place a layer of tools and accessories over it, which also saves the welding machine from getting affected; instead, it offers you separate space for that.
When it comes to angled welding carts, it comes with enough storage space where you can place all your tools and related belongings in one place; it will save a lot of other area room that you can use for other purposes.
In addition, you can easily find out small items and tools as you will know where you have placed them in the welding cart.
Things to Consider When Getting a Welding Cart
By now, you must be thinking about getting a welding cart angled; there are some other things that you should look for when getting a welding cart.
The first thing you may notice is the design and construction of the cart; you must be familiar with the dimensions of your machine so that you can choose the appropriate welding cart for it. It should be made with good quality material and should be fit in properly.
The second thing you need to check is the weight capacity; for this, you need to know the weight of your machine and the equipment you will place; it will give you a rough idea of how much weight capacity will be suitable for your welding cart.
The other thing you may check is user-friendliness, the wheel system the storage space it offers. These are some of the key elements that help you in determining and choosing a good quality welding cart.
The point, as mentioned above, certifies that having an angled welding cart is much more beneficial and helpful for the welders.