Do you want to buy an efficient welder but are on a budget and can't afford a heavy-duty professional welder?
We highly recommend you go for a stick welder. It is because they perform as efficiently as TIG welders and are relatively less expensive. And this seems to be the primary reason for their being widely popular.
While it is true that it takes time and practice to master the art of stick welding, it is quite relieving to know that stick welding is not as intricate a process as TIG welding.
Many individuals first master the art of welding with the help of a transformer welder. However, with the inverter stick welders' vogue in the market, stick welding has become a highly convenient and risk-free mechanism for the professional and novice welders alike.
We will bring this topic into a detailed discussion in our buying guide section at the end of the review.
For now, let us turn to the actual business in hand- a walk down to the top ten stick welders in the market.
We genuinely believe that we have a valuable review to present to you as it is backed by dozens of consumer reviews on various buying sites. The stick welders selected for the review cater to the needs of all sorts of buyers.
For instance, we chose the welders for those who have a low budget but want to buy the best welder for their bucks and those seeking a heavy-duty commercial design in stick welders. The review also includes a few impressive stick welders which perform great for more challenging applications.
In sum, whether you are a DIY home welder, a pro metal worker, or a contractor, we have invested our time and effort to bring you the best picks for each category.
Top 10 Best Stick Welders Reviews & Buying Guide 2023
1. Amico ARC-160D, Stick ARC Inverter DC Welder -Editor's Choice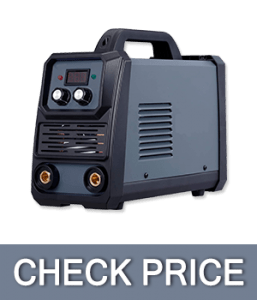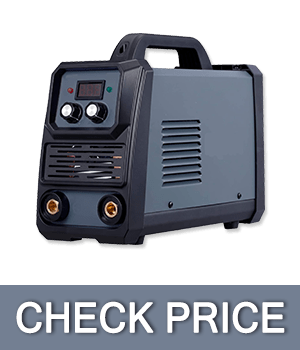 You may want to go down that list if you search for a high-amp, heavy-duty arc welder. However, if what you're after is an inexpensive stick welder for household repair work, the Amico ARC-160D will possibly grab your eye.
A good-quality inverter stick welder like this would be quite a surprise, at a low price point. Thus, while this one is less strong and is not designed for heavy-duty welding, for its cost, it is among the best stick welders.
Amico ARC-160D can lack balance for stainless steel with a thick diameter as its total output is no more than 160A. However, you generally shouldn't have a problem with most welding jobs in the home except for car fixes.
With a small transformer, a great IGBT inverter brings tremendous mobility and simple, seamless welding. The advantages of using an inverter of this level include strong start and anti-stick engineering.
A direct dial renders output setting as necessary as they are, and a quick look at the digital LCD monitor shows you what output amperage (20-160A) you are using. Overheat and overload security are a guarantee, like some of the finest IGBT welders.
Now, at that price, I had to ask myself, where are the cheap parts? I find this, as usual, in a field clamp. It should be OK but what we suspect is that its conductivity will be lost with time, primarily if it is regularly being used at the maximum range this device comes with.
Even the electrode holder is suitable, but not the highest. The cables that supply the clamp and electrode holder seem to be up to standard, and 10 'in length are handy.
Also check, Lotos ltp5000d Red vs Brown
I doubt you'd find a great bargain anywhere if you were looking at consistency vs. price. A compact and lightweight welder is the Amico ARC-160D, making it suitable for easy use in the home and yard.
Even if you have an industrial-level welder with you for your farm or shop, this tiny device can serve as a perfect extra welder for your small chores.
Pros
10 feet long cord on workspace and electrode
Controls on arc sets fluctuating voltage
Capable of working on a generator with 7500 watts
Power ranges from 20 to 160 amps
Can be adjusted to 20 amps
Cons
Its arc is reported to be too stiff at times to get it started
2. AHP AlphaTIG 200X Tig/Stick Welder -Best Rated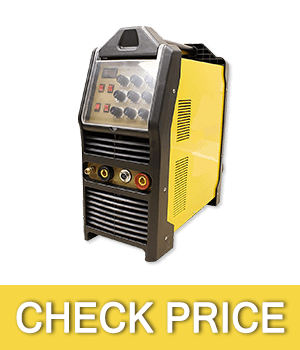 This welder is a beautiful little DC stick and TIG device with operations that are simple for use. The compact welder of the AHP Alpha 160A is, in my view, excellent value for money.
You have the choice to utilize either 240V or 120V, and the unit is equipped with a wireless charger. A DC TIG welding option is available, but with an inlet valve, you'll have to buy an additional TIG device. It is simple to operate this machine. There is a silicon cover on it for extra protection.
An unlimited amperage slider dial offers you substantial power control, and with a touchpad slider, you can change the functions. This can serve as an excellent TIG and MMA welder for those who are new to welding.
With moderate sticking speeds, the very professional IGBT inverter provides smooth stick welding. At optimum (160A) capacity, it also has a reasonably incredible duty cycle of 60 minutes.
It may not make the top-quality welder for its electrode holder and ground-level clamp but is good enough for household welding chores.
Portability is right there with 13-pounds, the best mobile inverter welders. This device seems to be an excellently made compact stick welder, looking through the relatively average ground clamp and electrode protector.
The AHP Alpha 160ST is equipped with all the features that may make it a medium-duty stick welder for everyday use. The less skilled DIY metalworker is an amazingly quick unit to use, making it one of the finest stick welders.
Pros
Depending on your preferences, you can select from various arc lengths.
It performs TIG soldering excellently
It runs seamlessly on all configurations and all functions when you use them.
Substantial value for the money in the end
A three-year warranty for the system and a six-month contract for certain parts of the unit
Provides minimum assistance needed for hundreds of hours of work
It comes bundled with materials that secure the product during delivery.
Since it operates smoothly, it does not create as much noise as most welding devices do.
The pulse function works pretty well.
Cons
It doesn't always start quickly.
Instead of an updated machine, you could get an outdated one.
3. Mig155gsv  Mig/stick Arc Welder – Best For the Money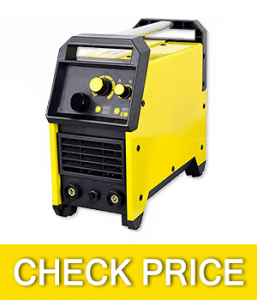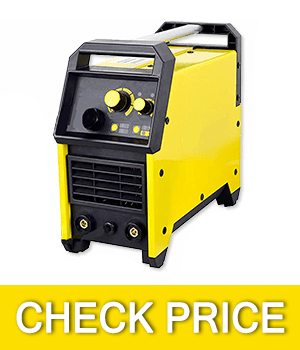 If a multi-purpose welder is what you are looking for, we would emphatically advise you to buy Weldpro 155 Amp Inverter. What makes it quite a stolid welder is that it can work on 110 or 115v and 220 or 230v. This means it can help you with a variety of tasks.
This stick welder with its dual voltage comes with a fantastic reactor circuit which runs electronically. Due to this mechanism, it can reasonably control mixed and short circuit transfers. The result is a relatively better welding result.
Another salient feature of Weldpro 155 is that it works silently, and you won't be bothering your next door even if you work on the weekends.
Moreover, you will find it to be mostly portable due to its compactness. It is easier to begin with the arc and bring a massive-duty welding pool on the table.
Due to this reason, it can well be called an excellent device that performs efficiently without asking you to open your wallet wide.
The good news is that it comes with two years warranty and can be exchanged or returned if you face any fault.
What consumers love the most about Weldpro MIG155Gsv is that it has widely adjustable heat and speed settings. They help you dynamically reach the maximum performance in welding.
These electronic controls are far better and easily adjustable as compared to tapped or stepped type settings. They fine-tune to meet the locations. The device has a gas regulator as well. It also has a hose, stick arc, a stick holder, and a MIG torch.
Read More about,  Best Welding Boots.
Some users have reported about its erratic spool feeding and occasional issues with quality control to the downside. However, they should not be a deal-breaker as the manufacturer offers a two years long warranty.
Pros
Comes with a 2T/4T trigger lock
Offers choice to run TIG with the addition of a few parts
Limitlessly adjustable heat severity and wire-speed
Can be regulated with a gas regulator it is equipped with
Includes an electrode arc clamp
Cons
Some consumer reviews on poor feeding are received
Can be fed with only 2-pound wire spools
4. Welder Arc Stick MMA Welding Machine -Best Budget Stick Welder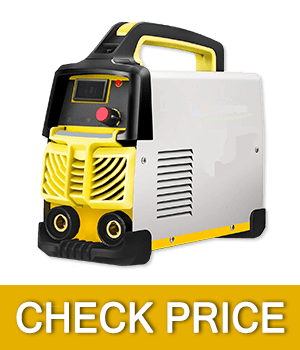 If you want to do minor domestic modifications or learn how to master the welding art, you would probably do well with this one. A 90V-260V 200A adapter drives this one and it works incredibly well.
It is a nice combo of rugged structure, high efficiency, and precise control, making it an impressive overall package.
Then, if you are thinking about thermal overload and muddy conditions, wash away all those anxieties because this one is built specifically to maintain overheating and has anti-stick coverage as well.
Overall, DC welding machine is a perfect choice for beginners and for those who want to carry out quick fixes at home.
It is robustly designed and provides good performance for numerous applications. Various safety features are included. For repairing objects or welding two metallic body parts, you may use this appliance.
The introduction of advanced IGBT technologies is in operation. The prerequisite for the power supply is a dual 110V-220V voltage. Sixty percent is the valued service period.
This mini electric welder improves the arc welding performance when used in a double-voltage automated control mode.
3.2 mm rods are present in the framework of this arc welder. They are perfect for welding during the day. These rods are ideal for welding all types of ferrous metals, such as carbon steel, alloy steel, and medium carbon steel.
Considering the safety features introduced, the welding machine under review comes with thermal overload and anti-stick protection.
You will not find it to be either the most handsome in the town or the sturdiest.However, its reasonable price and its performance in that economical cost make it the favorite to many welders.
Pros
Functions impressively for its affordable cost
An impressive choice for the beginners
Penetrates remarkable
Is equipped with a heavy-duty cycle
Will not heat up quickly at over-use
Integrated with a power-saving feature
Cons
A less popular brand may concern a few buyers
Unable to grip the arc for more than 10 seconds
5. HZXVOGEN Arc Stick Portable Inverter Welder -Cheap Affordable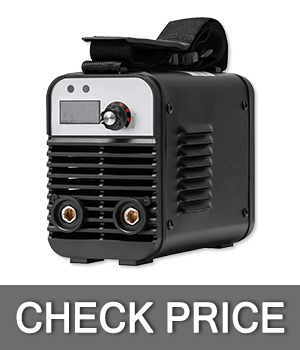 The welding unit will support the MIG welding of various metallic sheets. To weld your preferred metallic boards, you will have the flexibility of using both gas and gasless alternatives.
The layout and engineering of this welding system is incredibly versatile. You should take it around and do all the jobs in various locations.
The architecture is also designed in such a way that the vehicles may require less space. You will, thus, provide fast transportation.
This welding machine's unique aspect requires all welding forms to be used, whether gasless or gas welding. You may opt for glass or gas welding to weld iron—however, glass welding best suits for welding steel.
This welding device features ARC, MIG, and LIFT TAG for its gas and glass welding function. Besides, you can get a 220-voltage process to incorporate the multi-functionality capability of this welding unit.
Pro welders can opt for any welding device as they have a lot of experience to operate them. However, the amateurs may find it hard to handle. They must aim for the machine that provides them with clear comprehension.
For those novices, this welding machine is OK. The functions of this unit are relatively essential and are set up in such a way that the beginners do not feel any trouble in operating them even for the first time,
The primary reason we agreed on the HZXVOGEN is its healthy duty cycle, which is why it is safe from damages.
For home use, garages, and small businesses, this makes it completely useful. It can also be conveniently used in a tiny farmhouse with a generator in it.
This incredible machine fits perfectly well for any welding job.  It has a dual voltage of 100v/220v, which improves its output and output ratios.
This welder is relatively safe to use and is economically priced. It is equipped with all the accessories, such as the electrode carrier, 30A thread, and earth clamp.
Pros
Dual voltage
Compact and highly portable
Has a handle to be carried easily
Light-weighted
Reasonably priced
Cons
Limited cord
For maximum output, you would require running the machine on 168 amps.
6. PrimeWeld TIG Stick Welder -Best For the Budget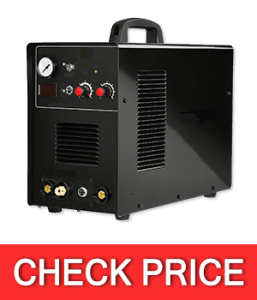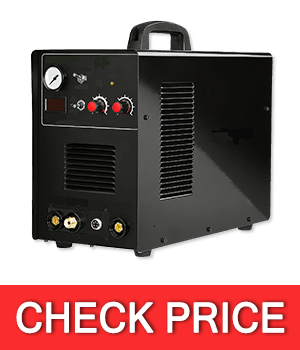 Primeweld's The TIG225X TIG welder provides the most compact and easy-to-use combination of features available in this price range for a DC welder.
A 10/90 pulse ratio from 10 to 225 amps, an enormous amperage scope for its class, is given by inverter-based hf start control with pulse width modulation.
A pulse frequency of 200 hertz allows a smooth TIG welder and provides true TIG potential to clean the weld puddle using one side of the AC loop.
At 108 watts, this unit has a 100 percent duty cycle, enough power output to continually weld on 1⁄8-inch wire. At maximum power rating, it has a 40 percent service cycle.
With a three-year warranty and highly regarded US-based customer support, Primeweld backs the TIG225X.
It comes with a foot monitor made of metal, a lovely CK 17 torch manufactured in the USA, and a regulator. By buying the updated CK20 equipment, this facilitates the upgrade to water cooling.
Supplied with a dual high-speed ventilating fans, the Primeweld IGBT AC / DC TIG-Welder has an arc initiation with high frequency, an updated 2T/4 T power management, andan advanced ventilating system, and an IGBT technology.
Analogies with the PRIMEWELD IGBT AC / DC TIG-Welder also provide the ability to execute non-stick, ARC Force, and fast start MMA and manual welds and output current modification in the 10 to 200 Amp range.
You adapt the system's sensitivity to the electronic range from 20-160 A, depending on the activities' nature. To make the assignment a reality, the TIG method utilizes electrodes and inert gases.
The resulting outline is perfect and tidy. It is commonly used to repair thin carbon steel sheets, think rods and tubes made of stainless steel.
This tool is usually intended for waterproof welding with various features at its disposal. It can also be modified in two ways: by AC WIG 20-200 A, and by DC WIG 20-200 A.
Check also Miller Welding Helmet Review
Pros
Intensity can be conveniently adjusted between 20 to 160 amps.
Can be remotely regulated
Poses minimized risk of burn accidents during work
Being 29 cm wide and 15.2 cm high, it can be carried easily and stored at small places
Versatile enough to weld titanium, stainless steel, copper, magnesium, aluminum, Nickle, and many other alloys.
Cons
The device is a bit intricate for the beginners to use. They would need a bit of familiarity for safely using it.
7. Weldpro Tig/Stick Welder -Best for the Money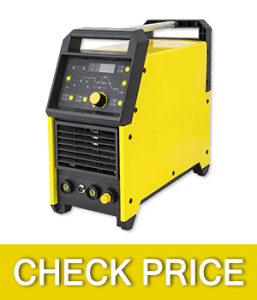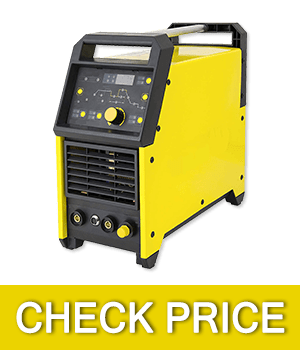 The Weldpro Mechanical TIG 200GD TIG Welder is a simple-to-use TIG welder with dual 120/240 volt input control and a 200-hertz pulse width for DC and AC TIG.
The AC adjustable balance ranges between 30 and 70 percent and clears the aluminum's oxidation while maintaining the weld's good penetration.
The Weldpro Digital is equipped with a CK17 torch that uses a flex head for iconic parts manufactured in the USA. There are several suspicions, however, about performance issues with the heat control button.
Integrated into the Weldpro Optical TIG 200GD is a 2T/4 T switch that functions like a torch lock. This feature allows you to make long bead runs without holding down the torch button during MIG welding.
These TIG welders offer a full 5 to 200-amp TIG AC range by using a 240-volt power source. There are up to 140 amps available on 120 inputs.
In the AHP AlphaTIG 200X, a high-frequency, hardly any-touch arc launch is used, holding pollutants away from the tungsten electrode.
Pros
Has a high-frequency arc pilot
Pulse modulation reaches
Pilot arc is of high frequency
Equipped with Post and pre flow for neat welds
Includes AC and DC welding
Has AC balance for purifying the unit of oxidation
Cons
A few consumers reported its pedal to be flimsy
Starts stressing out under heavy load
8. Lotos LTPDC2000D Tig and Stick Welder- Top Quality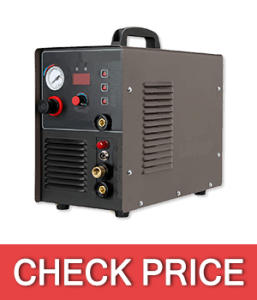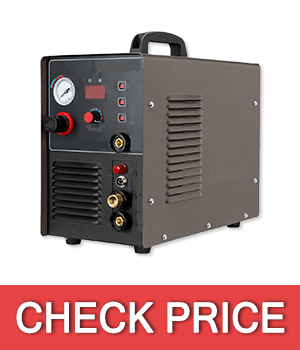 Lotos Technology LTPDC2000D includes TIG, stick, and plasma cutter capability as a fantastic multi-purpose unit. So, it's the best stick welder for the price, given its versatility. This welder is known to be repairing the material with over ½ inches thickness.
Among the most revolutionary welding equipment widely available is the Lotos LTPDC2000D Arc Plasma TIG Welder. It is a multi-purpose system that helps you turn between stick, welding DC TIG, and burning pilot arc.
Therefore, the Lotos LTPDC2000D is branded as half-inch clean cuts with a 3-in-1 welding machine.   That takes us to its 1⁄2 "maximum optimal cut volume and 3⁄4″ maximum severance density.
This welding machine also operates with dual voltages at 50 or 60Hz. As defined, the maximum performance or peak current is only conceivable if you hook it up to a 220V grid.
The Lotos LTPDC2000D is exceptionally versatile, since you can use it for many different occupations.
It can cut through mild to hardened steel, alloy, copper, and aluminum. Irrespective of the material, this unit is entirely secure to use.
Another good about the Lotos LTPDC2000D is that it helps you when you are in a hurry. This stick welder can be all set to work within minutes and immediately gets to its job because it comes with an in-built industry-level NPT ¼" D plug and an air filter regulator.
And it is not hard to connect the air compressor with the air filter regulator. The company installed a PAPST updated cooling system called PAPST in it.
Pros
A multi-purpose, 3-in-1 welding unit
Convenient to use
Can be easily installed
Can be used for deep as well as seamless cuts
Modern cooling system
Dual power
Heavy-duty cycle, up to 60 %
Light in weight
Highly portable
Cons
Sometimes does not cut up to ½ inches deep
The foot pedal doesn't include in the unit, and you will have to buy separately
9. YESWELDER Digital Inverter Stick MMA Welder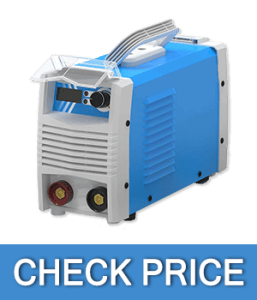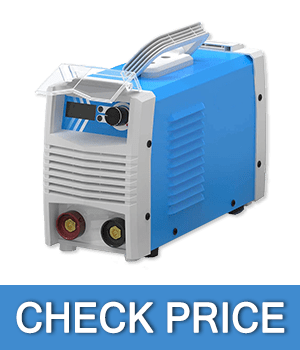 For beginners, the YESWELDER ARC Welding Machine is the ultimate welding machine. It's not too complicated or sophisticated to grasp, but it's not that straightforward.
A solid unit, the ARC 125DS model, is undoubtedly one of the most robust welding machines. For the 6010,7018,6011 DC stick arc welder, it is OK.
It is simple to start for beginners, and the instructions are explicitly given in the user guide. So, remember to read it before you use it. It will help you begin the welder quickly and enjoy the actual task.
The IGBT soft switch mechanism has a great arc and current consistency for this efficient unit. Hence, if you only raise the welding unit's strength, it would not give up on you. It is genuinely lightweight and compact.
If for technical use or personal use, it makes the work smoother and more convenient. If it's for specialized service, since this is the perfect device for you, you have the upper hand.
It requires the automatic monitoring and compensation of variable voltage fluctuations that frequently occur. This system also has a complete range of safety against over-current, malfunction, and erratic change.
Finally, if the welder is used for a longer time and overheats, it comes with automated temperature control and fans. Until it meets the voltage ratings, it is consistent with all generators.
For both experts and enthusiasts, the YesWelder ARC-Welder 205A is a great device. As it is built for simple welding, this facilitates excellent work for DIY ventures and all sorts of work in the garage.
The best function has to be the chosen diameter characteristics that automatically turn from currents and give the one you need. With 7018, it works better and comes with a quick start and offers a smooth weld.
In terms of the consistency it offers, this stick device is our preference as the best budget stick machine. On specific pricier devices, some of the features present on the YesWelder 205A are not available.
They can deliver better performance, but when it comes to money, with its price range, this one seals the deal and should be treated as a good investment.
Welding 1/4-inch (220v stick welder) and 5/32-inch(110V) steel is strong enough. As it weighs just 11 lbs., it is lightweight, comfortable, and compact.
In addition to portability, as the components are reliable, they are also durable instruments for any kind of domestic use.
Pros
Reasonably priced stick welder with 200 amps
Dual voltage
Easy to use voltage switch
Excellent performance
Light in weight
Highly portable
is capable of being used as a TIG welder,which may be started by lifting
Can be set to different useful settings
Excellent support
Includes primary welding tools
Has LED display
Cons
Does not come with a TIG torch
10. PowerArc 140ST Stick Lift Start TIG Welder -Best For Commercial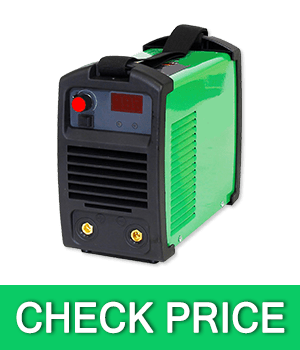 For those who can use less energy, EverLast Power ARC 140 is the perfect option. This welder has a digital monitor with switching modes that essentially make it very quick and useful to adjust functions and settings.
This stick welder's most critical and helpful feature is the gas valve, which can be operated manually and a built-in torch with over 140 AMPs.
This welder has an automatic hot start feature to make electrodes less visible, which makes electrodes somewhat less striking and can fuse stainless steel very rapidly. One of the best welders on a stick!
This method guarantees a painless procedure since a particular connector, namely DINSE 25 mm, is typically used.
Besides, it has a wide range of incredible characteristics that improve its performance. For example, the torch knob is located in the gas regulator.
This welding tool uses IGBT technology, which facilitates a lower consumption of electricity. Your electricity payments would now be mild, which also safeguards the promise, thus increasing its reliability. It is also lightweight, and for your outdoor designs, you should take it along.
The EVERLAST is a user-friendly product since it is an LED display that displays you the current state, unlike some sophisticated versions on the market.
This function makes it easier to work because you're a novice if you're a novice. The monitor also helps you to quickly modify the settings and change them to your desired preference.
Read Also, Best Welding Bag Pack Reviews
Since any electronic device has some good specifications and some less critical specs, there is also a drawback to this device, which is a little pricey.
This package has a welding TIG and sticks that come with strong capability and compact sizes. For light skilled jobs, the EverLast Power ARC 140 is considered the strongest and can also benefit beginners.
Pros
Dual input
TIG support included
Comes with TIG lead
Excellent quality
Five years manufacturer's warranty
Lift start
Can work at low 5-amp DC
Light in weight
Highly portable
Inexpensive
Your Buying Guide for Stick Welders in 2023
Power Requirements
One of the foremost considerations while buying a new stick welder is that you need a stick welder and how much power does that job requires. Bring to your mind the metals you need to weld and their diameter.
Do not forget to keep the electrode's size to fuse in mind while deciding about the power for your stick welder. The available sizes and types of electrodes will be talked about later.
Output
For power, output is probably the most crucial consideration. In case your welder is not so powerful, you will have to have multiple passes to perform a single job. It will exhaust you physically and waste your time.
If you are a novice and think that a stick welder with 80 AMPS is enough to do your needful, you will make a wrong decision. We will advise you to buy a stick welder with at least 100 AMPS as it would help you in your regular welding and stay with you longer.
Input
The input is calculated in volts, and the proper amount of electricity would offer the best performance, just as for the output. There is generally a direct current 110v-120v power supply in a typical North American home.
If you're a welding hobbyist, that's enough. There is also the choice of 220v-240v for other industrial-grade jobs. The more significant input permits better welds of the amperage and a smoother arc.
Current Type
You will have three choices regarding the output power type: AC, DC, and both options.
Alternating Current is usually found in essential stick welders. When there's no DC alternative available, consumers always go for AC. Another case in which AC should be used is where resistance magnetizes the metal and allows the arc to explode.
This form is even more prevalent. You may utilize it in almost any situation. The only exception is the magnetized metal scenario described above. You would have an arc that is quick to start with DC power, which is more robust, smoother and has fewer spills. If you're going to do overhead welding, it is even easier to use DC power.
DC also has two orientations, depending on which welding properties are different for you. DC negative achieves less penetration but with more deposition, while DC complimentary operates the other direction, with less dissolution, has more potent traction.
Duty Cycle
The duty cycle means the period you will constantly weld before allowing the unit to pause and cool down for the next task. Ten minutes is the maximum duration.
Thus, if you have a 35 percent duty cycle at 160 watts, this ensures that the system will work for 3.5 minutes until you need to stop for 6.5 minutes.
A long operating cycle will make the job more efficient and will not let the unit heat up. In this way, you will be able to get more work completed.
You may not be in a time rush if you're using the welder for simple house maintenance or some pleasure welding activity. But if the situation is critical and you need to pause welding every 2 minutes, it can get pretty irritating.
Inverter or Transformer
Two forms of stick welders are available in the market: transformers and inverters. Out of these, inverters appear to be more popular and rely upon most of the welders. There are positives and pitfalls of both, though.
Inverter. The most popular alternative is inverters. And all the welders that we have covered in this review of stick welders are inverters. They are so much more compact, usually only under 20 pounds in weight.
Some of the more available inverters reach just 15 pounds, too. So shipping them is simple, and they require less room for storage. Besides, for a cleaner and more efficient arc, inverters are praised.
It is also worth noting that, since they are more efficient than transformers, an inverter will help you save money over time.
Transformer. Heavy-duty jobs, this style is acceptable since they use a lot of strength. Their sturdy structures are designed like cannons.
They are weightier and require more foot space as they are voluminous as compared to inverters. The initial cost is significantly minimal, but they are engineered to last a lifetime. If you're looking just for casual welding, it could be a decent stick welder for you.
Easy Controls
Especially if you are a novice, it is vital to be simple to comprehend all the controls and the interface. Besides, the buttons should be wide enough to be turned even with mittens on, so that your time may not be wasted.
Luckily, stick welding is very simple, so you'll find controls that are easy to use on most welders.
The simplest stick welder will have an on / off button, amperage change sensors, and a monitor where the voltage can be seen.
You will find additional solutions for some of the more sophisticated welders. They can well display the duty cycle's status, such as AC / DC and voltage switch.
Safety Features
Welders come packed with some safety properties for your protection. Indicator of the duty cycle. The object of this safety feature is for overheating to be prevented.
When you get close to the end of the unit's duty cycle, an indication will light up, getting increasingly luminous.
You can keep an eye on the display, so that when the loop stops, you can toggle the switch off. However, if you're not very careful and lose sight, the safety mechanism for thermal overload kicks in.
Thermal security for excess. This feature shuts the welder off immediately until it overheats. With this feature, you can concentrate more on your welding job without worrying about safety.
The system will shut down entirely at the end of the service cycle and will be able to resume up when it is calmed down.
Multi-Purpose
You should go for a welder with both TIG and stick capability if you want a little more flexibility. There's even MIG capability tossed into the box for a more multi-process service.
TIG and stick's combination is becoming too prevalent these days, and the exception is gradually becoming a single process, stick welders.
You will still find on the industry an available system stick welder, though. Why not get a computer that can do anything with new technology capable of cramming too much power into these units? This way, you'll have a lot of choices open in front of you.
If you know what you're trying to be welding and you're confident, you need a decent stick welder, so you do not need to spend more cash on the multi-purpose unit for sure.
Portability
You should go for a welder with both TIG and stick capability if you want a little more flexibility. There's even MIG capability tossed into the box for a more multi-process service.
TIG and stick's combination is becoming too prevalent these days, and the exception is gradually becoming a single process, stick welders.
You will still find on the industry an available system stick welder, though. Why not get a computer that can do anything with new technology capable of cramming too much power into these units? You'll have a lot of options open to you this way.
If you know what you're trying to be welding and you're confident, you need a decent stick welder, so you do not need to spend more cash on the multi-purpose unit for sure.
Your Budget
Set your budget before beginning to hunt for a new welder. Knowing your account, discovering a commodity within your price range would be more straightforward.
The answer to why DC welders are so standard is that it is simpler to achieve a cleaner weld with less splash back by using direct current. Better penetration is also given by DC power. However, there are several situations in which AC welding may be favorable.
AC welding triggers the arc's pleasant and unpleasant polarity, which on magnetized metal is more substantial. For oxidized and rusted-out materials, the lower penetration is securer, as it welds smoothly until the corners.
DC welding is favored due to its more straightforward application. AC welders are quicker to develop and are the best alternative for specific advanced applications.
Final Thought
So, there you had it, our well-researched review of the top ten best stick welders. The topmost factors that we brought under consideration while selecting the models were:
Lightness
Compactness
Ease of use
Versatility
Longevity
Dual output
Performance
While a stick welder is a tiny device, it is used extensively around the house, garage, and industries for small fixes that do not need calling a pro welder.
For a novice, the buying chore can be a bit overwhelming. Hopefully, this buying guide, along with an extensive review, can help you decide the best stick welder for your welding projects.